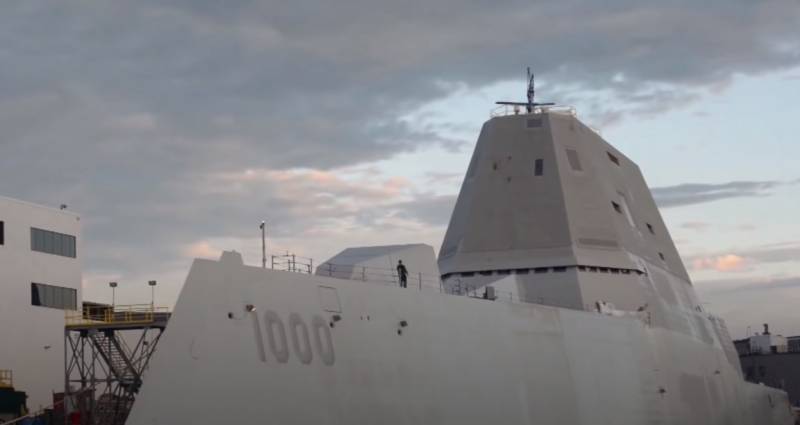 Several years have passed since the commissioning of the first Zumwalt-class destroyer, which was supposed to be a demonstration of the most advanced technological solutions of the American defense industry. However, he still has not become a full-fledged combat unit of the US Navy, continuing to undergo "adaptation" to
weapons
systems installed on board the ship.
The rocket flew, but where?
On October 19, the military department published footage of the first rocket firing, which was performed by USS Zumwalt, the firstborn of the project. An SM-2 missile from the Mk 57 VPU was used as an ammunition. According to the official report, the missile successfully intercepted a simulated anti-ship missile without giving details about the characteristics of the target [as, however, did not demonstrate its defeat].
The SM-2 is the standard ammunition for Arleigh Burke-class pennants equipped with Aegis. This family of shells should become one of the main missile weapons used on the Zumwalt stealth destroyers. However, their use from this type of ships was impossible due to incompatibility with the combat system of the destroyer TSCE. Therefore, a special version of the missile, the SM-2 Block IIIAZ, was developed specifically to adapt the missile defense system with the carrier.
But it is now unclear how effectively the missiles will be targeted. The fact is that initially it was planned to install two different "paired" radars on the Zumwalts, the "spike" of which received the designation DBR (Dual Band Radar - "dual-band radar"). But in view of the economy, the destroyer was equipped with an AN / SPY-3 radar.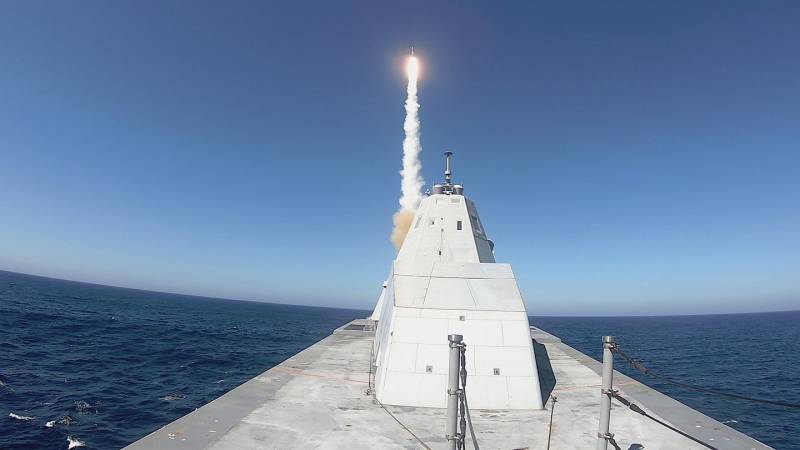 Why do we need "Zumwalts"
This indicates the extremely limited capabilities, especially the combat potential, which this ship possesses more than four years after its transfer [
the fleet
]
- writes The War Zone (USA).
Since 2016, the ship cannot become a full-fledged combat unit. Only in April of this year its combat [control] systems were activated. It was only in May that he fired the first shots from the 30 mm Bushmaster II cannon [equipped with two guns instead of a pair of 57 mm gun mounts due to economy]. After the recent first missile salvo, it is now unclear when he will start firing his 155mm gun. It is possible that this will never happen, since the Navy decided to refuse to buy them due to, according to The War Zone, "an almost absurd amount."
The savings also affected the stealth of the ship. The cockpit was fitted with protruding antennas that impair its stealth performance.
All this has repeatedly raised questions about the real usefulness of the Zumwalt-class ships purchased by the Navy in the amount of only three units. The total cost of the program for these three ships and their underlying technologies is now more than $ 26 billion [...] Whatever operational role these three ships play in the future, it remains to be understood
- sums up The War Zone.