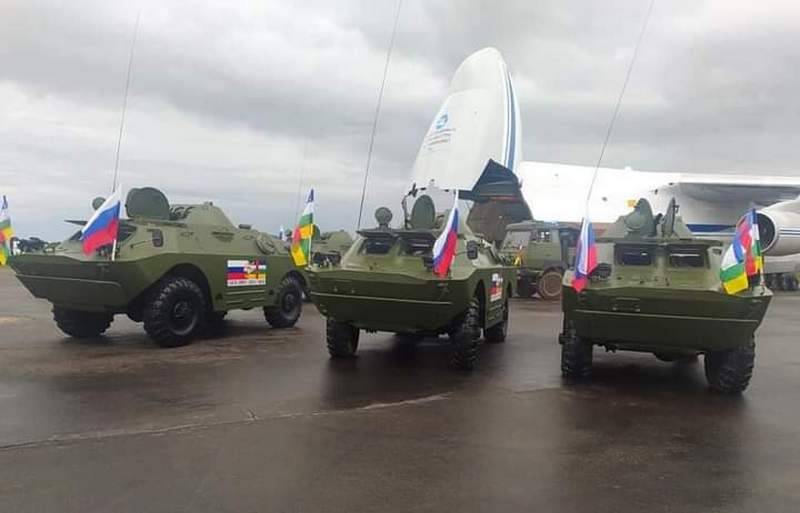 Russia supplied a batch of armored reconnaissance and patrol vehicles BRDM-2 to the Central African Republic. The first 10 vehicles have already been delivered to Bangui, the capital of the CAR. This was reported by the Russian Embassy in the republic.
In total, the Russian military will supply 20 BRDM-2 vehicles to the CAR, the second batch will arrive in Bangui on October 20 this year. All equipment is transferred free of charge. Delivery is carried out by the An-124 Ruslan aircraft of the VTA VKS RF. Whether the BRDM-2 underwent modernization before delivery to the CAR is not reported. Also, in addition to the BRDM-2, the CAR military received a batch of small arms
weapons
and ammunition.
The first batch of cars has been delivered, another ten are to arrive on October 20. Deliveries are free of charge
- the embassy said.
On the occasion of the delivery of the BRDM-2, a military parade was held at Bangui airport, which was attended by the President of the CAR Faustin-Archange Touadera, as well as the Minister of National Defense and Reconstruction of the Army Marie-Noel Coyara and the Chief of the General Staff of the CAR Army.
The arrival of the equipment was greeted by the leadership of the UN Multidisciplinary Integrated Stabilization Mission in the CAR (MINUSCA.
The provided armored personnel carriers increase the potential of the CAR Armed Forces. It helps to strengthen security in the country ahead of the upcoming elections, which will be held on December 27
- said in a statement.
In the fall of 2018, it was reported that the Russian Ministry of Defense would create its representative office on the territory of the CAR under the Ministry of National Defense of the country, whose tasks would include resolving issues of military and military-technical cooperation, training by Russian specialists of the CAR military in the operation, repair and use of equipment and weapons supplied to it. as well as the restoration of the army of the republic. Today, there is a tactical training center in the CAR, where Russian instructors train local military personnel. The center operates in the city of Berengo.
In 2019, the President of the CAR Faustin-Arrange Touadera said that the republic would like to place a full-fledged Russian military base on its territory.
The armed forces of the CARs - no more than 2,5 thousand people. The armament has Soviet, South African and French weapons.