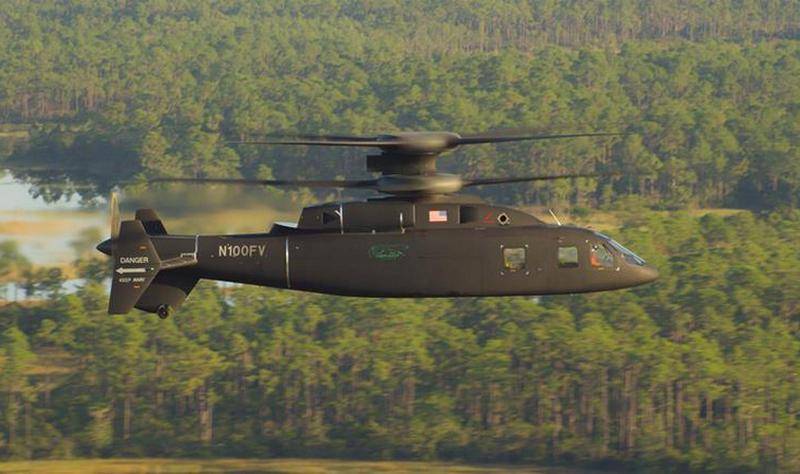 The promising multipurpose high-speed helicopter SB> 1 Defiant, developed by a consortium of Sikorsky and Boeing, flew for the first time at two-thirds of the engine power. According to Flightglobal, the helicopter was able to accelerate to a speed of 211 knots (390,7 kilometers per hour).
The helicopter developers tested the machine at two-thirds of the engine power in two stages. In the first phase, the helicopter flew in a straight line and was able to reach a speed of 211 knots. At the second stage, the car was tested in a decrease in the same way with the engine running at two-thirds of its power. At this stage, a speed of 232 knots was reached. The tests were found to be successful.
Development of SB> 1 has been underway since 2015. The creation of SB> 1 is carried out on a competitive basis within the framework of the US Army program for the development of helicopters of a new concept for the creation of a family of promising army vehicles.
aviation
... The first built prototype of the SB> 1 demonstrator was shown on December 26, 2018.
According to the requirements of the American army, the new helicopter must carry 12 fully equipped infantrymen at a cruising speed of at least 230 knots (about 428 km / h) for a range of at least 229 nautical miles (424 km).
The SB> 1 helicopter uses Sikorsky's new main rotor system that combines coaxial counter-rotating rotors with a tail rotor driven by a rotor gearbox. This scheme was tested on the demonstrator of the 2015-ton S-5 Raider helicopter, which has been tested since May 97, with a "passport" maximum speed of 444 km / h and a cruising speed of 407 km / h.
The maximum takeoff weight SB> 1 is declared at 32000 lb (14515 kg), with a capacity of up to 18 people. The helicopter is equipped with modified Honeywell T55 turboshaft engines with a take-off power of approximately 4000 hp and a cruising speed of 460 km / h.
The competitor to SB> 1 Sikorsky and Boeing in the program to replace the US Army's helicopter fleet is the V-280 Valor tiltrotor of the Bell and Lockheed Martin consortium, the prototype of which has been flight tested since December 18, 2017.