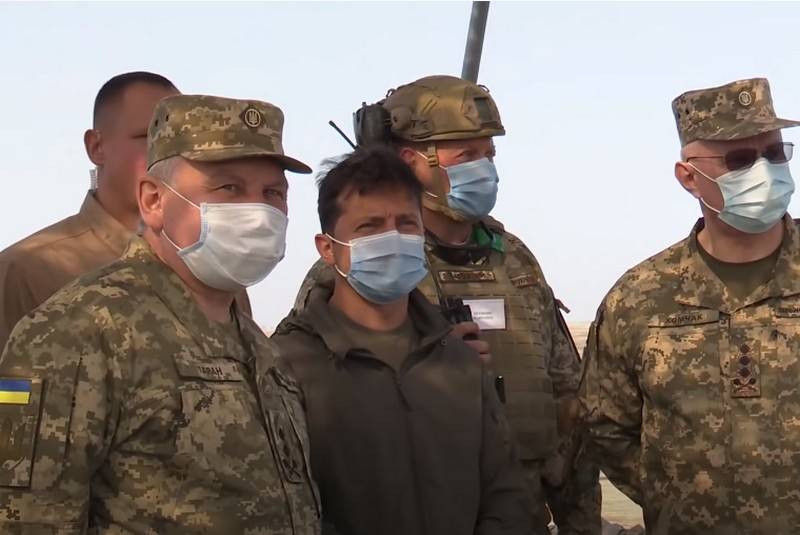 The Javelin anti-tank missile system (ATGM), received by the Armed Forces of Ukraine from the United States, did not work on Wednesday during the United Efforts 2020 strategic exercises, while Ukrainian President Volodymyr Zelensky was watching them. This is reported by the Ukrainian media.
Javelin didn't fire, the rocket didn't fly. Perhaps this is an operator error, maybe something else, you need to figure it out
- said the commander of the operational command "Sever" Valery Zaluzhny, commenting on the misfire
weapons
.
Earlier, the office of the President of Ukraine announced Zelensky's visit to the Nikolaev region, where the "United Efforts-2020" exercises are being held in response to the Russian command and control system "Kavkaz-2020". At the same time, it was emphasized that Zelensky would be shown the work of the American Javelin complex.
In June of this year, the Ministry of Defense of Ukraine announced the receipt from the United States of a batch of FGM-148E missiles, which are considered the penultimate modification of this weapon. At the same time, it was asserted that "new missiles" were delivered. The latter is considered the FGM-148F, which first entered the United States Armed Forces only in May this year. For obvious reasons, Washington did not send the latest ATGM modifications for the Ukrainian Armed Forces.
"New" rockets arrived in Ukraine on June 16. This was the first shipment of military cargo in the framework of the US government's pilot project "International Military Sales". A total of $ 27 million worth of Javelin missiles and additional equipment was delivered.
Recall that the Armed Forces of Ukraine received the first batch of Javelin ATGMs and missiles for them from the United States in 2018. In total, the Ukrainian military received 37 launchers and 210 missiles. The US Congress approved the second delivery of missiles of the complex last year, the Ukrainian media announced the delivery of missiles for $ 40 million.