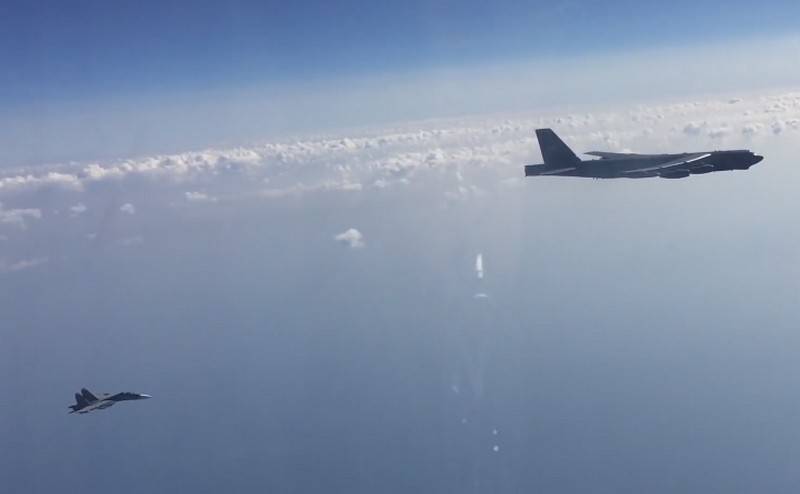 The Department of Defense notes the significantly increased activity of US strategic bombers flying along the Russian borders. From late August to the present, Russian fighters have repeatedly risen to "intercept" American strategists.
According to the Russian military department, the main flight routes of American strategists are the southern direction with the Crimea and the Black Sea, the western direction with Kaliningrad and, more recently, the eastern direction with the Bering Sea. According to the commander-in-chief of the Russian Aerospace Forces, Colonel-General Sergei Surovikin, the crews of American bombers are studying a possible theater of operations and practicing cruise missile strikes against Russian military targets.
The Department of Defense constantly provides data on the "interception" of American strategists, so you can easily trace the routes of flights of bombers.
On August 31, three Russian Su-27 fighters from the Baltic
fleet
"intercepted" over the Baltic Sea three American strategic bombers B-52H, heading towards the Russian border. After "contact" with Russian fighters, the Americans changed course and left.
On September 4, three US Air Force B-52H strategic bombers approached the Russian border over the Black Sea and from Ukraine. Eight fighters from the air defense forces of the Southern Military District - 4 Su-27 fighters and 4 Su-30 fighters - were brought up to "intercept" the American strategists.
On September 14, two Russian Su-27 and two Su-30 fighters from the Southern District "intercepted" three US B-52 strategic bombers over the Black Sea, flying towards the Russian border from Ukraine.
September 15 fighters MiG-31 naval
aviation
The Pacific Fleet and Su-35 Air Defense Forces flew to "intercept" two US Air Force B-1B Lancer strategic bombers flying over the Bering Sea. Russian planes were escorted by American strategists over the Bering and Okhotsk seas.
On September 17, a MiG-31 from the Pacific Fleet Air Defense Duty Force flew to "intercept" two US Air Force B-1B Lancer strategic bombers and monitored their flight over the Bering Sea.
At the same time, the Ministry of Defense notes that there have been no violations of the Russian border by American strategists so far, all the aircraft were over neutral waters or in the airspace of their allies and partners.
For our part, we note that the US Air Force B-52H strategic bombers were transferred from the United States to Fairford airbase in Great Britain, the B-1B Lancer strategic bombers were transferred to the island of Guam, and are also based at Ellsworth Air Base (South Dakota).