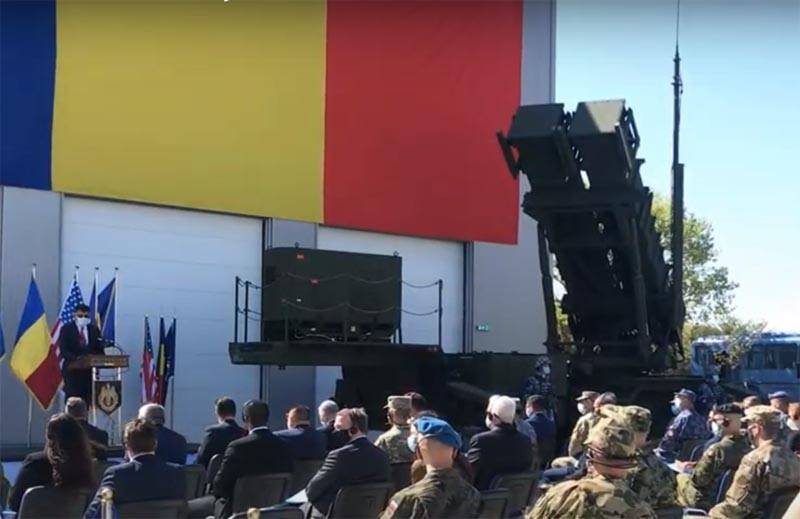 Reports are coming from Romania about the delivery of the first Patriot air defense system manufactured by the United States to the country. During the handover ceremony, the complex was not without mention of Russia. It was said that "Russia is increasingly perceived as a threat to the countries of Eastern Europe, allies in the NATO alliance."
During the opening ceremony of a new military base in the area of ​​Romanian Constanta, the following statement was made by the Romanian Defense Minister Nicolae Chuke:
The installation of the first Patriot system is only the first step towards creating a powerful air defense capability for our country, which will make a significant contribution to deterring the enemy and protecting NATO on the eastern flank.
It is known that Romania will receive three more US air defense systems. These deliveries will begin in 2022.
US Ambassador to Bucharest Adrian Zuckerman:
The delivery of Patriot systems to Romania will enable the country to better protect itself and its NATO allies from threats. Among these threats I will single out Russia and China.
At the same time, Zuckerman did not specify since when Russia and China suddenly began to "threaten" Romania. Is it not from the very times when Washington from Romania began to threaten security, deciding to use this country as territory for the deployment of its missile defense system, which can easily be transformed into a strike target?
The Patriot air defense complex, which is important, Romania received as the second country in Eastern Europe after Poland. Why did the United States send this to these two states?
weapon
? The answer is simple: it is in Romania and Poland that the Pentagon creates missile defense facilities, which were originally described as "protection from Iranian missiles." And it is these objects that are going to cover the United States. The security of Romania and Poland as such is of little concern to the United States.
Report from the handover ceremony of the complex: