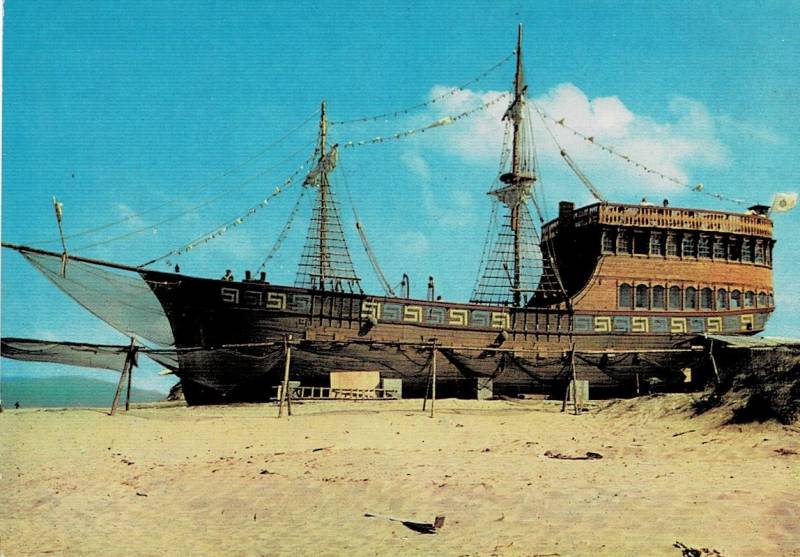 After so many years, I never cease to wonder how little I have left from this trip: a clay brooch and this postcard with the image of the Pirate Frigate restaurant, which we climbed, but did not order anything due to the high cost
Come in Bulgaria, come in my verse
As the steamer enters leisurely
In a semicircle of blue embraces
Welcoming bay.
Rasul Gamzatov
Memories of the past.
Previous material about holidays in Bulgaria
I ended up on money. For the amount that my mother and I received from exchanging our money for Bulgarian. It is clear that my mother immediately ran to buy herself a jersey coat. We found some kind of small shop, and there ... what not. And everyone gives the measure right on the bathing suit, that is, in fact, on the naked body. They did not find a suitable size for her right away, so they promised to bring it in for a day. But she immediately bought me a "jersey" jacket in the color of Spanish tobacco, which I was, of course, happy about in a terrible way. Naturally, she also bought herself a jersey suit: a jacket with a skirt, and also in a color close to khaki. We wanted to buy a national-style clay coffee set in a nearby store, wildly and brightly painted, but decided to save money.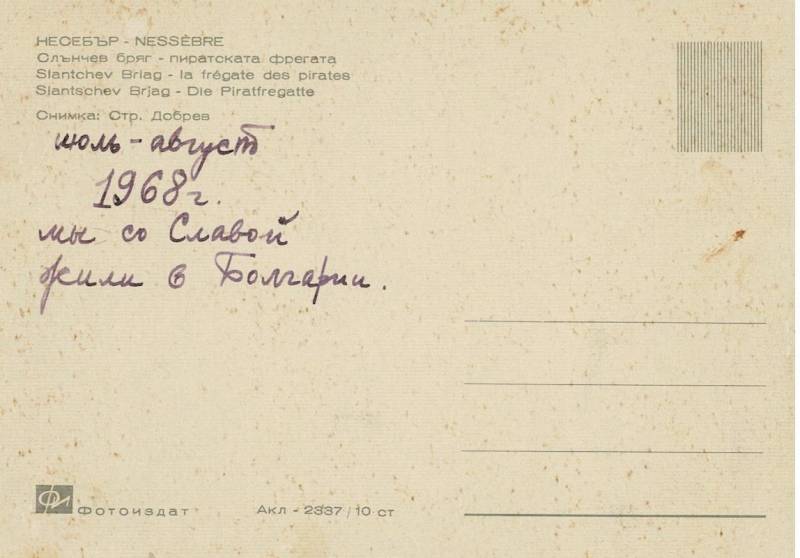 And after returning home, my mother wrote these lines on the back of this postcard: "In memory"
But they drank a lot of soda water with syrup in the vending machines there. And they there were not at all the same as in our Union, where you yourself had to wash the glass, and there was only one syrup. There were several syrups: lemon, apple, pear, raspberry. When you pressed the button (after you dropped the coin), a cardboard cup first fell, and then soda was poured into it. Nearby was a recycler for used cups. And a little further - there was also a coffee machine that sold coffee with sugar, without sugar, double and with milk! The question immediately arose: why do not we have this? But, of course, my mother, even though she was a certified specialist in the field
stories
The Communist Party, there was no answer to it.
And then we saw a kiosk where Coca-Cola and Orangeade were sold, bought both, drank and ... finally "went astray." I didn't drink anything tastier, so it seemed to me then. And very soon we noticed that the prices here are different everywhere!
So, on the beach, for example, a Bulgarian boy regularly walked and shouted: "Ice cream! Leningrad ice cream! " and sold packs of ice cream from a refrigerator bag to everyone at 25 stotinka per pack. But outside the beach, the same pack cost 22 stotinki, in a stall on the way to our hotel - 20, on the way uphill - 17, and at the very top - only 15! And the same was the case with drinks: the most expensive Coca-Cola and orangeade were on the beach, and on the top of the mountain they cost only 15 stotinka. The prices for fruits were kind of ridiculous: huge apples, grapes, peaches - all this was so cheap that even we, saving every stotinka, bought them almost every day. In addition, peaches and grapes were regularly served at dinner: two large peaches or a bunch of grapes. Moreover, it was possible to determine what would be served to you in advance by the contents of two large stone bowls at the entrance to the restaurant: what fruits were there, they were served to us.
Balchik town. There is an "interesting place" on the shore. Nothing has changed here since 1968!
Interesting problems have arisen with bread. The first one was connected with the fact that there was not enough bread at the table! Only white bread was served, like our chunky loaf, cut into slices. And its consumption was great. Every now and then in our hall we heard: "Bread! More bread! Russians still have bread! " And one could see how surprised the foreigners from other halls were when the waiters, on the second call, brought bread to our tables.
The second was associated with the complete absence of black bread, to which we are all accustomed. They started asking, offering money for him, but ... what the Bulgarians did not have, that was not. "This one is better!" - they tried to explain to us, but we answered that habit is second nature.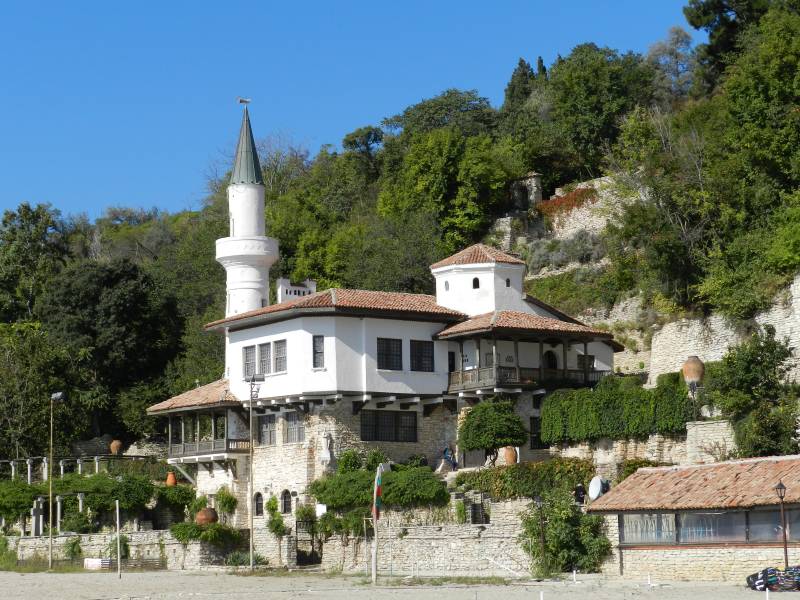 Beautiful, you will not say anything. But we have villas in Penza today that are much more impressive, real castles!
Some of the dishes seemed pretty amazing to us and we didn't eat them. For example, sweet (!) Soup with pepper and lard, fried in small pieces. I tried it - and did not eat. But I ate scrambled eggs with sweet pepper with pleasure, and since then I have been eating it constantly and taught both my wife and daughter to it.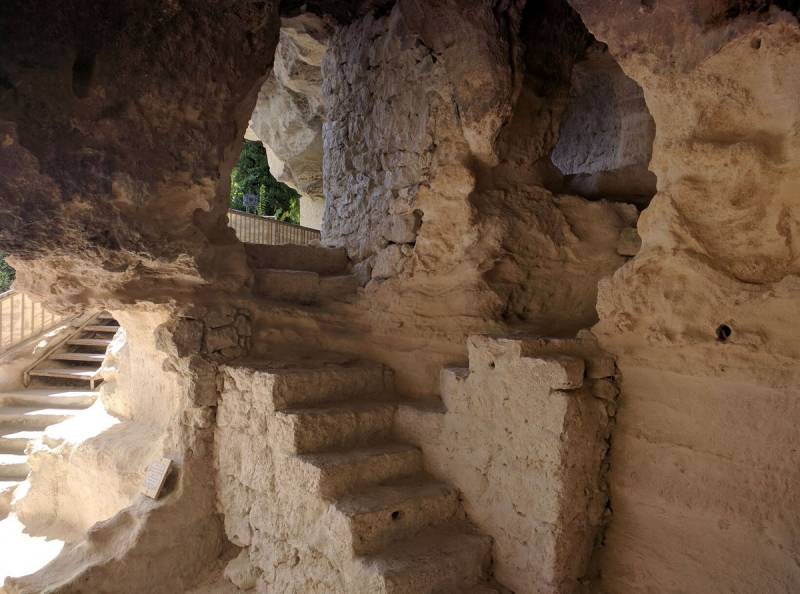 Aladzha cave monastery near Varna. Inside view
Once we were served pots with large chunks of very appetizing meat, drowning in millet porridge filled with boiling olive oil. All ours refused, and I was tempted by a piece of meat, and decided not to eat porridge. On top of the meat there were some dark long peppers, but I did not attach any importance to this, especially since I had already eaten a lot of bell peppers by this time. Has bitten. It turned out to be chili! Tears poured from my eyes, I drank both bottles of mineral water and all the remaining wine and still had to run home and the only way I was saved was that I continuously rinsed my mouth with cold water. Paid for his own ignorance, so to speak, in full!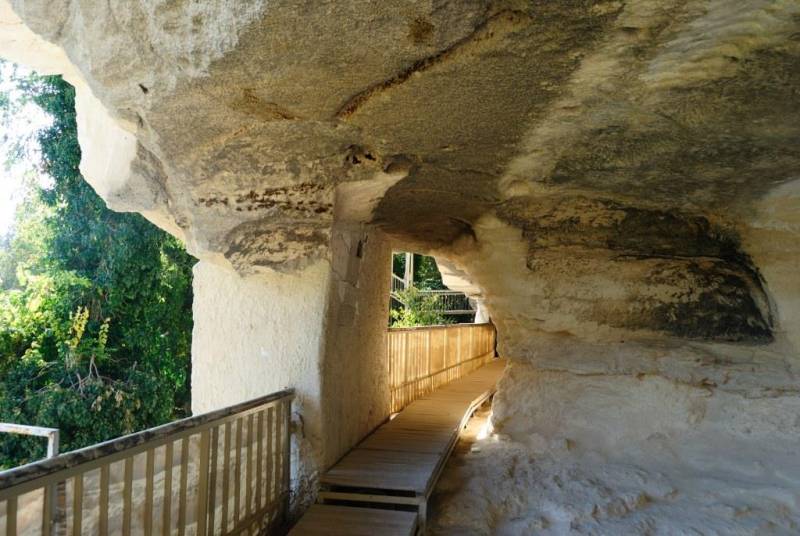 These are the paths and railings there.
As I already wrote about this in the last article, the main purpose of my trip with my mother was to purchase things from jersey. But after buying them, we still had money, and my mother went to Varna to the market (again to the market!), Where, as she was told, wonderful blouses with lace front were sold (another trendy thing in 1968!) Made of fake silver and gold. A thing of barbaric splendor, just fall and not get up! Well, I was also given pocket money, with which I went to Luna Park - the first Luna Park in my life. And I visited there and in the "Castle of Ghosts", and rode a carousel with fighter planes of the Second World War, which "dived" up and down, obeying the pressing of the handle, and even fired flashes of "fire" from machine guns! But most of all I was shocked by two shooting galleries. The first looked like this: a machine gun on a counter, and in front of it was a scene: a city over which planes were flying, and you were shooting at them, and the machine gun itself was shaking, and tiny flashes flashed among the planes, as if from explosions. And as soon as you get on the plane, a red light comes on on it, a siren starts to howl: "Oo-oo-ooooo!", And he himself falls. Well, next to the scoreboard, the number of shots and the number of hits were displayed, as a result of which the shooter was given prizes: badges or candies. I almost got stunned by this and played this shooting gallery literally to ... stunned. And then I went to the second shooting range, where I had to shoot at a target from a pneumatic parabellum. And here the first prize for disappearing in the top ten was more than solid - a bottle of Pliska cognac. A shot costs 15 stotinks. I hit the top nine, but I never knocked out the cognac. I was rewarded with some delicious raspberry candy and a bottle of Coca-Cola.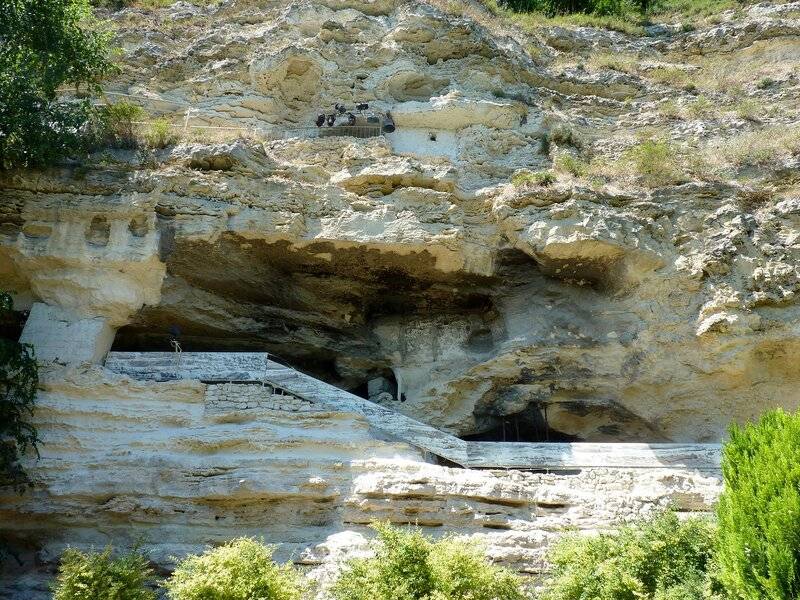 External galleries view
And on the way back, I also found a foreign exchange store. Where EVERYTHING was sold! But only for dollars, pounds, francs and marks. I stood there, like in a museum, looking at Ronson lighters, packages of Camel and Marlboro cigarettes, bottles of White Horse whiskey and a wonderful sheepskin coat embroidered with colored threads - just for my mother and costing only 25 dollars. Well, at school I was taught that a dollar costs 60 kopecks, and such a cheapness of such a wonderful thing shocked me. However, not me alone, but men from our group too. They entered this store after the beach and stood up with their mouths open. And then they began to offer to exchange dollars for rubles, but no: the saleswoman did not agree to this. And we went to the hotel, utterly offended: we freed them from the Germans, and that's how they are ... Black ingratitude!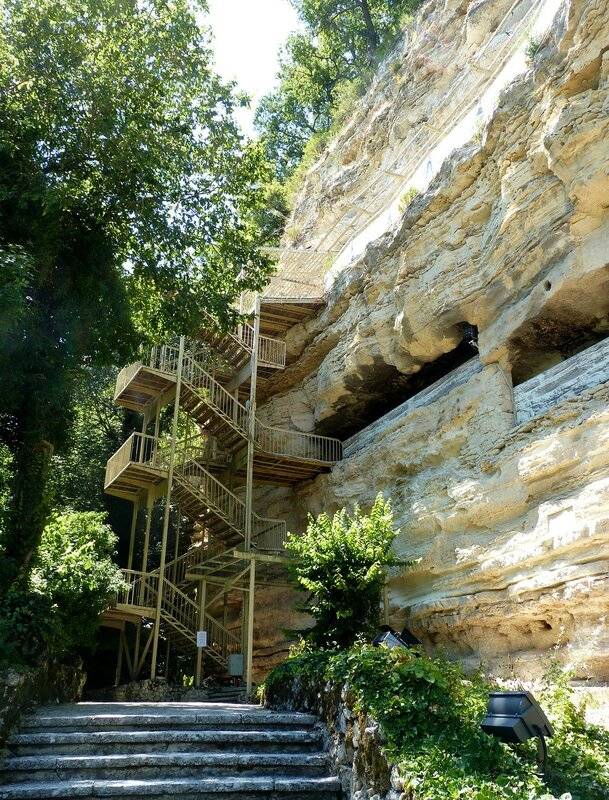 And here is the rise to the floors of the cave monastery
I must say that rest is a rest, sea and sun by itself, but a good excursion program was prepared for us. So, we were taken to the small town of Balchik, where they showed someone's residence there and a park with it. Well, interesting, of course. But everything is so small, chamber ...
Then we were taken to the Aladzha cave monastery. It was more interesting, I never thought before that there were such "churches" and that they hid from enemies and lived there. Then they were taken to the "cactus valley". Something the size of a stadium and cacti all around. Then to the "Valley of Roses". It was already a valley. There I learned that in order to get 1 gram of rose oil, you need to process a ton of rose petals. That is why it is so expensive. They offered to immediately buy an essence in rose oil ("nasty drop" per ton of alcohol!) And bought everything, and then this tiny bubble was enough for several years!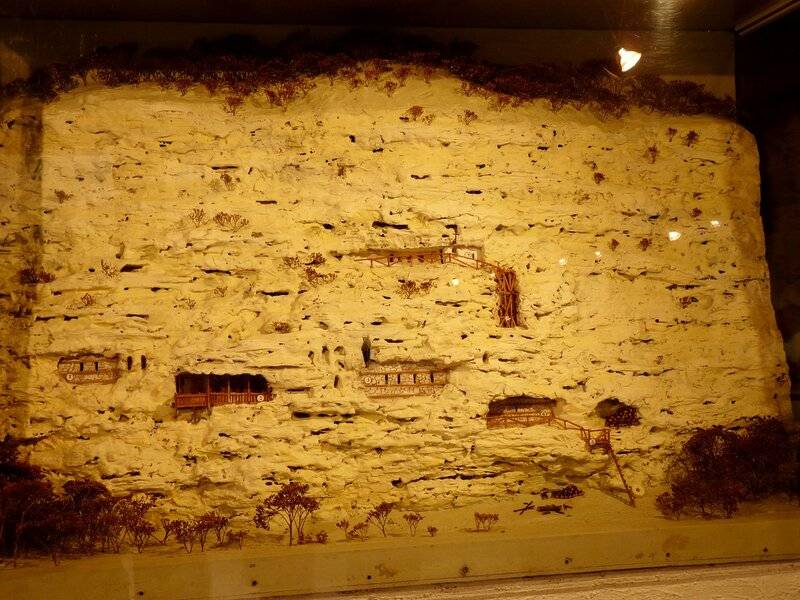 Model of the entire Aladzha cave monastery in the museum. In 1968 it never happened
They took me to Varna to the art gallery and museum of the Navy, and for some reason to Sunny Beach. This is also a resort, but after Golden Sands it did not impress us: flat, hotels-towers and dunes. That's all the joy. But there was also a town on the island of Nessebar and the Pirate Frigate restaurant. On the way there, I noticed the houses of Bulgarian peasants. The difference between them and our peasant huts was striking. I would not refuse such a house even today! And the guide Ivanka explained to me that the whole thing, firstly, is in the ground - there are a lot of stones in it, and the Bulgarian peasant, preparing the field for sowing, at the same time picks up stones for his house or fence! And secondly, for a Bulgarian, a beautiful house is the goal of life. Therefore, they invest and invest in the house. I thought: why are our houses so poor, why for our peasants the house is not the goal of life? .. But, of course, I did not think about these questions for very long.
There were very funny trips to "household restaurants", that is, those that are decorated in the national style. We were in the "Indian village", in huts, "Monastyrskaya izba", where they ate delicious pancakes and drank "monastery" wine, dark red and very tasty. Were in the koshara. However, my mother did not go to the koshara with me. But what it is and what was there, I, of course, know. The koshara is a sheep pen. But with him an open-air restaurant was built - everything is wooden, rough, polished with backs and elbows. They bring a group. She chooses a sheep, they cut it, fresh it, turn it into meat, and then it is fried. For meat salad and a lot, well, just a lot of wine. Well, our "men" got drunk there, of course, and after returning to the hotel ... they fought and broke the glass in one of the rooms (worth 70 leva). And since the breakers no longer had money, the whole group had to add up. Rather, those who were accustomed to be always "for the collective farm" had to take shape, because the smart ones said that they had spent everything a long time ago!
There was a "friendship meeting" at the restaurant of the Ambassador Hotel. It was interesting there, because on the one hand we were, and on the other ... on the other, whoever was there. I was seated opposite a boy with his mother from England - they say, you are studying in a special school, so you will talk to them. Well, I also "spoke", drenched in sweat from fear and embarrassment. But nothing, they didn't bite off a piece of me! It's good that we had themes at school: "My hometown", "My family", "My school", "My hobbies", "Books that I love". That's what I gave them all. And they understood me. From what they said to me in response, I understood a little and, again, was very surprised at this: why so? Worst of all, there was one of our "comrades" sitting next to him, who kept forgetting which hand to hold what to hold and ate like a magician, throwing the knife and fork from one hand to the other, cutting the splint into pieces, but this cannot be done, from excitement dropped them on the tablecloth, in a word, behaved completely different from the "memo of the foreign tourist." And the English boy pointed at him with his eyes and asked me: "What's wrong with him?" And there really was "something" with him. And I replied that he was a "factory worker". I said this, and I was very upset, as I realized that I had let our country down. But on the other hand, what else could you say looking at this? That "uncle" is not himself? But I liked how this boy, and younger than me, ate carefully and behaved very confidently, like an adult. Yes, and his mother was a match for her son, although she told me that "you speak well, but you should have worked a little on the pronunciation." Alas, I still have problems with this, and then I was scolded for "porridge in my mouth" both at the university and when I entered graduate school, but, however, I manage ...
Actually, I was surprised what this English family was doing in Bulgaria. And now I understand: for them everything was very cheap there, and the sea and the sun were the same there as elsewhere. Only in the Maldives is more expensive.
By the way, we met there Hungarians, Spaniards (didn't have enough of their own sea and sun?), Germans from the GDR and ... FRG, this English couple, and also Finns and Swedes. It is interesting that now many write that our people, they say, do not smile, they look gloomy and therefore they are easy to distinguish from people from the West. At that time, I personally did not hear anything about it and I personally did not think so. Although we have not met anyone on these Golden Sands! Another thing is the Bulgarians themselves, who just smiled at us all the time.
I walk past the shop, look at the apples ... A salesman comes out of there, smiles and gives me an apple. The next day I go with my mother, point to the shop, she gets the money, the seller smiles, refuses the money, gives us two apples. And we faced this attitude all the time!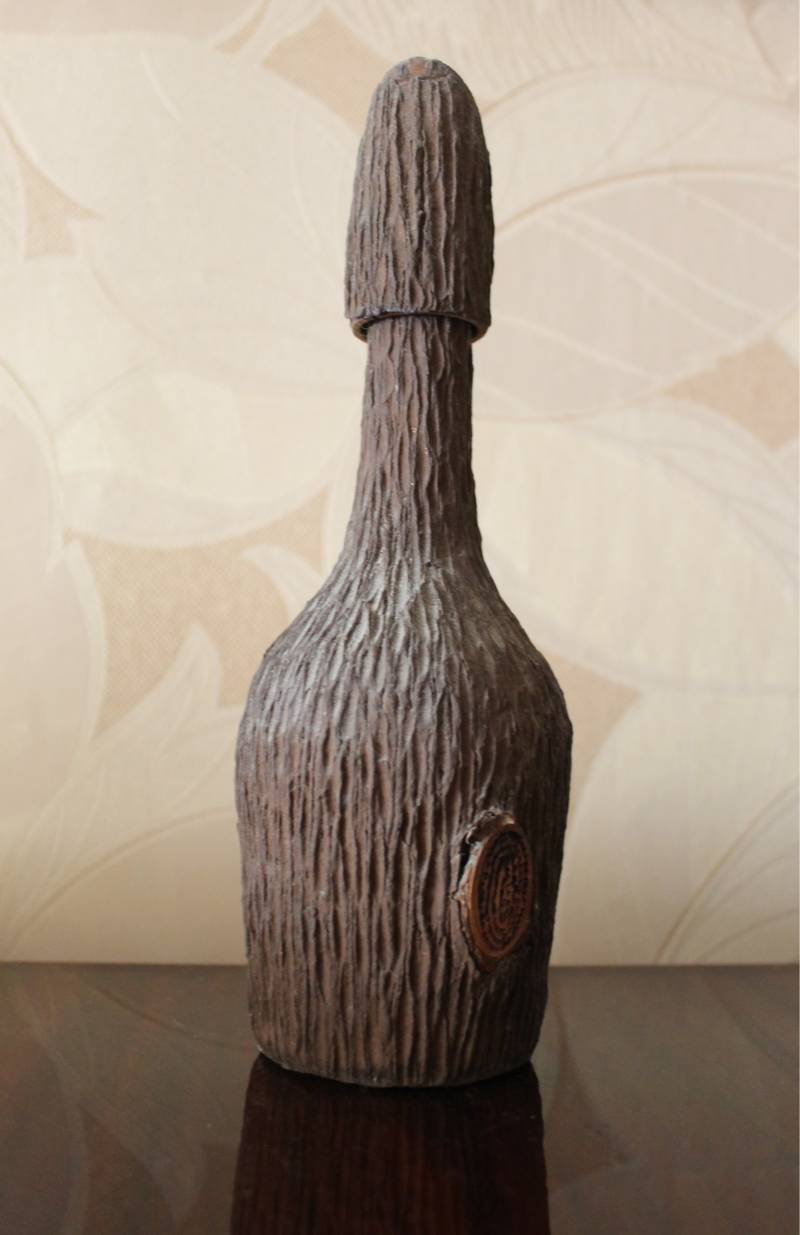 But this souvenir has survived. We were given these bottles during a farewell dinner. In fact, this is a bottle of Pliska cognac, but covered with something that imitates tree bark, even with knots. An original souvenir, you won't say anything! And the cork is wooden inside, but outside it is covered with the same composition
We returned home to Penza, and ... it was a sensation. What's with mom with her gold and silver blouse, that with a suit and coat. And I "got it", of course. One "teacher" right in the classroom asked what we had brought from there and whether our purchases justified the cost of the trip. Then it was like this, by the way: the trip had to be "justified" with some purchases. And everyone knew that we "acquitted" her!