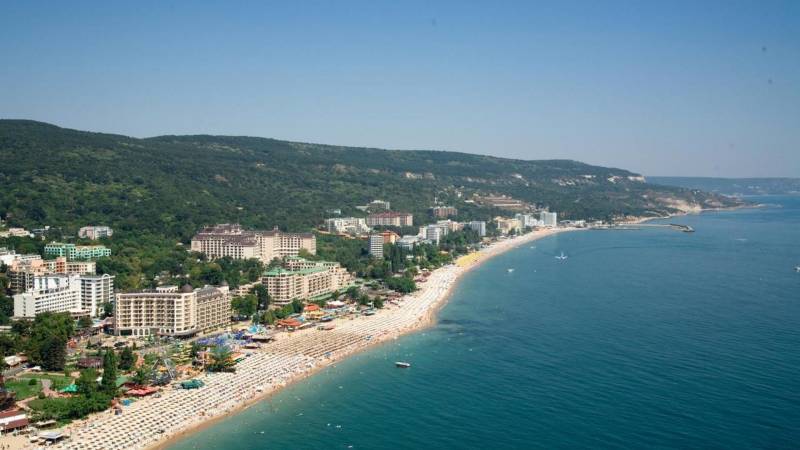 View of Golden Sands today
Remember the eyes of hazel
Quiet talk, ringing laughter ...
Nice country is Bulgaria,
And Russia is the best.
M.V. Isakovsky
Memories of the past.
This material would have appeared on "VO" without fail, but its appearance was accelerated by one article that appeared on the Internet on one of the sites:
"Impressions of a Soviet schoolchild who first traveled abroad of the Indestructible Union"
(August 23, 2020). Its author, Dmitry Mogilevsky, talks about how he visited Berlin shortly before the destruction of the Berlin Wall. A small, but very interesting material, in my opinion, which may well serve as ... a preface to my material already.
The events that I will tell you about took place in the spring and summer of 1968, that is, quite a long time ago, at a time when no one even suspected what exactly awaited our country in the future. I was then supposed to turn 14 in the fall, so I was not yet a member of the Komsomol, but wore a pioneer tie, although my height and build was oh-oh!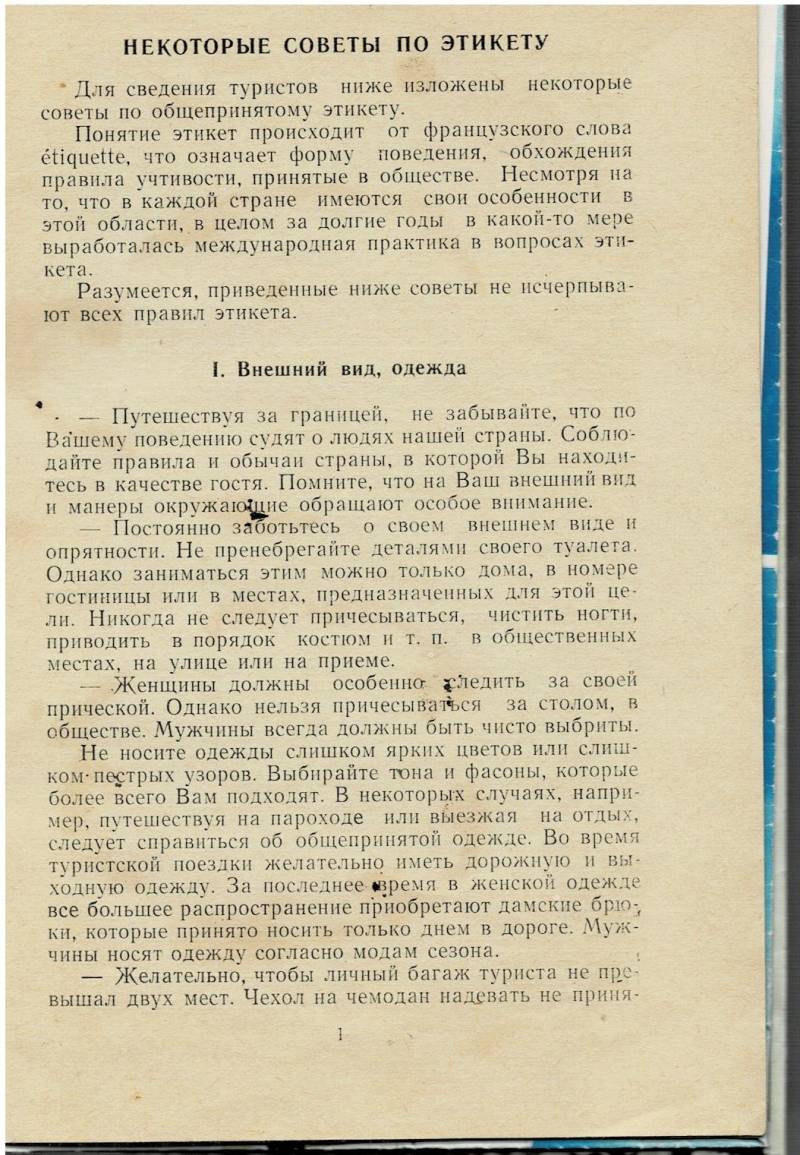 Here it is, "Instruction for foreign tourists". Preserved since 1968 ...
And it so happened that at the end of 1967, my mother defended her Ph.D. thesis on
stories
The CPSU at Moscow State University and in the spring of its defense was approved. And once they were approved, they recalculated the entire salary from the day of defense and on the day of approval. And she got on her hands a hefty sum for that time, and even solid vacation pay for the summer loomed. What should I do? Go to the sea to relax! But where?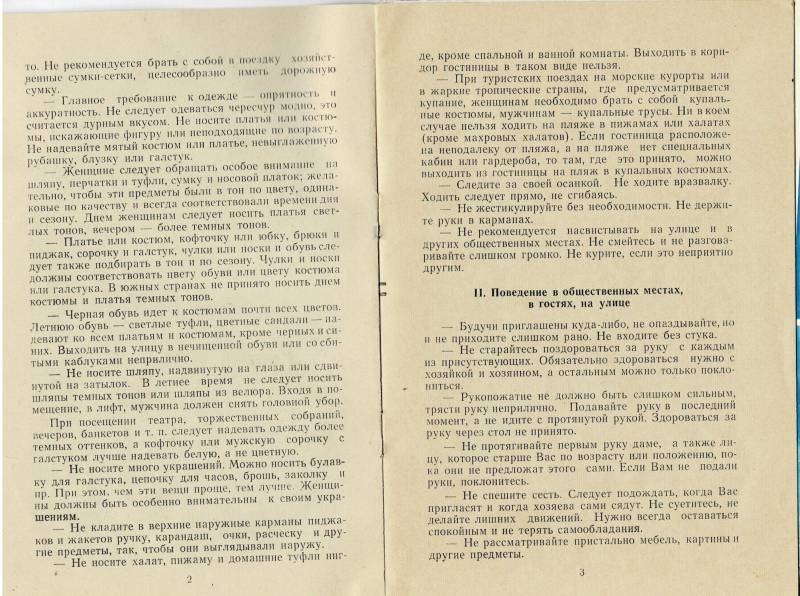 At one time I had the opportunity to get acquainted with an interesting document: "A memo to a pioneer and a schoolboy", written in the 20s. And it was, in general, a shock: what was written there seemed so wild and ridiculous to me!
Do not take into your mouth what has been in the mouth of another.
Cover your mouth with your hand when coughing.
Do not eat up other people's scraps.
Do not drink from a spring or stream with your mouth to the water.
Wash my hands before meals and after the restroom.
Do not spit on the floor or throw scraps and cleanings on it.
Don't eat unwashed vegetables.
Make sure insects don't get in bed.
So this memo is somewhat similar to her, isn't it? And then all her friends began to talk about the fact that suits and coats made of jersey are now in fashion (the fabric is so pleasant to the touch), but they are very expensive in the flea market: a coat - 300 rubles, and a suit - 150. But for across the border, that is, in the fraternal countries of the socialist community, they cost just a pittance! She went to the Regional Council of Trade Unions (Regional Council of Trade Unions), and there they told her that yes, of course, go, but go to Bulgaria. The first ever group with children is being created in Penza - to have a rest in Golden Sands. And you have a direct benefit to take your son, since currency exchange is also provided for him, however, only 50% of the amount for an adult, but this is also bread. The voucher, however, cost 150 rubles, both for an adult and for a child, regardless of age. It's funny, isn't it? Whatever it was, but my mother figured everything out and the vouchers for herself and for me!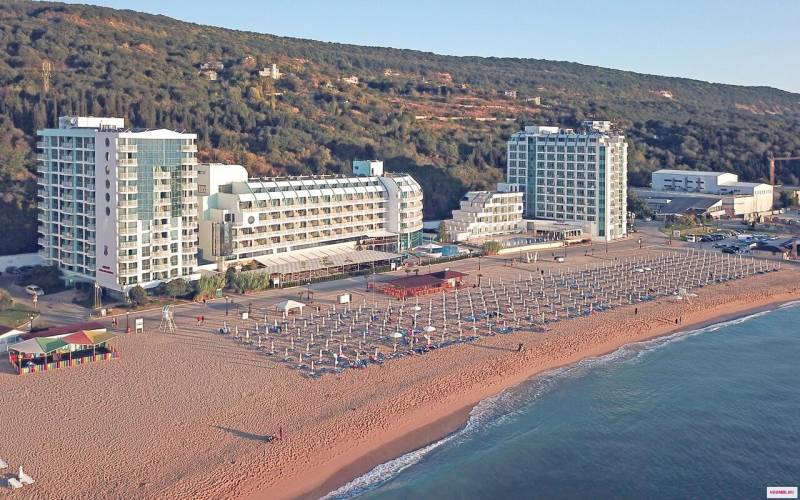 Hotel Berlin in 1968. It exists now, but it has grown a lot ...
The fact that at the beginning of the history of the USSR we had to pay attention to elementary, in general, things, speaks of what kind of "raw materials" in the form of human material we inherited from the tsarist time. And the fact that we managed to overcome this obvious savagery in everyday life rather quickly, during the life of one generation, does honor to our society of those years. But, reading the memo to the Soviet tourist, you involuntarily come to the conclusion that, having risen to the first stage in the field of culture, our citizens were quite late in the second, that is, they needed to be reminded of the most banal things and rules of behavior! In any case, everything that was written about in the "Instruction for foreign tourists", in my opinion, even everything in the same 1968 should be the norm of behavior for any educated person.
And right there, already having vouchers in her arms, my mother faced considerable difficulties. We needed characteristics both for her and for me, and for me not only from the class teacher, but also from the pioneer organization and the party organization of the school !!! When I collected them all, I just grunted ... And again, I would have understood their need before buying a ticket. But here everything was the other way around: purchase first, performance later. And if it turned out that I am an inveterate hooligan, pulling girls by the pigtails, and studying from two to three, then what? We rewind everything: we return the ticket, and they give us money?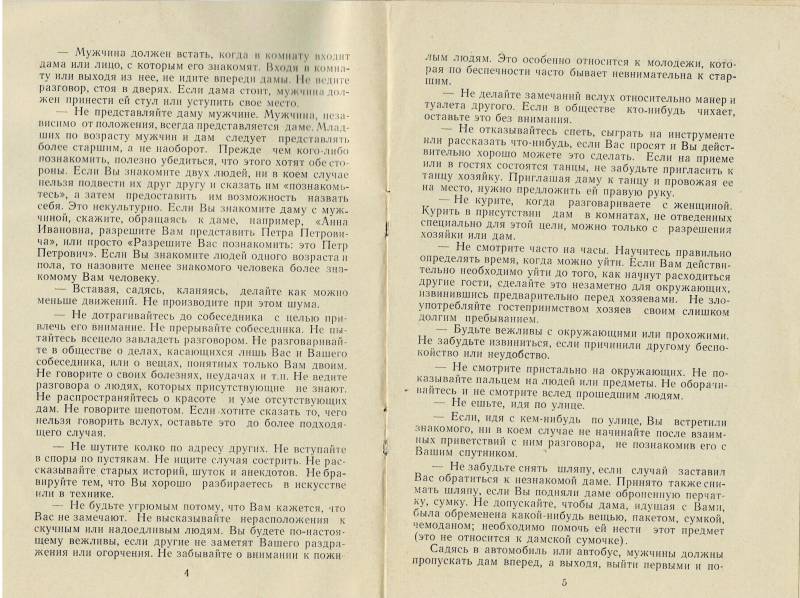 Reading this memo, I was very surprised. It seemed to me that everyone knows this, and it is simply indecent to repeat this to adult uncles and aunts.
Anyway. They left my three characteristics with the attachment of grades in all subjects, and gave us a foreign passport, one for two with a joint photo. And the foreign tourist's memo - a very funny little book, reminding that the fork on the table lies on the left (and, therefore, you need to take it with your left hand, and the knife, respectively, with your right and right. And not just given out, but ordered to study everything in it written, remember it well, because we will have an "interview".
There was an "interview", but there is no point in describing it. Vysotsky did it much better. The main thing there was this: "There are spies with a strong body, you are at the door - they are at the window! Say that we have finished with this case long ago. " Or you can even shorter: "Be quiet - the enemy is listening to you!"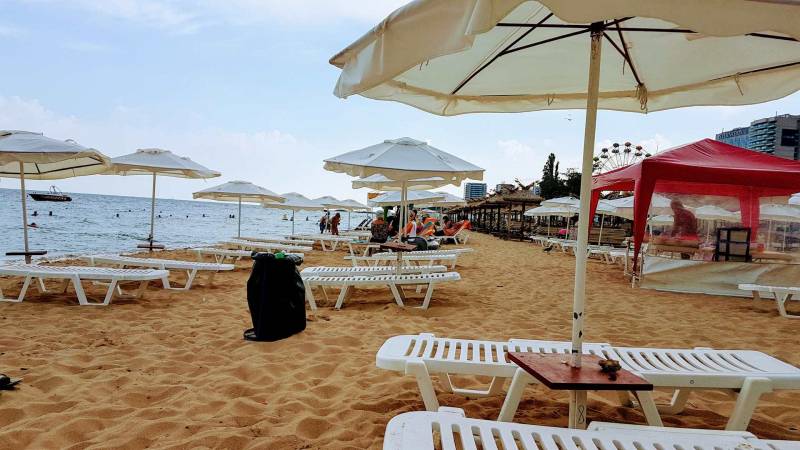 For some reason, there were no sun loungers on the beach. Big umbrellas only! It's different now
- So this is Bulgaria! - Someone exclaimed, but received in response the cold gaze of the "comrade from the organs" conducting the interview and a frightening answer:
- That's where they catch such people!
I don't know how to others, but then I was even scared ... Suddenly I met such a disguised spy - and then what to do?
Before the trip, we were ordered to add up money and buy gifts "from the group" to the guide and the hotel. We bought our Serdobsky cuckoo clock and some kind of table clock with a crystal case. We were warned that we can take with us two bottles of vodka per person, but not more ... Suitcases - only new, and no covers. So we had to work hard to equip ourselves properly and not disgrace the country.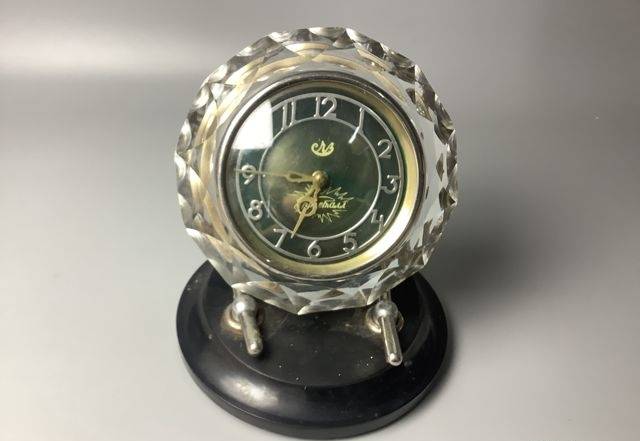 Here it is, this crystal gift watch in a crystal case. The top of luxury and elegance at the time
But everything goes away. This too has passed. We got on the train first to Moscow, and in Moscow on the international express Moscow - Sofia and drove off. Everyone immediately got to know each other, made friends and drove merrily. There were only two children of my age, the rest were "big-bellied trifles," so we were all in the carriage.
Then I saw for the first time international class carriages and their passengers, among whom there were other types: wrinkled aunts in beads and with cigarettes in mouthpieces, and respectable men with cigars in their teeth. Everything is like in a movie in the decaying West or in the cartoons of the Kukryniksy. But on the other hand, the curtains are velvet with tassels, the panels are decorated with mahogany ... Who these people who were traveling on the Moscow-Sofia train, I, of course, did not recognize.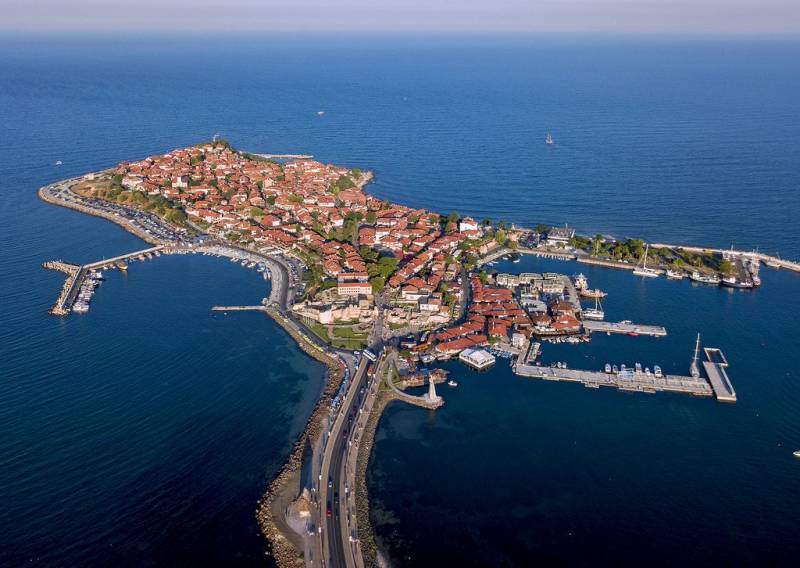 The town of Nessebar is a historical monument in Bulgaria. Modern look
At the Ungheni station, we changed the wheels, and while they were changing, all our mothers ran to the local market. But they didn't buy anything, they just asked the price to buy on the way back. They immediately changed our money. Moreover, they demanded to hand over ALL cash, except for the reserve 40 rubles in case of illness. For carrying cash, the head of the group explained to us, you will be punished: the money will be taken away and no more will be released from the country. It is clear that they all passed, but ... some money was nevertheless brought in bras and leggings and then they told their friends about it. And I opened my ears and heard. However, he did not tell the head about this.
We crossed the border at night, and our border guards almost dismantled the whole carriage for nuts, so they were looking for everything. They did not rummage in things, but some were asked to open their suitcases, and one woman was found to have 80 rubles unaccounted for and confiscated. So there was no need to let her tongue loose. For it is said: what two know, the pig also knows!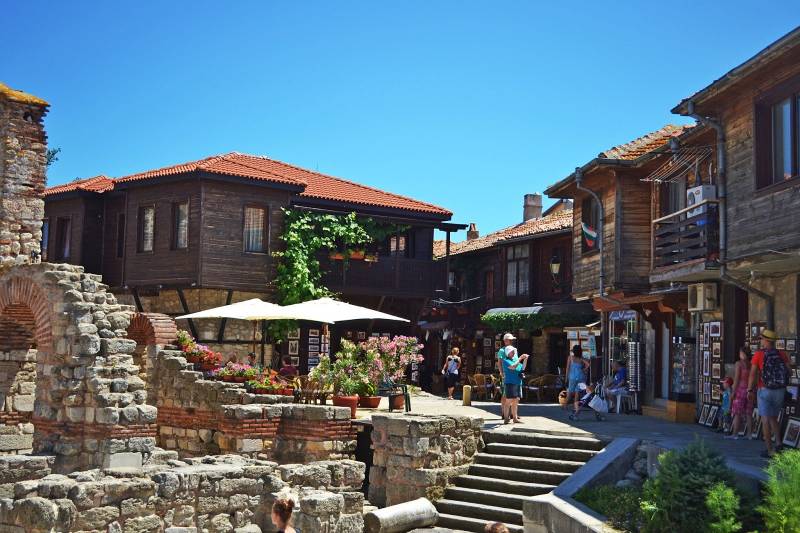 Houses in Nessebar have not changed at all since that time!
We didn't like the Romanian border guards who replaced ours. In black uniform, they speak abruptly, they demand to do everything quickly. Moreover, the whole train at the border was doused with some smelly disinfectant liquid. "We are with them with soul, and they are with us? - they said in our carriage. - And after all they spray only there, when we go back, they will not spray! "
The country itself did not like it either. All the poor, "bad" men in shabby jackets, boots and caps - most of all looked like our gypsies. Women are generally in black from head to toe. But it was funny to watch their boys running after the train and shouting: "Badges, badges!", And we throw them badges, and they pick them up, and immediately fight, taking them away from each other.
There was an hour parking in Bucharest, but we were not allowed to leave the station, and we did not have any Romanian money.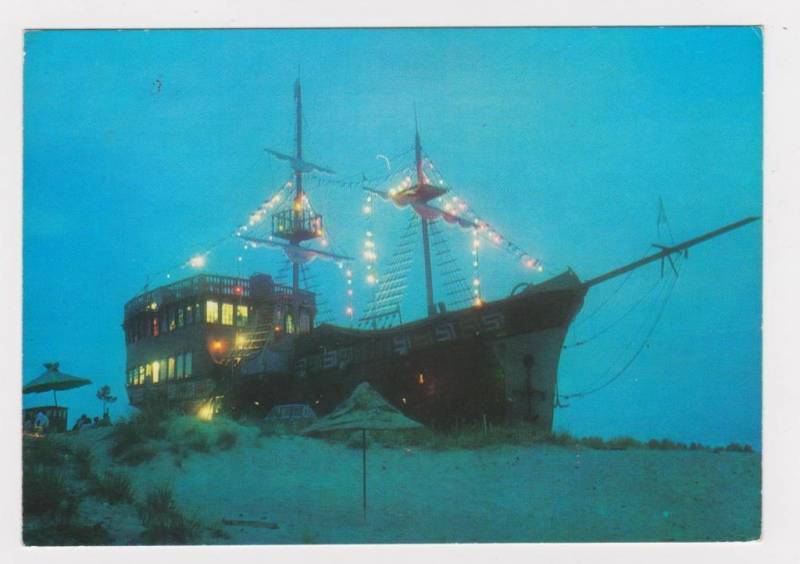 The Pirateska Frigata restaurant is very popular in the Sunny Beach resort. For some reason, in 2013 it was burned ...
But on the Bulgarian border we were greeted by a pancake-shiny smiling border guard in a green cap, white (!) Tunic and green trousers with stripes - just some kind of operetta type. I checked our passports and wished us a happy holiday.
We had to go not only on a narrower track, but also on a locomotive traction. And since there were only three Moscow-Varna carriages left of our entire train, we drove entirely in smoke. Where is the electric locomotive or diesel locomotive? And there are none!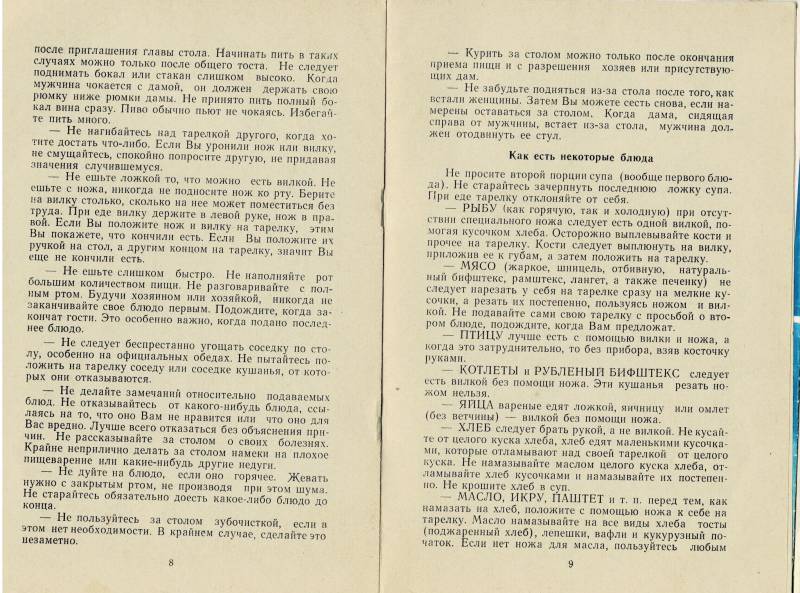 Or this: "Do not try to put food on the plate of your neighbor or neighbor that they refuse." What is this? From the experience of our citizens' stay abroad, it became known that they do this? "You need to chew with your mouth closed." Oh, really someone did not know this in 1968! And it turns out that he did not know ...
We arrived in Varna in the evening. We were met by a girl Ivanka, a student at the Sofia University who studied Russian philology, and in the summer she worked as a guide. And immediately the first unusual impression: all our suitcases were thrown on the roof of the Pautalia bus and taken to Golden Sands, or Zlatni Piasts in Bulgarian. From above in the twilight they looked fantastic: a horseshoe-shaped bay, leaving, like an amphitheater, into the mountains, everything is flooded with lights, and on the shore there are "candles" of hotels: "Moscow" (glowed red), "Astoria" (gold), "Starfish" (emerald green) and in the distance - a bluish-cold "Berlin". It is clear that we hoped to get into one of these hotels, but Ivanka brought us to the two-story hotel "Iglika" ("Flower"), all entwined with grapes and located in a pine forest. "It's noisy in there," she said. - The elevators are buzzing all the time. And we have a group with children - have a rest! " And then she took us through the forest to the restaurant "Cherven Rak" to have supper. Recently I read on the Internet that it is considered the best restaurant in Golden Sands, but many visitors from Russia did not like it: the steps of the stairs are broken, and inside there is a "Soviet" interior and inattentive staff.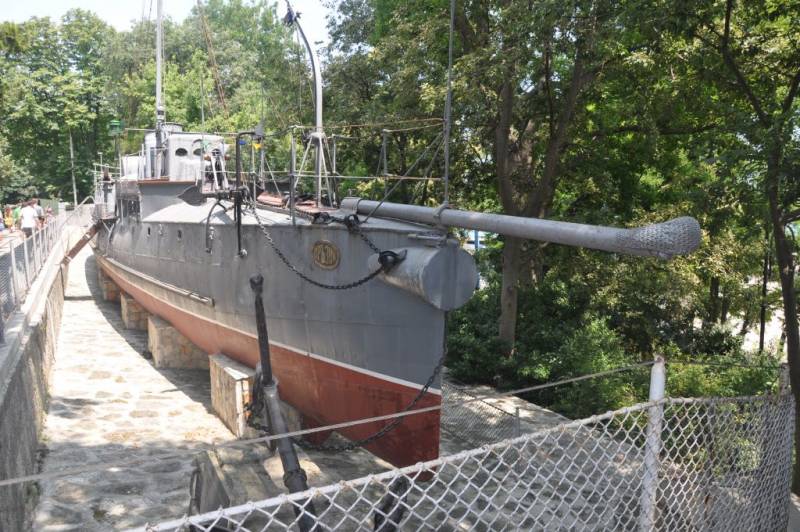 In Varna, where we went on an excursion, I really liked the Naval Museum. Small (like the Bulgarian naval history itself!), But very interesting. But most of all - their "legendary" destroyer "Daring" standing in dry dock (mind you, don't write about it to anyone - it's swept away!)
However, then they did not even think about anything like that. They put our entire group in a separate room and began to feed, and in a way that I had never eaten anywhere before. Firstly, on the table, served for four, there was a liter bottle of dry wine "Byalo Vinny", then dishes with vinegar, olive oil, and something else ... And secondly, we were served one whole tomato together with salad and served like this the same in the future. Huge, I have not seen such! And it was necessary to cut it, equip it with oil and vinegar, salt, pepper and eat. Then the French fries langette and the absolutely amazing coffee cake were served. By the way, for all 14 days of our stay there, we received the same cake again only twice. And so every evening there was a new one! But the bread was only white, reminiscent of our roll!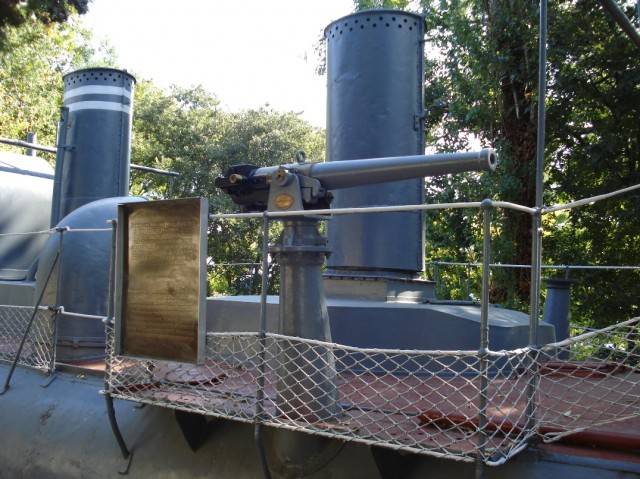 These cannons were fired from him! And today they let him in! And they are allowed to go down inside. What a pity that this was not possible in 1968
We got a room on the first floor. It was a large room with a writing desk, secretaire and two beds with bedside tables and table lamps. The window is huge, the entire wall, and there is a door to the balcony. Conveniences - behind the wall, including the bidet, which I saw for the first time, but there was no bath. There was a shower. For today it would have been a 3-star room, no more, but then it seemed to us just gorgeous.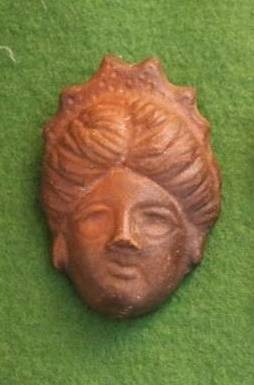 My first material souvenir from Bulgaria. I bought it for my mother in Nessebar. An exact copy of the head of Aphrodite found there
In the morning I was surprised by the breakfast. More salad from a huge tomato, scrambled eggs from two eggs right in a sizzling pan, no wine and a cup of coffee along with some kind of dry biscuits. "It's accepted! - Ivanka explained to me. "They eat well for dinner!"
It seemed to me that it was possible and necessary to warn Soviet citizens "there" about giving a tip, since it is not customary for us, about how to eat spaghetti, at that time I did not even know what it was ... But to remind adults that a fork hold in the left hand, and the knife in the right ...
We returned to the hotel to go to the beach, and there our ladies were in satin robes over swimsuits. Ivanka saw this, was frightened, waved her hands at them:
- Take it off, it's only at home! Go like this ...
It was very surprising and interesting for us, but we got lost and went. Ahead is Ivanka in a white blouse, black skirt and stockings, and then all of us, including our rather strong aunts in swimsuits, and separate ones. But look, people around are dressed the same way. "How about the store?" - "And!" - "How to measure clothes?" - "And there are fitting samples!" But you must dress for lunch in a restaurant. You can't even wear shorts! In general, there were many surprising things.
She took us to the beach and pointed out our fungi. Only here, nowhere else!
There were no sun beds then. You could lie right on the sand, which was cleaned every early morning with a special machine. By one o'clock in the afternoon we were so hungry that together we ran to change for lunch. We were served with bell pepper soup, which I have cooked regularly at home since then, and a pot of meat and porridge. Again, mineral water and wine. I was lucky that as a couple two strange girls were put at our table as a couple, who were shy and were more silent than talking. They refused to drink "Byalo blame", and the whole liter bottle began to go to my mother and me. Both for lunch and dinner!
We ate, and we were so tired that everyone went to their rooms to sleep and slept until four or five o'clock. And then, of course, we ran to the shops. And what was not there! Souvenirs, dishes (I really liked the painted clay service in the national style, but it cost 24 levs, and we did not buy it). By the way, a lion at that time was worth more than a ruble. For 100 rubles we were given 70 leva, so for two we had 105 leva for everything - both pleasure and shopping.
To be continued ...