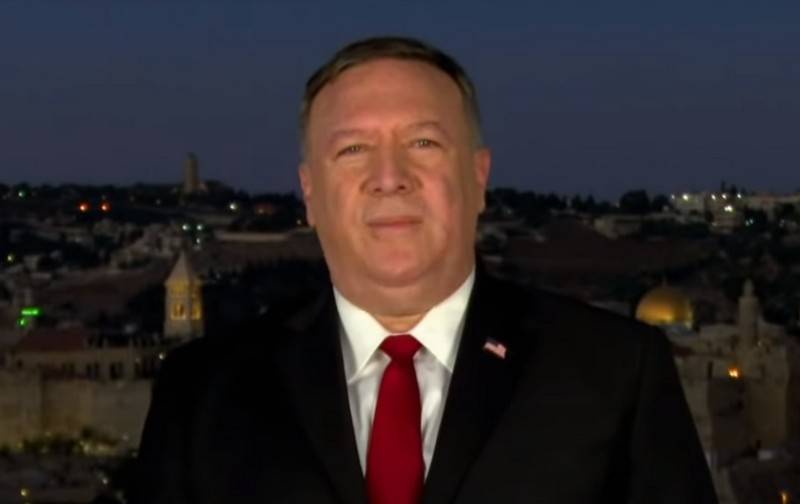 The United States intends to create intermediate and shorter-range missiles to counter "Russian aggression." This was stated by the head of the US State Department Mike Pompeo.
Speaking via video link from Jerusalem to participants in the Republican Party's national election congress, Pompeo said that the US withdrawal from the Intermediate-Range Nuclear Forces Treaty (INF Treaty) has made it possible to build intermediate and shorter-range missiles needed to contain "Russian aggression."
America abandoned a harmful treaty so that our country could build missiles to deter Russian aggression
- he stressed.
Talking about the successes of the current US President Donald Trump, the Secretary of State said that he (Trump - approx.) Achieved the strengthening of NATO, armed Ukraine, dissuaded North Korea from nuclear tests and did many other good things for the United States.
Today, thanks to President Trump, NATO has become stronger, Ukraine has defensive
weapons
system, resists the aggression of Iran in the region (...) he defeated the terrorist group ISIS (banned in Russia - approx.), defends America from the predatory strategy of the Chinese Communist Party
- said Pompeo.
Recall that the United States withdrew from the INF Treaty on August 2, 2019, accusing Russia of this. Despite all the statements that the United States is not developing missiles prohibited by the treaty, on August 21, 2019, a Tomahawk rocket was tested from a ground installation. In response to the US withdrawal from the treaty, Russian President Vladimir Putin ordered the development of an appropriate response.