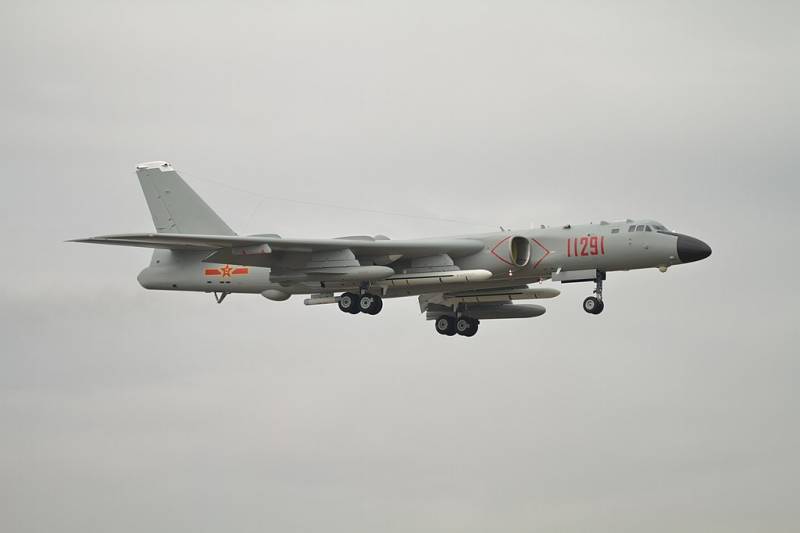 In the waters of the South China Sea, the PLA conducted a military exercise of increased intensity with the participation of the latest
aviation
... Ren Guoqiang, Deputy Head of the Information Department of the Ministry of Defense of China, reported on the maneuvers.
Reported by the Chinese
news
The Paper portal.
One of the new products presented was the H-6J bomber. Its ability to carry YJ-12 supersonic anti-ship missiles on board significantly increases the combat power of the PRC's naval aviation. The exercise in the South China Sea was the first demonstration of the new aircraft.
The PLA has been in service with the H-6 series of bombers since 1969, being considered veterans of the Chinese military aviation. Since then, on the basis of the base model, several generations of aircraft of this series have been released for the Air Force and naval aviation.
When the third generation H-6K bomber was created for the Air Force, the development of the H-6J model for the PRC Navy was in full swing. It differs from the H-6K in some features of the internal equipment and outboard armament associated with the specific use of the aircraft.
The H-6J is capable of carrying six missiles, including the YJ-83 subsonic anti-ship missiles and the YJ-12 supersonic missiles. In the future, the possibility of equipping bombers with a YJ-18 missile, capable of operating in both supersonic and subsonic modes, is not excluded.
The range of supersonic anti-ship missiles exceeds 450 kilometers. This allows you to attack targets outside the detection zone of the ship's air defense systems and without endangering the bomber.
During the exercise, the H-6J operates in conjunction with the H-6G aircraft carrying powerful electronic warfare. This tandem allows you to effectively act against enemy aircraft carrier groups. The H-6G electronically suppresses air defense and carrier-based aircraft, and the H-6J strike ships with missiles from out of range of the ship's missile systems.
This tactic turns the new H-6J bombers, created by the Chinese military industry, into real "destroyers of aircraft carriers," as they say in the PRC.