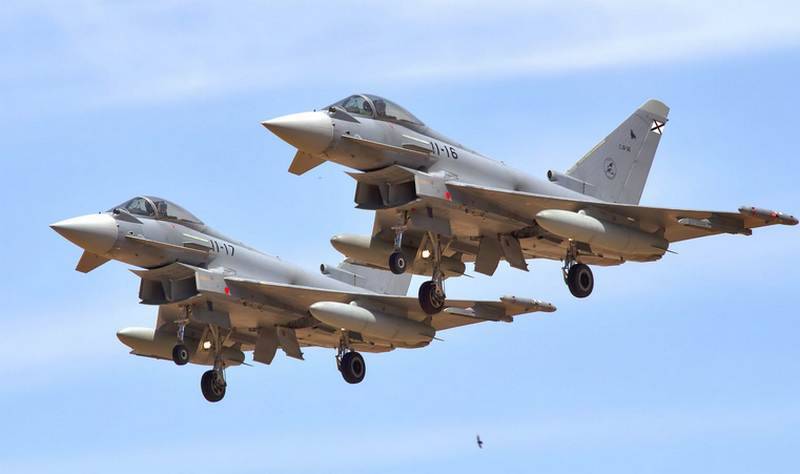 Spain will acquire another batch of Eurofighter fighters for its Air Force. According to Jane's Defense Weekly, the Spanish government has announced negotiations with the Airbus group.
Spain intends to replenish the Air Force with 20 Eurofighter fighters. A possible contract may be concluded in 2021. The planned purchase of Eurofighter fighters should belong to the new Tranche 3 + / Tranche 4 series. This purchase should be the first in the implementation of the Falcon project to replace the Boeing EF-2025A fighters in the Spanish Air Force from 2030 to 18 / At Hornet. The delivery of the first fighters is scheduled for 2025.
The first 20 Eurofighter aircraft will be used to replace the EF-18A / B fighters from the 461st squadron of the 46th wing of the Ganda Air Base in the Canary Islands. These EF-18A / B fighters are the oldest in the Spanish Air Force, they were built in the first half of the 80s of the last century and acquired from the presence of the US Navy.
The 20 Eurofighter Tranche 3+ / Tranche 4 fighters planned for delivery will be equipped with the new on-board radar with AFAR CAPTOR-E Mod 1, now created by Hensoldt and Indra.
To date, the Spanish Air Force in the period from 2005 to 2019 received 73 Eurofighter fighters, including 19 aircraft of the Tranche 1 series, 34 Tranche 2 series and 20 Tranche 3A series. Of this number, 70 Eurofighter aircraft are in service, and 85 EF-18A / B fighters are also in service.
Earlier, Spain refused to purchase American Lokheed Martin F-35A fighters for the Air Force, although the possibility of purchasing a batch of F-35B aircraft for
aviation
Spanish Navy.