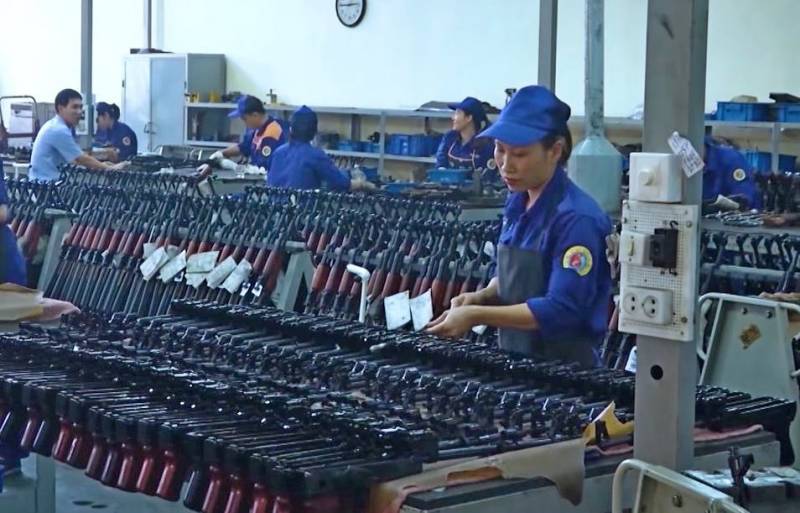 The Z111 factory of the Main Directorate of the Defense Industry of Vietnam has developed a new 7.62x39 mm assault rifle, designated STV-410.
According to VietDefense, it can be considered a local version of the Russian AK-15 assault rifle, created on the basis of the 5.45-mm AK-12 model of 2012 under a more massive cartridge.
Some of the information is still classified and will be available only at the end of this week. But, as the name implies, the barrel length of this
weapons
is 410 mm, and it uses the traditional 7,62x39 mm cartridge, which was the main ammunition for almost all Vietnamese small arms.
According to the publication, the optics depicted on the booklets are most likely a publicity stunt - most conventional troops will use standard sights anyway. Compared to other types of new Vietnamese rifles with a folding design, the STV-410 seems to have full ammunition.
The creation of a modern Kalashnikov assault rifle outside of Russia, frankly, is not so difficult and quite possible for the Vietnamese defense industry [...] Is the AK-15 and Galil ACE [Israeli rifle line] not just a modernization of the original Kalashnikov assault rifle made by two different countries ?
- notes VietDefense.
As the publication emphasizes, when the Vietnamese government received a license for the manufacture of Galil Ace in 2014, it was not going to produce small arms developed in Israel. The main goal was to use production experience and transfer the technology needed to create a local rifle.