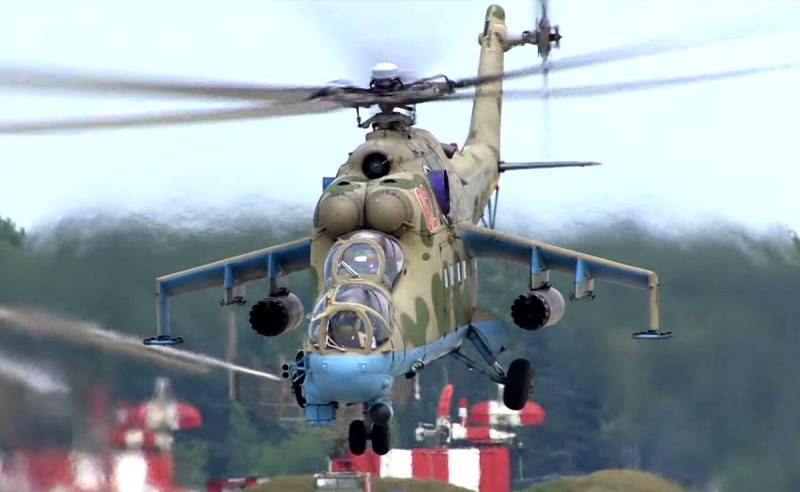 The legendary Mi-24 transport and combat helicopter developed in Soviet times will be modernized and brought to the level of modern helicopters. Tests of the new version will be completed in 2021. This was stated by the General Director of JSC "Leverage" (part of the Radioelectronic Technologies Concern KRET) Alexey Panin.
Speaking to reporters, Panin explained that the modernized version of the Mi-24 is currently at the stage of creating a prototype. Factory testing of the helicopter will begin at the end of this year, and will end, according to plans, in the first quarter of next year.
Now we have officially closed two stages of development work: a technical project and the development of documentation. The Mi-24 helicopter is now at the stage of creating a prototype. The experimental machine, as we plan, will fly into the air very soon, and in the first quarter of next year we plan to complete factory tests
- he said.
Reportedly, in the process of modernization, the Mi-24 received a new airborne defense system, which allows protecting the helicopter from modern weapons, as well as conducting electronic reconnaissance and electronic suppression. In addition, the helicopter received a new cockpit, made on the principle of "glass", new aerobatic equipment and control system.
A new management system is also reported.
weapons
and the increased nomenclature of weapons of the modernized Mi-24, but details are not given.
Equipping the Mi-24 helicopter with modern electronic equipment and armaments allows achieving combat effectiveness comparable to the latest generation machines, much lower costs in comparison with the purchase of new helicopters
- stressed Panin.
Mi-24 (according to NATO classification: Hind - "Doe") - Soviet / Russian attack helicopter designed by the Moscow Design Bureau of M. L. Mil. The unofficial name is Crocodile. Serial production began in 1971. The helicopter is designed for the transfer of units of the ground forces, the evacuation of the wounded and fire support on the battlefield.