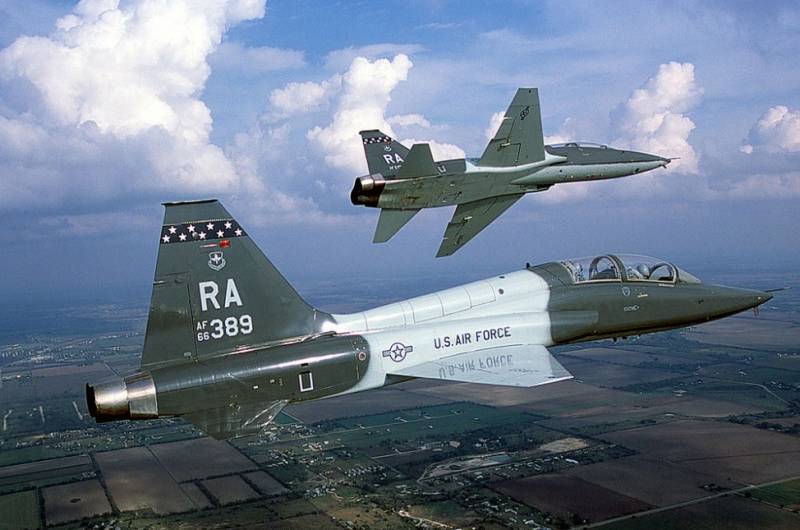 American military analyst Tyler Rogoway writes about the problems of training fighter pilots in the US Air Force and the relationship between the cadet and instructor during training flights and training air battles.
How does Rogov emphasize on The Drive pages? a good instructor pilot can play a decisive role in fulfilling the dream of heaven for a motivated cadet. This role especially increases with the transition from mastering aircraft control to the study of tactics of air combat. The video presented in the article was shot during the execution of the training program for fighter
aviation
IFF, which is fundamental to the training of the US Air Force fighter pilots.
IFF is an eight-week course designed to turn newly graduated pilots selected for fighter flights into real fighter pilots. The 49th training fighter squadron trains pilots by teaching them discipline and instilling the appropriate culture of combat aviation pilots.
We are a fighter squadron. All our instructors are fighter pilots. We have a unique culture,
says Major Michael Overstreet, assistant commander of the 49th Squadron.
It is interesting that before completing the course, the future fighter pilot must undergo 53-week training in a special pilot training course, during which he will gain knowledge about the characteristics of the aircraft, the take-off and landing process, and high-flying pilot, and will master the skills of responding to emergency and emergency situations.
Only in this case, the pilot will switch to the IFF course, where he will be trained for flying on such fighters as the F-22 Raptor and F-35A Lightning II. But first, the pilot will have to study on the T-38C Talon - a training jet aircraft that have been used for more than half a century to train pilots of American fighter aircraft.
We are trying to help reduce training from pilot training to this course. That's why we use this program as a means to absorb a fighter culture and understand what it means to be a fighter pilot,
says Captain Cole Stegeman of the 49th Squadron, who oversees the planning of the training process.
In the video presented in The Drive, you can watch a cadet master the tactics of air combat on a fighter. Maneuvers are performed with corrective comments from the instructor sitting in the back seat.
When the enemy's plane falls into the cadet's visibility range, the instructor shouts:
Follow him! Kill him! Kill him! Kill him! Kill him! Come on, he's ahead! Shoot him!
The cadet disappointedly exclaims:
I'm trying to!
A certain rigidity of the instructor is necessary in order to raise from a young cadet a real air wolf of American military aviation, as the American pilots themselves say.
Here is the T-38C pilot instructor. This is truly a teacher who shapes the lives of students through special care!
- summarizes what Tyler Rogov sees.