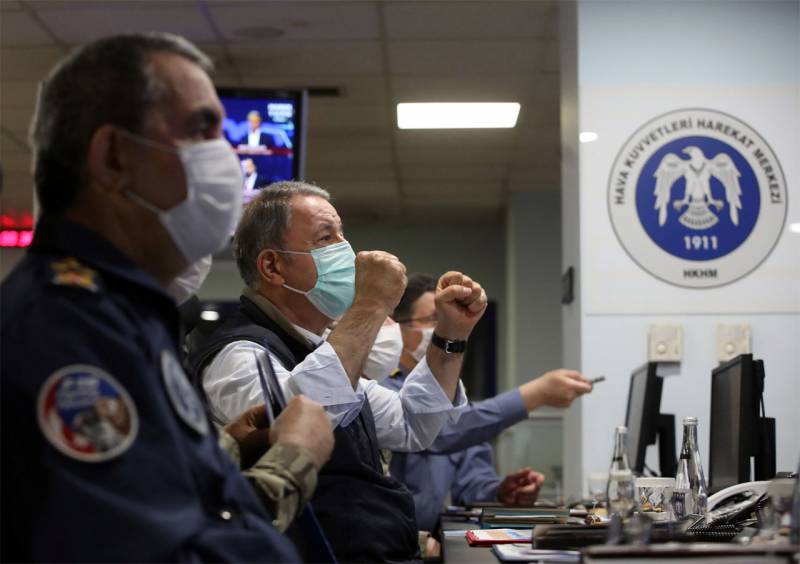 Turkish President Recep Erdogan in the "best" traditions of Sultan Suleiman (Magnificent) opened another front of the hostilities of the Turkish army. It became known that Turkey began a military operation in northern Iraq. The operation received the loud name "Eagle Claw" and is directed against representatives of the Kurdistan Workers Party, as reported by the press service of the Turkish Ministry of Defense.
Turkish Air Force planes and drones attacked PKK positions in the mountainous regions of Iraqi Kurdistan.
Turkish Minister of Defense Hulusi Akar said the operation was "defensive in nature" and directed against "terrorist shelters, warehouses and caches." Recall that in Ankara, the Kurdistan Workers Party is recognized as a terrorist organization.
Press Service of the Ministry of Defense of Turkey:
Our
aviation
destroys the den of terrorists. The operation was a response to the increasing attempts by militants to attack border points and police stations. The actions of terrorists threaten the security of Turkish citizens. Additional operations are carried out in Sinkar, Karachak, Avasin Basyan, Kandil, Hakurka, used by terrorists as their base.
Hulusi Akar took control of the Eagle Claw operation. The operation is being monitored by the Chief of the Turkish General Staff, Yashar Guler, the commander of the ground forces, Yumit Dundar, the commander of the Air Force, Hassan Kyuchukkayuz, the commander of the Navy, Adnan Ozbal. This suggests that the operation may not be limited to air strikes alone.
Recall that the Turkish military at the moment also operates in Libya and the Syrian Arab Republic.
Iraqi media write that the Turkish military operation was not coordinated with official Baghdad.