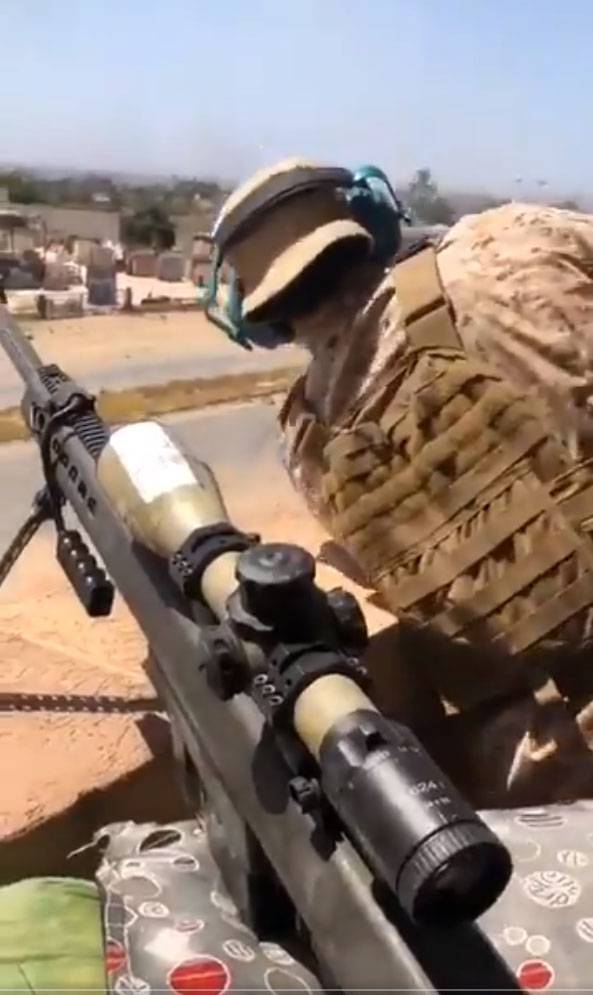 The forces of the so-called Libyan National Accord Government have posted an ambush footage video. In an ambush arranged in one of the settlements south of Tripoli, the formation of the Libyan National Army Khalifa Haftar fell.
It was stated that the attack on the VLA forces moving along the highway south of the Libyan capital was organized by Radaa units, which are called "special deterrence forces." According to some reports, these units are being trained by Turkish military instructors, but there is currently no official confirmation of this information.
The images presented show how heavy fire is being fired from a building located in close proximity to the road. At the same time, one of the first frames shows a sniper
weapon
. This is one of the varieties of the Barrett M82 large-caliber rifle chambered for .50 BMG. Such sniper rifles are in service with many countries of the world, including the USA, Turkey, and a number of countries in the Middle East.
In the video, you can see and undermine the car. After the blast, one of its wheels rolls away from the road, and the man inside the car tries to escape from open fire. Also, the PNS forces are firing high density at two pickups of the LNA, which ultimately light up.
#Libya: I have never quite seen an ambush like this before, absolutely insane. GNA forces absolutely light up LNA (#Haftar) forces in an ambush in the vicinity of #Tripoli.

I also peep the Barrett 50 calpic.twitter.com/eYYK5lHHto

- Cᴀʟɪʙʀᴇ Oʙsᴄᴜʀᴀ (@CalibreObscura) June 2, 2020
Recall that on the eve of the announcement of the "readiness of the parties to resume negotiations."