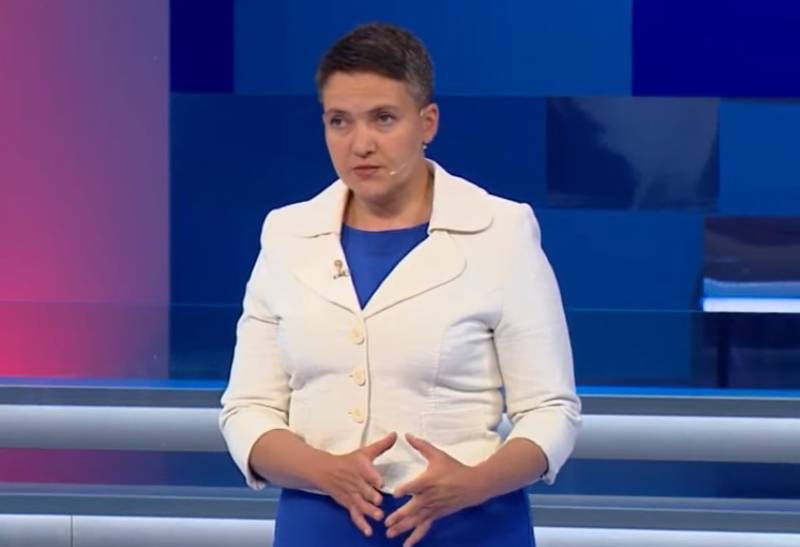 Former gunner of the Ukrainian nationalist battalion Aidar Nadezhda Savchenko always refused to talk with Russian media. But for NTV, she decided to make an exception.
Savchenko agreed
to talk
in the videoconference mode, however, categorically refusing to speak Russian. Say, in the "language of the aggressor" she will talk only during a speech to the Russians from the Kremlin ...
There was a time when US Senator John McCain called Savchenko "an icon of freedom and democracy." Then she was under arrest in Russia. When she went free and returned to Ukraine, she behaved unpredictably. The most unpleasant thing for the Ukrainian authorities was that Nadezhda began loudly accusing the West of organizing the Maidan:
Neither the Orange Revolution nor the Revolution of Dignity occurred with the filing of the Russian Federation. They came from the filing of the Western civilized world.
Even worse, she bluntly stated that Poroshenko and his associates were guilty of the death of the so-called "heavenly hundred". Savchenko claimed that during Maidan, Yuri Lutsenko, who later became the prosecutor general, called on protesters to overthrow the government and promised to give them
weapon
. She noted that she personally saw how Parubiy, who later took the chair of the Speaker of the Verkhovna Rada, brought armed people, probably snipers, into the building of the Ukraine Hotel in Kiev.
And even the change of president in Ukraine did not start the investigation of these crimes.
After leaving prison, Savchenko unexpectedly became a real "splinter" for the Ukrainian authorities, continuing to remain in this status today.