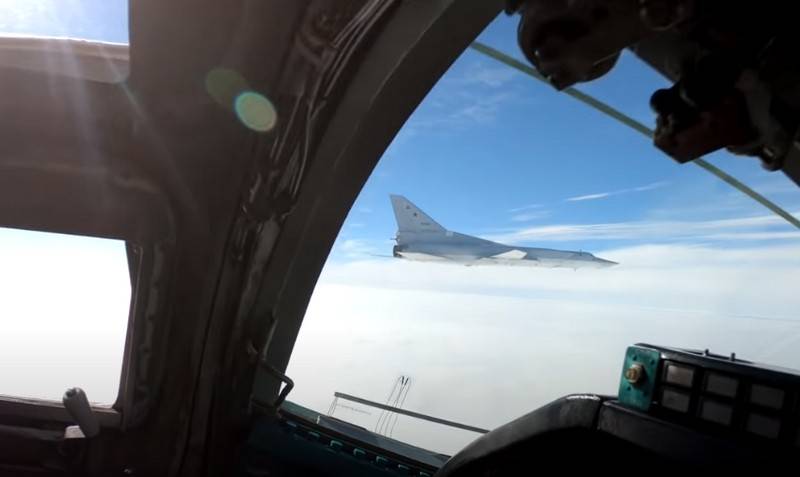 A video of the flight of Russian long-range Tu-22M3 bombers over the Black Sea appeared on the Web. The video on its channel on YouTube posted TC "Star".
As previously reported by the press service of the Ministry of Defense, a pair of long-range bombers Tu-22M3 of the Russian Aerospace Forces made a planned flight over the neutral waters of the Black Sea. The flight in total amounted to more than 5 hours, during which time the aircraft covered about 4,5 thousand kilometers. At selected sections of the flight, the bombers were escorted by fighters of the Southern Military District.
On May 19, 2020, two Tu-22M3 long-range bombers of the Aerospace Forces completed a planned flight in airspace over the neutral waters of the Black Sea. During the flight, the crews of long-range bombers overcame about 4,5 thousand kilometers and were in the air for more than five hours
- said in a statement.
Tu-22M3 is a long-range supersonic missile-bomber with variable wing geometry, the modification was adopted in 1989. Designed to engage sea and ground targets at a distance of up to 2200 km from airbases based on guided missiles and
aviation
bombs. Currently, the aircraft is being upgraded to the Tu-22M3M version, during which the aircraft will receive new avionics, an aiming and navigation system and other on-board equipment, including a refueling rod. The new version of the aircraft can carry X-32 cruise missiles and hypersonic missiles.