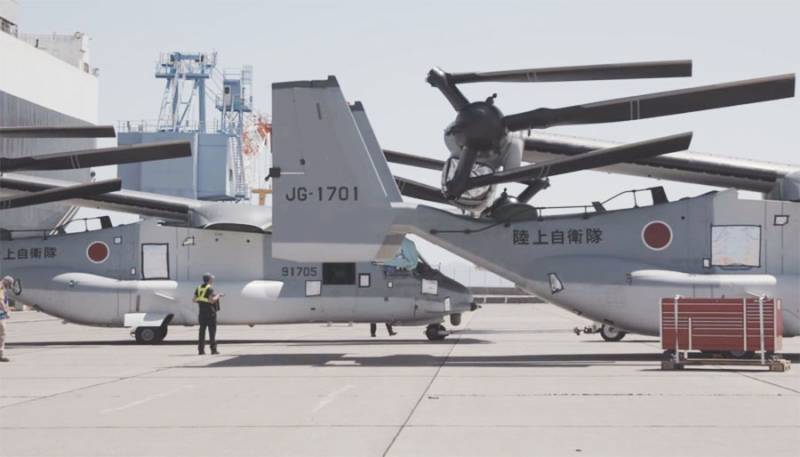 Shot video Katie Marcwold (Iwakuni base, Japan)
The first two V-22 Osprey convertiplanes of the five previously ordered arrived in Japan. Convertibles for Japan's self-defense forces are being built at the joint venture of Bell and Boeing in Texas and Pennsylvania.
They were delivered by sea to Ivakuni base.
Previously, Japanese pilots were trained in the management of US-made convertiplanes on the basis of the US Marine Corps New River in North Carolina.
It is known that we are talking about upgraded versions
aviation
- CV V-22, which includes an upgraded radar, advanced monitors in the cockpit.
Thus, Japan becomes the first foreign buyer of such convertiplanes for the United States. The total contract value for five CV V-22 (CV-22M) is $ 332 million. From this we can conclude about the unit price. It is 66,4 million US dollars.
Earlier in Japan, when asked by journalists about the purpose of acquiring Osprey convertiplanes from the United States, they gave the following plan:
They will be stationed at the Kisarazu airfield near Tokyo. It houses the 1st Self-Defense Forces Helicopter Brigade of Japan and a maintenance center, part of the US Marine Corps. Convertibles will help improve the country's security, reach a new level in the use of landing on land and at sea, and protect Japanese sovereignty.
Initially, the Japanese Self-Defense Forces Command planned to deploy tiltrotor planes at one of the bases of southern Ryukyu Prefecture.
The designated goal is to protect the sovereignty of the southern Japanese islands (a hint of the Senkaku-Diaoyu-dao islands in the East China Sea disputed with China). However, local residents protested, saying that they have enough noise and American convertiplanes.
Subsequently, it is planned to place convertiplanes on helicopter carriers of the Izumo type. It is noteworthy that earlier on the same warships in Japan they were going to place F-35B fighters.