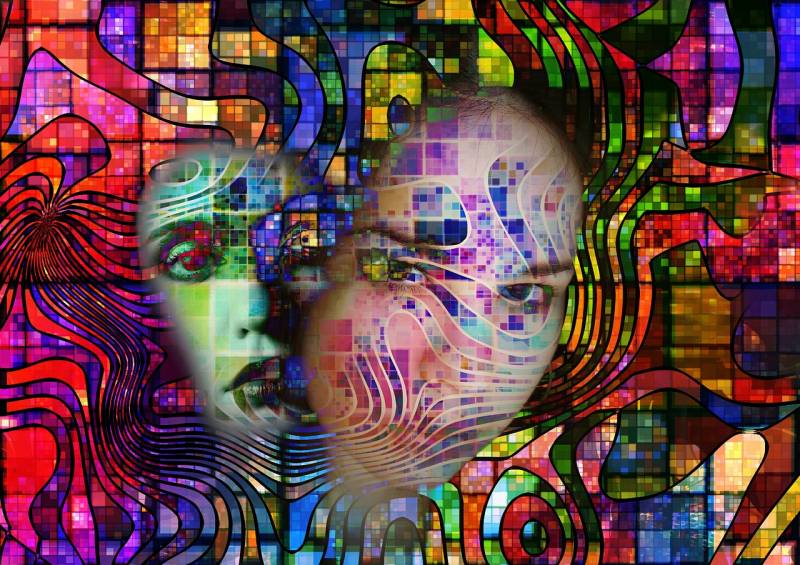 Among the probabilistic worlds generated by the Distorted World, one is exactly like our world; the other is similar to our world in everything, except for one single particular, the third is similar to our world in everything, except for two particulars, and so on ... Partly it was not important, because nothing lasts forever under the moon, except for our illusions. But no one wants his illusions to be in jeopardy, and so Marvin tried to find out what kind of world he was. Is he on Earth or on her take? Is there a noticeable detail that does not correspond to the Earth where he was born? Or maybe there are several such details? Marvin looked for them in the name of his peace of mind. He went around Stanhope and its environs, inspected, explored and checked the flora and fauna.
Everything turned out to be in its place. Life went on as usual; father grazed rat herds, mother, as always, laid eggs placidly.
Robert Sheckley. Mind exchange
.
Dear readers of Military Review!
I registered on the site in 2015 and for five years, albeit virtually, met many wonderful people. I always liked to participate in discussions of various topics or just read articles. I think that I was very lucky in my time to discover this platform of diverse opinions, to find new knowledge in my hobby
history
. For all this time I didn't really talk about my profession, although some very shrewd people figured it out. The reason why I did not talk about how I earn my daily bread does not lie in my secrecy. The reason is that the profession of a psychiatrist, as well as another medical specialty - a pathologist, causes any person to have an internal feeling of some discomfort, vague anxiety. And if in the latter case, a person, as it were, bears the shadow of death, then as far as my specialty is concerned, I could not determine what exactly guards people around with the word "psychiatrist". Of course, the explanation usually follows: what if the doctor sees that something is wrong with me? .. I think this is not all that a person feels when communicating with the "brainwave" in an informal setting. Why? In my opinion, the reason is similar. As with the pathologist, this is a feeling of the very "shadow of death."
Yes, a mental illness does not literally lead to death, but if it happened that a loved one was sick, relatives would suddenly see that he had changed radically. Outwardly, he is the same, his memory is the same, but his behavior, views, attitudes towards others have changed significantly. It was as if something had taken hold, enslaved him, replaced the one whom his relatives loved with an alien, unfamiliar creature and often very dangerous. By the way, patients themselves often talk about this. The feeling of "internal change" is one of the characteristic symptoms of the so-called initial period, when formally the disease does not exist yet.
So what is mental illness? In the International Classification of Diseases (ICD) of the tenth revision, he assigned the heading F00 to F99, which addresses various diseases, disorders, pathological conditions. But the most important of the entire list of diseases is, of course, schizophrenia.
What is it? Currently, it is believed that the cause of its appearance is a genetic predisposition, that is, a person born with a certain set of genes can get sick sooner or later. Moreover, there is no direct inheritance, as in type 1 diabetes mellitus or hemophilia. After all, the psyche is determined by a very large set of genetic material. That is, almost anyone can get sick. And when they say, they say, "there were no crazy people in our family", this does not mean anything. It used to be, but now it is.
How does the disease manifest? I'll try to explain. In the name itself lies the German word meaning "split" in Russian. The various components of mental activity: memory, thinking, emotions, will, as a result of illness, become unrelated to one degree or another. Plus hallucinations of a diverse nature, but mostly auditory, painful ideas (delirium) and the emerging Kandinsky-Clerambo phenomenon, when a person feels his control from the side. The syndrome concerns both motor functions and mental. For example, a patient claims that they are watching with his eyes, they think for him, they move him like a puppet. The basis of these disorders is an excess of the neurotransmitter called dopamine.
Based on this knowledge, modern medicine uses medicinal substances - antipsychotics, which restore dopamine to a normal amount. The history of their creation and use begins in the mid-50s of the last century, after the synthesis of such a well-known drug as chlorpromazine. Then a whole series of various drugs arose that could not only stop severe painful experiences, but also enable a person to live a full life - that is, hardly anyone from around would be able to discern in him a former patient of the "house of sorrow".
But it was not always so. At different times, psychiatric patients tried to "treat" in various ways. For example, readers of Military Review have already become acquainted with the Nazi version of "treatment". This is the so-called T-4 program. The program got its name due to the fact that the administration of the Reich Workers' Community for the Treatment and Care of Patients (good name, nothing sinister) was located at Tiergartenstrasse 4. As you know, the Germans had a reputation for practical people. In practice, they decided to prove that people with disabilities and mentally disabled people can be "treated" in only one way: "there is no person - there is no problem." As the savages considered, mental patients literally eat up resources. Therefore, this problem was thoroughly approached. For example, six psychiatric hospitals have been converted to "euthanasia institutes." In them economical Nazis installed gas chambers and cremation furnaces. Patients who were prescribed "euthanasia" were photographed and taken under escort to a gas chamber disguised as a shower. The "doctor" turned on the gas for 10-15 minutes, and after about an hour the bodies were sent to a cremation furnace. Also in the "treatment" they used hunger or special feeding methods (diet E), which consisted of the following: black coffee or tea for breakfast, boiled vegetables for lunch and dinner, for example, spinach, cabbage, potatoes. Meat and other animal products were banned. Periodically, patients were allowed to eat "from the belly" - and as a result, mortality pleased the creators of the program. And if in the Reich itself the cannibals still looked back at the opinion of the Catholic Church and the public and somehow masked their actions, then after the outbreak of war in the occupied countries they did not constrain themselves: a bullet, a fire, a caterpillar
tank
sent to the "best of the worlds" the number of those people who were not fully calculated who couldn't benefit at the Krupp or Messerschmitt factories due to their painful condition. In Germany itself, the victims of "optimization" were under 180 thousand.
The next method of "treatment" became popular in the 50s in the main country of democracy - the United States. In 1949, a man who was not even a professional doctor, Egash Monish, received the Nobel Prize "for discovering the therapeutic effect of leukotomy in certain mental illnesses." The term "leukotomy" means a dissection of the white matter of the brain. As a result of this operation, while still experimenting with monkeys, it was noticed that violent primates became calm and peaceful. The most significant award - the Nobel name - was an excellent advertisement for this procedure. And this despite the fact that there were objections from doctors and scientists who did not sell their conscience and opposed this method of pacification. And despite the fact that they said that the consequences of the procedure are extremely serious, irreversible mental disorders. Nobody began to listen to them, since the motives of economic feasibility outweighed all reasonable arguments. How can it be: now patients can no longer be kept in hospitals, but in the form of "vegetables" can be given to relatives! Moreover, the operation itself was extremely simplified. Without drilling bones: they began to carry out surgical intervention with a simple knife for chopping ice! A thin layer of the eye bone was pierced with a knife and a surgical hammer, after which fibers of white matter were dissected with a knife. The author was the American Lefty, a man with a medical background (neurologist) Walter Freeman. And it began. In four years, from 1949 to 1952, only 5000 lobotomies were made in the United States alone. Since the early 1950s, this level has reached 5000 per year. In total, from 1950 to 40000 Americans did a lobotomy until the late 50000s. Think about these numbers!
Freeman himself personally performed 3500 operations, traveling around the country in a van, which he called
lobotomobile
. Lobotomy (leukotomy) put on a wide commercial footing. In this way, they began to "treat" not only "violent" patients with schizophrenia, but also people with various problems in behavior and even children. But what if the wife or husband bothered you, if the child is uncontrollable, call and the problem will be solved ... Consequences: decreased intelligence, severe depression, urinary incontinence, overweight, impaired motor function up to paralysis, convulsive seizures. In addition, sometimes the fibers of white matter sprouted back, and violent behavior was restored. Up to a quarter of patients, as Freeman said, became "pets", 2-6 percent died after surgery. In the end, the scientific community still rose, and even ordinary people, and by the 60s, "lobotomy" was banned.
But what happened in another camp, different from the developed democracies, in the country of the Gulag and mass executions? That's right, some readers have guessed: they decided not to bother and stop at the "mass executions." Just kidding. In the USSR, as in a barbarian state, blindly, as now, they did not adopt the Western experience. To begin with, we conducted research, made only 400 (four hundred!) Operations and came to the conclusion about their inhumanity. All. The newspaper "Pravda" noted the article:
"One example of the impotence of bourgeois medicine is the widely used" new method of treating "mental illness in American psychiatry - lobotomy (leukotomy) ... Naturally, among our doctors, brought up in the spirit of the glorious traditions of the great humanists - Botkin, Pirogov, Korsakov, armed with the teachings of I.P. Pavlov, there can be no place for such "treatment methods" as lobotomy. Nevertheless, we also found people who liked this transatlantic fruit of pseudoscience. Back in 1944, Professor M. A. Goldenberg, the head of the Department of Psychiatry at the Gorky Medical Institute, performed an operation using the lobotomy method ... "
Poor Goldenberg, most likely, after this article received another: another innocent victim of Stalinist repression.
On December 9, 1950, Order No. 1003 of the USSR Ministry of Health appeared, which prohibited lobotomy.
I will return to where I started. Dear readers of Military Review, in the history of medicine and its component - psychiatry, there were a lot of things. In my opinion, what is happening in recent times is very far from true humanity. Only in the last 70 years several attempts have been made to radically solve the problem of "unnecessary", "superfluous" people. What they didn't do with them, but all the same, the percentage of the same schizophrenia remains the same (2-3 per population) and even after the total destruction of carriers of the "wrong genes", as in Germany. Questions arise: maybe they, these people, are for some reason needed in society, maybe we will cease to be people without them?
But officials are not accustomed to reflect on such issues. Again, anti-scientific concepts are invented in which the main refrain is: "Down with the hospitals!" Of course, everything is under the sauce of humanity, socialization: boo, boo, boo, blah, blah, blah. We socialize them, we want to return them to their families, relatives! But where do you get the time that is meant for the drug to work? Where do you get the individual work of the doctor with the patient? How to regulate the time for contact, the emergence of trust between the doctor and the patient, who, for example, has delusions of persecution? And without all this, patients lose hope for the future. They will face a prison, grave, heating main.
Medical workers of the Angarsk branch of the Irkutsk neuropsychiatric hospital continue the struggle for the life and health of their patients. We will be grateful to all those who care for their support! The most important thing is to bring to people information about what is happening with medicine, with psychiatry in our state.