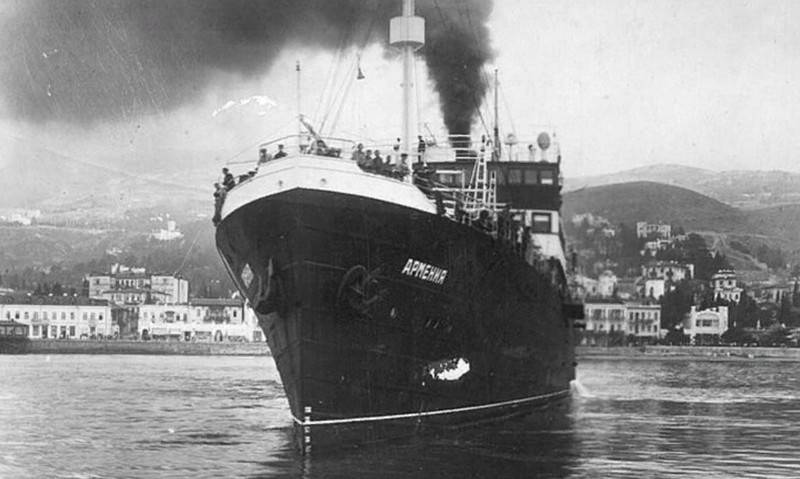 Sanitary vessel "Armenia" sunk in 1941
aviation
fascists and sunken off the coast of Crimea, discovered by members of the "Russian underwater research expedition." This was reported by the media with reference to the message of the expedition.
According to the report, the ship was discovered by the deep-sea apparatus of the Ministry of Defense off the coast of Crimea, about 18 kilometers from Yalta at a depth of 1500 meters. The location of "Armenia" was established after a survey of more than 300 square kilometers of the Black Sea. The preliminary location of the vessel was determined in 2016.
Now doubts have been dispelled, and our point, announced back in 2016, was confirmed. Now we know exactly where the biggest disaster on the Black Sea lies. The ship was on a large slope, sliding into a crevice. Depth, as previously stated, 1 meters
- said the representative of the expedition.
It should be reminded that the "Armenia" motor ship, converted into a medical vessel, left Sevastopol on November 6, 1941. On board were the wounded, medical staff of several hospitals, employees of the Artek pioneer camp with their families, and part of the party leadership of Crimea. Also on board were archives, museum collections and collections. On the evening of November 6, "Armenia" went to the external raid of Balaklava to take on board the NKVD officers and the personnel of local hospitals. That same night, the ship went to Yalta, where it took the last passengers and sailed to Tuapse.
On November 7, 1941, at 11 a.m., a German torpedo bomber He-25 launched two torpedoes and both hit the target on a ship that had the distinctive signs of a medical vessel. The ship sank literally in 111 minutes, taking to the bottom from five to ten thousand people, the exact number of victims has not yet been established.