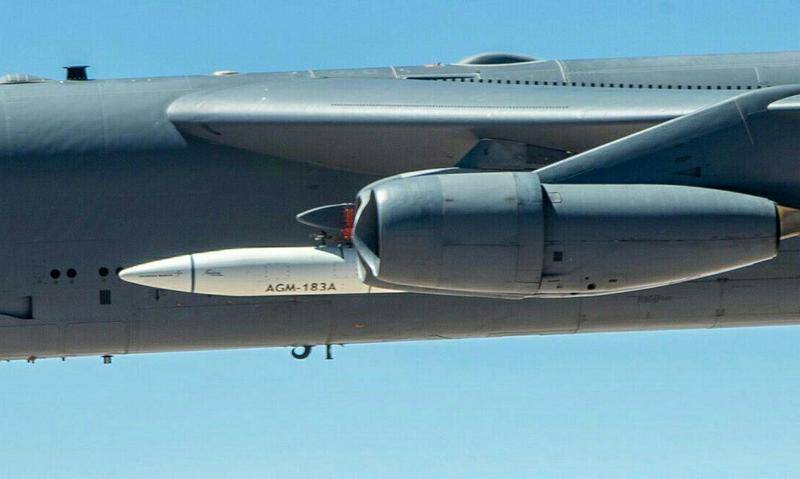 The Pentagon once again noted the backlog of the United States in the development of hypersonic
weapons
. This was announced by the head of research and engineering programs of the US Department of Defense Mark Lewis and his deputy for hypersonic systems, Michael White.
Speaking at a Pentagon briefing, Lewis and White said that Russia and China were far ahead of the United States in developing hypersonic weapons, although the United States was the leader in these developments before. Currently, the US has focused on developing an air-based hypersonic cruise missile (ARRW Air-launched Rapid Response Weapon - approx. BO). At the same time, Russia and China are developing tools designed to strip the United States of its advantages not only on land, air and sea, but also in space.
We used to be leaders in hypersonic technologies, but we decided not to switch to their use in weapons systems. The Russians and Chinese made this decision a few years ago. We cannot accept the existence of such a situation.
- said White.
According to Lewis, the Russians began working on hypersonic weapons at the same time as the Americans, but used the experience and developments of the Cold War, and China, which joined in later on, invested huge sums in the development.
The Pentagon emphasized that the main efforts will be concentrated on the development of an air-based hypersonic cruise missile, since such a missile is suitable for placement on various carriers.
Earlier it was reported that the American company Lockheed Martin successfully defended the project of the promising hypersonic aeroballistic missile ARRW (Air-launched Rapid Response Weapon), the development of which has been under the order of the U.S. Air Force since 2018. Recall that in early February, the US Air Force closed one of the programs for the development of hypersonic weapons. Air Force spokeswoman Anne Stefanek has stated that the development program for the Hypersonic Conventional Strike Weapon (HCSW) fell under the reduction. Lockheed Martin also worked on it.