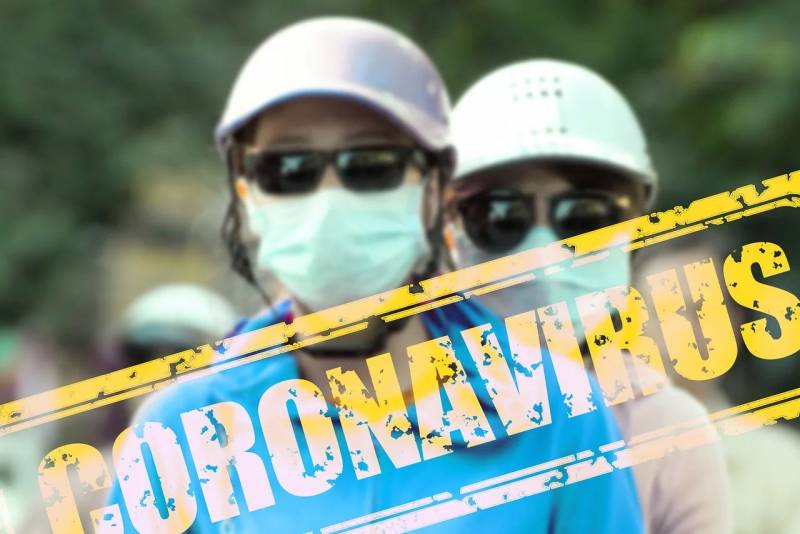 The coronavirus pandemic is discussed in every way, but we will consider only the "iron" facts.
Made in China?
Chinese test medical systems have discovered a new type of coronavirus in Wuhan, the global logistics center, in the Huanan wildlife market.
A lot of versions have been put forward about the origin of this virus; we will not repeat them. At the official level, no one is blaming the Chinese authorities for anything. Western experts say that this virus could have originated in the wild animal market because it has much in common with the DNA of bats. Chinese virologists believe that coronavirus entered the Huanan market from the outside and spread rapidly.
Note that the wildlife market in Wuhan has been around for hundreds of years. Probably. But a new type of coronavirus appeared and was recorded only at the very end of 2019.
Doctors reassure us: they say there were many similar epidemics, moreover, originating in China, and gradually all viruses lost their high pathogenicity and the epidemics died down, therefore the coronavirus epidemic will develop similarly. This explanation contradicts only one, but very obvious fact: measures to combat the coronavirus are taken unprecedented, as if an alien invasion occurred.
By the way, the fact that the epicenter is located in China, and led to the rapid detection of coronavirus, because for Chinese doctors it is a constant threat. It seems that the coronavirus wanted to appear immediately and make itself felt. Conspirologists talk about microbiological leakage
weapons
from a Chinese laboratory, on the use of such weapons by the United States, as American biological military laboratories are scattered around the world. And what are they doing there? But all this is not a fact. Perhaps the rest of the world is simply underexplored. Former member of the UN Biological Weapons Commission, Igor Nikulin, believes that sabotage, whether external or internal, has been committed in Wuhan.
War on coronavirus
We are now seeing a real war with the coronavirus, in which the armed forces are used to isolate entire cities. China set an example, isolating the multi-million-dollar Wuhan. China suffers the most damage from this virus, both economic and image. All countries of the world are saved alone, each acting for itself.
Let us look at the world's largest players with the corresponding virological competencies, that is, fundamental science. The United States even incurs military costs: the largest US air base in South Korea is in quarantine, and the entire Pacific Fleet in quarantine, without prejudice to fighting efficiency, is assured by American generals and admirals ... Russia has ceased all communication with China and, as it were, has succumbed to a global panic, is in strict quarantine measures. In Europe, a hotbed of epidemic in Italy has formed, but the Schengen agreements are still working. To date, in Italy, about 50 survivors account for about 20 coronavirus deaths, the rest are undergoing treatment, according to media reports.
Officials, from President Trump to our Ministry of Health, make reassuring statements, with the same plan: wash your hands before eating and sit more at home. But WHO admits panic claims that this pandemic will affect a large part of the world's population, that is, it cannot be stopped. Have to worry about it. And this is a common epidemic, which were before? ..
What is unusual?
The coronavirus is somewhat frightening to virologists, and they, in turn, are politicians. Judging by the statements, they have not yet encountered such a virus, it is unusual for them. Therefore, virologists cannot say anything about the consequences, give predictions, and everyone says, in China, in Russia, and in the USA, the same thing: localize the foci, isolate the infected, enter quarantine, which everyone does.
Virologists do not say anything about when this epidemic will subside. But there is another question: what will happen later with people who have the virus? They recovered, but at the same time they could somehow change. There are cases of reinfection with coronavirus. And then involuntarily come to mind pictures from science fiction films with a similar plot ...
That is, it is not the coronavirus disease itself that worries most, after all, most recover, but an equally unprecedented reaction to the epidemic of authorities of different countries of the world. They all seemed to be underestimating something, afraid to cause even greater panic.
Conclusion
A coronavirus has been hit on our planet, all conventional weapons and nuclear arsenals are powerless, the only weapons to combat it are washing hands before eating and quarantine measures. The effects of the pandemic are unclear.
There are no effective medicines, but most people recover using conventional medicines, people with poor health die. There is no vaccine yet, only promises. Despite the measures taken, it is not possible to stop the pandemic. How it all ends and when is also unclear.