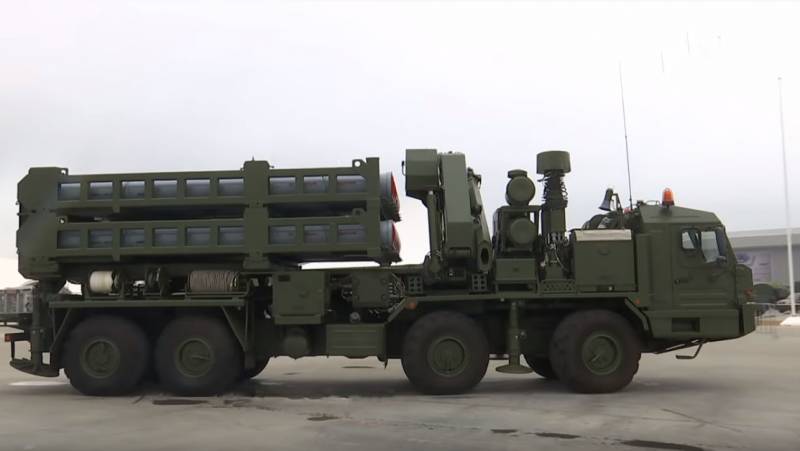 The first S-350 Vityaz anti-aircraft missile system officially entered service with the Aerospace Forces (VKS), the latest complex calculations have already begun to master the technology at the training center in Gatchina. This was reported by the press service of the Ministry of Defense.
The first newest complex of anti-aircraft missile troops S-350 "Vityaz" entered the VKS - recently the complex arrived at the training center of anti-aircraft missile forces in Gatchina
- said in a statement.
The capabilities of the new complex were demonstrated to reporters. Calculations C-350 conducted a training to detect and destroy a conventional enemy.
The combat crew of the S-350 air defense system demonstrated its skills, destroyed electronic firing of a conditional enemy and made a march to a new position area
- added to the military department.
The transfer of the first S-350 Vityaz air defense system to the anti-aircraft regiment of the Russian Aerospace Forces was reported in December 20th. The transfer took place at the Kapustin Yar training ground in the Astrakhan region. The equipment was supposed to arrive in the Leningrad Region in January this year.
The S-350 Vityaz air defense system is a medium-range complex used to organize air defense of important administrative or military targets against air strikes of various means. It is focused on the creation of multi-stage protection, ensuring the safety of the airspace of the state. SAM can hit manned
Aviation
(aircraft, helicopters), drones, as well as cruise and ballistic missiles. In addition, it is able to prevent impacts from low-flying objects. The complex is designed to replace the troops S-300PS and Buk-M1-2.
SAM "Vityaz" is able to work in automatic mode, in which the calculation ensures the deployment of air defense systems and control over the actions of the system. The maximum number of simultaneously hit aerodynamic targets - 16, ballistic - 12. The maximum range of destruction - 60 km, height - 30 km. The deployment time of the system in the combat position - 5 minutes.