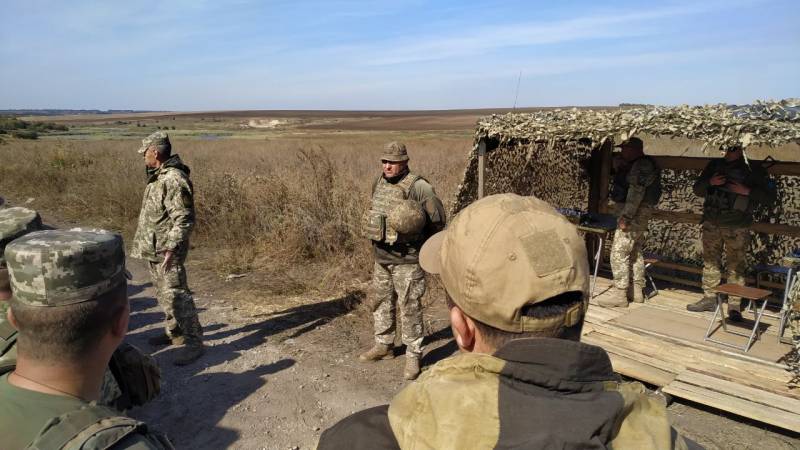 The headquarters of the so-called OOS (operations of the combined forces) of Ukraine today again declared that the enemy forces allegedly went on the offensive. This is the second such statement of the week.
Earlier, representatives of the Ukrainian side announced that NM LPR allegedly made an attempt to "break through" along the Golubovskoye-Zolotoye line, as a result of which two Ukrainian servicemen were killed. However, in the end it turned out that the Ukrainian troops sent a sabotage group to the demarcation line, which, trying to circumvent the positions of the NM of the Lugansk People's Republic, ran into a minefield.
Now in the OOS they declare that "the enemy's forces under cover of fire from the rifle
weapons
tried to enter the AFU position near Novotoshkovsky. " At the same time, the command said that it was an attempt to "break through saboteurs of the armed formations of the Russian Federation".
From the report:
OOS units timely detected the enemy and repelled the attack on duty with fire weapons. As a result, the enemy DRG, having suffered losses, retreated.
The statement also said that the "armed formations of the Russian Federation" allegedly attacked the Ukrainian Armed Forces in the area of ​​Crimean and Orekhovo settlements.
Analyzing these data, it turns out that the "DRG" for some strange purpose decided to go directly to the front of the forces of the Ukrainian OOS. In this regard, the Ukrainian statements look at least strange. And if you take into account that the Ukrainian army, according to the statements of its command, has been "fighting the Russian army" for the 6th year, then new statements can be attributed to this section of Ukrainian parallel reality.