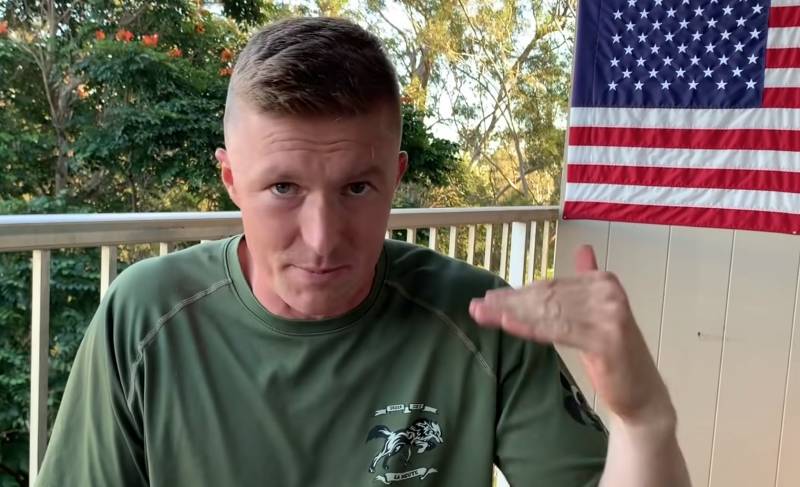 So, Mr. American Rudenko laid out his opinion and analysis of the situation with the shelling of an American convoy.
Many of our readers often ask a not-so-clever question about why we are "promoting the enemy's channel." I answer in advance: we are not promoting it. We acquaint readers with the opinion "from the other side". And here, sometimes Mr. Rudenko is very useful, because basically he says:
1) about things in which he clearly understands;
2) in Russian.
And some of the topics in its presentation are very useful to us precisely because they are stated by a stupid, but completely unfriendly person.
But this time, Mr. Rudenko clearly took up the wrong topic. He decided (perhaps not on his own initiative) to show the not very attractive role of Russian soldiers in
stories
with shelling of an American convoy.
Happened? Let's get a look.
What is the essence of history, everyone already knows. The story is more than strange and unsightly in relation to the American army glorified by its exploits. Here you can take shots from the reportage of any of our television channels, since the shots are almost the same for everyone. But Mr. Rudenko got some generally inaudible and do not understand who mounted video clip, on the basis of which he began to draw conclusions.
I agree that installation is a great thing. As you mount the plot, it will be so. And what really is - it does not bother anyone.
Well, something like that and Rudenko did.
"On the cards, on the fingers" (quote), he "explained how everything was."
To begin with, Mr. Rudenko kept silent about one VERY important detail. Namely, about what kind of devil the Americans generally found themselves in this god-forgotten village.
Well, yes, the batteries have run out, the navigator has turned off, and so on. Everything is familiar to the pain. But the fact is that the brave American warriors were (very softly speaking) where they were not welcome. Kurds. The Kurds have their own understanding of the situation in Syria, and 9 (nine) armored vehicles, which crouched in the village in broad daylight, were received somewhat without sympathy.
Just because they (the Americans) had no right to be there.
Rudenko is silent about this.
Naturally, he will remain silent about the fact that, as if in Syria, American soldiers are also in approximately the same position as their ancestors in Vietnam.
But very beautifully in his video Rudenko tells his version of what is happening. Like a column of American cars, rather mediocrely planted in the mud, the Russian military entered the rear.
And only then did "a group of civilians interspersed with armed people" appear.
This is the scheme that Rudenko realized: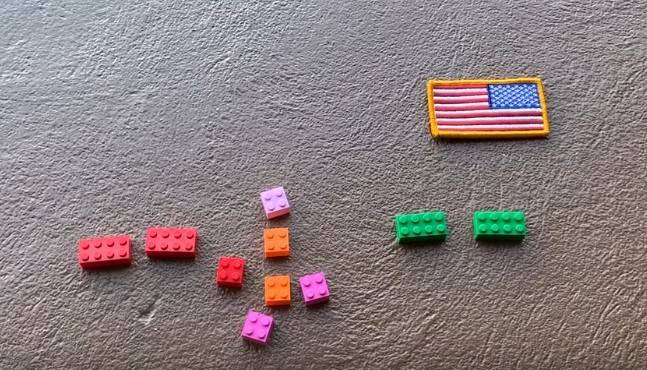 Greens - Americans, red - Russians, pink - civilians from among the local, orange - the same people, but with a rifle
weapons
.
In general, it turns out according to Rudenko that the Russian military went to the rear of the Americans stuck in the mud, realized a group of locals, covered it, and ...
And the shooting started.
According to the Ukrainian, the whole video that he cites as evidence can be spit on. Only three facts are interesting there.
A group of people fires from small arms at American vehicles, civilians and the Russian military appear in the frame.
Level 5.16. Rudenko verbosely explains that, since the dimensions on the equipment burn, and smoke comes from the exhaust pipes, the crews are inside. And they simply cannot leave the cars there, drown, dismount, and go to resolve the situation. They have no right to. They are sitting in technology! What a fight on the street, there are as many as two civilians from AK pounding their armor with bullets ...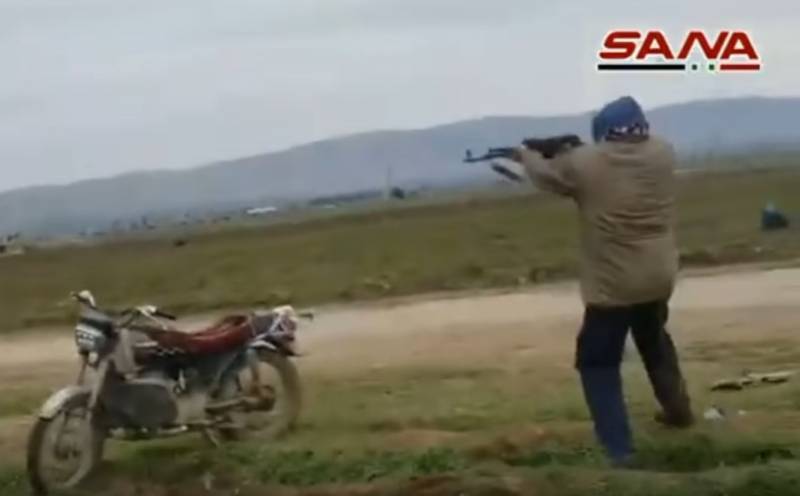 Rudenko further admits that a provocation was created, for there was fire from small arms and a "human shield" from civilians.
In fact, the provocation began a little earlier, when the Americans pushed into this village.
But further our analyst says a very interesting thing: that no one was dismayed (for they are shooting), but it would be possible to deploy towers and crush everyone with heavy machine guns.
Luxurious, right? Especially the comparison of this "human shield", which does not cover anything in the video, but presses against the walls, and the Nazis during the Second World War. Handsome man!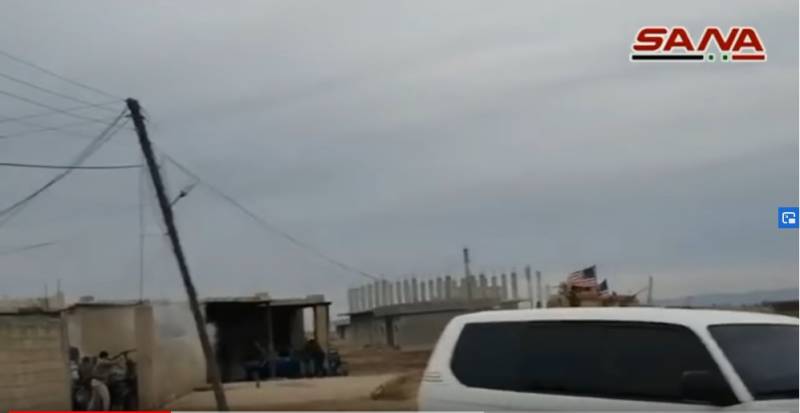 Unfortunately Rudenko, no one can crumble, because there is no team.
In general, the Ukro-American (not very tolerant, right?) Is magnificent. In one video, they didn't give a damn about everyone, both Russian military personnel and Syrian civilians (this is about a "human shield" and comparison with the Nazis), and there was enough poison for the whole Caucasus.
Of course, in any village in Chechnya or Dagestan, you can easily come and recruit mercenaries like that! Anywhere in the world. Leaving, most likely, will be more difficult, but this is an aspect.
So the passage on the theme that the militants fired on American equipment "does not even know who" ... Eh, Mr. Rudenko ... You haven't ever seen fat, this is Kurdish territory, as it were ... And ANY who appeared there with weapons will attract such attention and such a reaction ... Now, the Americans have appeared ...
The main negative in the execution of Rudenko is an ugly distortion of facts. That at first a convoy of Russian equipment arrived, and then civilians gathered. Even from the video he cited, it is clear that the opposite.
So, poor thing, the commander of the American unit was in a terrible situation. Some of the cars stupidly stuck in the mud, the convoy cannot move. To release the technique does not give the force of reaction in the person of TWO civilians with machine guns. They cannot be beaten by civilians, who allegedly cannot be shot. Well, the Russians still ...
"Allegedly" - because they still shot and hit. True, not in an action movie with a gun, but in a 14-year-old boy with a brick. But it's not so scary to shoot an American fighter for world peace.
Rudenko cries that the Russians and the Kurds are clearly at the same time. Sorry, this is who studied what. Who came there for what? I will not add anything else, the choice in terms of sympathy is precisely for the Kurds, because it is their land. And what they will trust the flag.
A column of Americans, you know, did not fire at anyone. An interesting detail, but is it worth it to prostrate itself and give praise to the Americans?
Allegedly, the Americans had the right to be in this zone. In fact, it's hard to say, since they themselves admitted that they were fornication like do not understand who.
But the coolest question performed by Rudenko is "And who were these lads with machine guns?" Yes, I agree with Rudenko, the question is smelly. But it was Rudenko who asked him, it was he who announced that "there is something wrong with this couple of machine gunners."
It's somehow strange that they were between Russian cars and civilians ... It's somehow strange that they did not go out of the blue and did not give the Americans the opportunity to shoot themselves. Very suspicious guys, I agree.
And then the main claim of the day: Russian cars did NOT leave the line of fire and did NOT give the Americans the opportunity to shoot heavy machine guns at two militants and hundreds of civilians.
Ah, what a pity, right?
But let's look at the world with a sober look. Not from the point of view of some kind of international law, to which Rudenko refers. He refers to what has long been crushed by American wheels in Vietnam, Panama, Yugoslavia, Iraq and hundreds of other places.
ANY of the militants (yes, let them be called that) among Syrian citizens have more rights to stagger around their city with an assault rifle than an American soldier whom no one called there.
Who is located in the territory of another country without coordination with the authorities of this country? That's right, Mr. Rudenko, this is the occupier. No different from the Nazis mentioned by Mr. Rudenko.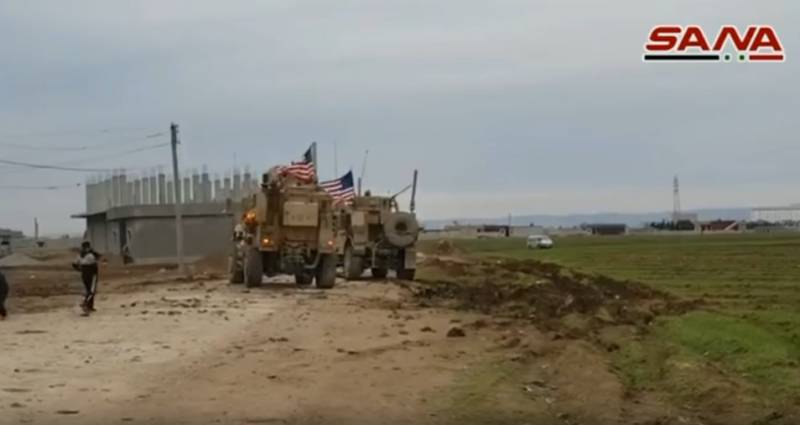 And so Mr. Rudenko makes claims to the Russian military police that they were supposed to stop the illegal actions of the Syrians.
And here is a very interesting moment in which Mr. Rudenko did not even sit in a puddle. Into the mud.
Russian military police, legally in Syria,
SHOULD
were nipped
illegal
actions by Syrian armed civilians regarding
ILLEGAL
US military located in the area.
Wow the tips we have ... They have ... Generally!
For a very long time I tried to dig at least some kind of law that allows an American soldier to be in any country in the world and prohibits the dissenting citizen of this country from shooting this American soldier.
Such a law, according to Rudenko, is.
Congressional Decision
.
Delusional, but, according to this decision, military police from Russia had to rush to the shooting Syrians and begin to defend the Americans, who cowardly sat out in cars.
What, excuse me, do we care about the decisions of the US Congress?
Even the Americans themselves have a wonderful proverb about how much the sheriff should care about the problems of the Indians. It's about the same here. And Rudenko's claims are completely incomprehensible to me. Why is it that our military is obliged to bail out American "colleagues"?
Okay, they helped out. What really
Kohl they Americans are ...
And I have a counter-question: why gentlemen, American soldiers, sitting in their armored vehicles, under a hail of bullets from two AKs, did not bother to just take and take a few warning shots into the air?
It is so simple not to wait until the militants run out of ammunition, or when the Russian military intervenes. Just shoot several times in the air. To show that American soldiers are not going to play the role of too patient rabbits in the trap.
However, for some reason they did not. And they preferred that someone else (the Russian military) still do the dirty work for them.
It happened, but instead of gratitude, once again we received a bunch of reproaches for all sins.
And in the end, Rudenko generally suffered. He attributed the "fighters" Russian citizenship. This, of course, is nonsense in the head of a former citizen of Ukraine, many people still see "polite people" under their beds at night, such a peculiar "Crimean syndrome".
An interesting version, such a funny fantasy. But this opinion, which I want not just to discuss, is to be sent more along some route.
However, this is indeed an opinion on the other hand, and which enjoys some support and understanding, it is enough to look at the quantity and quality of ratings.
Why do we need it?
Then, to know two points of view. Our official state propaganda and what is shown on the other side, on the other side of the information front line, if you want.