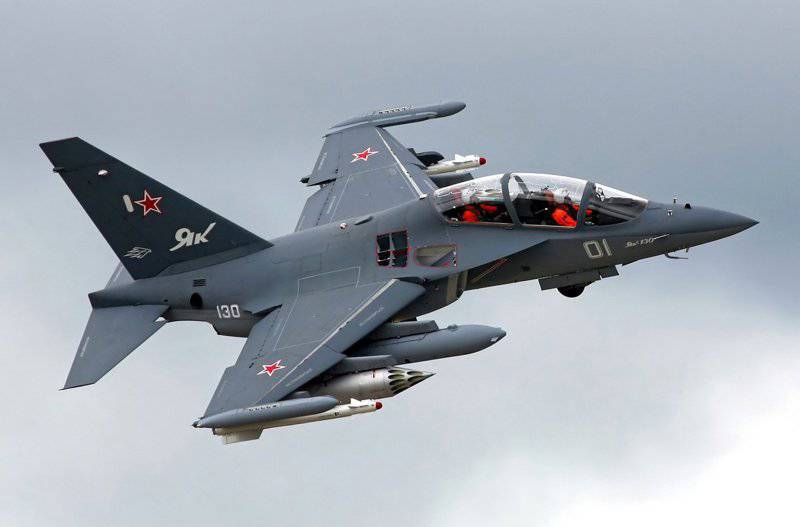 The President of the Irkut Corporation, Alexei Fyodorov, announced plans to increase the power of the Yak-130 combat aircraft, which, after modernization, will in fact become a multi-purpose fighter in a mini-version, writes FederalPress. According to Alexey Fedorov, the corporation is currently negotiating with a number of countries on the supply of this vessel.
"We plan to install on the aircraft an optical-electronic control system
weapons
, to enable the use of infrared, thermal imaging, television, laser weapons, - said the President of "Irkut". - We plan to install a radar by another stage. It seems to me that this plane will be very much in demand. It is significantly cheaper to operate than a multi-purpose fighter, but its capabilities are practically the same. "
As Alexey Fedorov said, the Yak-130 is of interest to the countries of the African continent, Southeast Asia, the Middle East, and South America. At the same time, he refused to name the specific states with which negotiations are being held. "Delegations regularly come to us, I think that major contracts will appear in the near future," said the head of Irkut.
At the same time, he declared the corporation's readiness at any moment to begin supplying the aircraft to Syria as soon as the relevant permits from the Russian government come. "We know that the contract has been concluded, and we will be ready to fulfill it as soon as we receive instructions. We hope that, despite the very difficult political situation, this contract will not break, "said Alexey Fedorov.