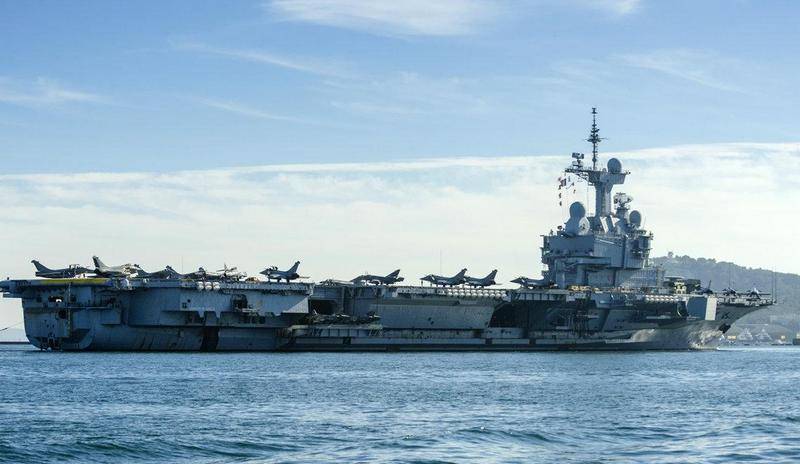 France moved its carrier group closer to the coast of Syria. Currently, the ACG, led by the nuclear carrier Charles de Gaulle ("Charles de Gaulle") is located only 120 km from Syria, which allows striking at targets on its territory and neighboring Iraq, follows from new satellite images.
It was previously stated that the French aircraft carrier will head to the Syrian coast to support the French contingent in the fight against the Islamic State banned in Russia. The aircraft carrier went on a campaign on January 22 of this year from the naval base in Toulon. On board are 18 Rafale M multipurpose fighter-bombers, two E-2C Hawkeye long-range radar detection aircraft and three helicopters.
The French Navy's AUG also includes two missile frigates, an atomic strike submarine, and a supply vessel. In addition, a Greek frigate joined her. Currently, the aircraft carrier group runs near the Russian military bases in Syria - Tartus and Khmeimim.
Meanwhile, the United States again intensified aerial reconnaissance in the area of ​​the Russian MTO Tartus point and the Khmeimim military base. According to Western aviation resources, on Saturday two American reconnaissance aircraft - the P-8A Poseidon anti-submarine patrol aircraft and the EP-3E Aries II long-range electronic reconnaissance aircraft - conducted reconnaissance in the area of ​​the Russian military bases for two hours.
According to the Russian Ministry of Defense, recently, US aircraft fly along the Syrian coast almost daily, and on some days - several aircraft at once.