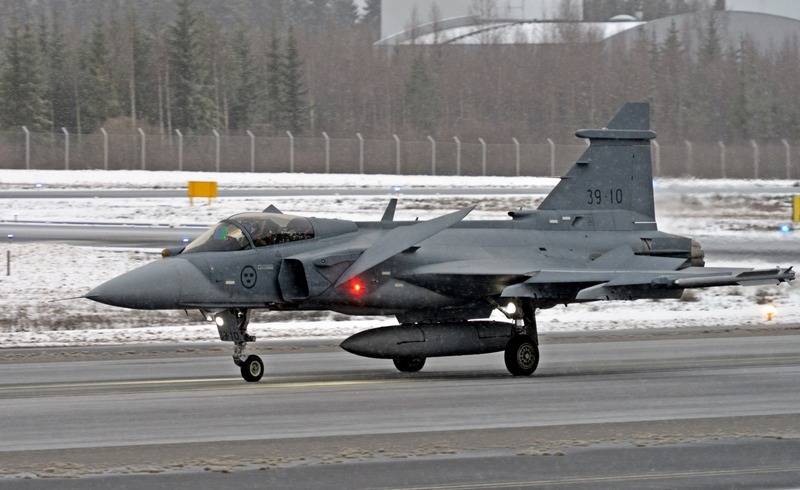 Swedish fighter Saab Gripen E 39-10 on tests in Finland
The Finnish Air Force continues flight tests of various aircraft designed to replace the future Hornet fighter camps in service with the Air Force. On January 29, Swedish fighters Saab Gripen E 2020-39 arrived in Finland for testing under the HX Challenge 10 program.
The HX program began in 2015 to replace the Hornet fighter bomber in the Finnish Air Force, including 55 single-seat F / A-18Cs and 7 double-seat F / A-18Ds, which will expire in 2025-2030. Within the framework of the program, Finland selects the fighter from the following models participating in the tender: Eurofighter Typhoon, Dassault Rafale, Saab Gripen E, Lockheed Martin F-35A, Boeing F / A-18E / F Super Hornet.
The Eurofighter Typhoon, Dassault Rafale tests have already passed, after the Saab Gripen E the F-35F will arrive for testing, and after it in mid-February the Finns will test the F / A-18E / F Super Hornet. Each aircraft has seven days to test.
The abbreviation of the HX program is traditional for modernization programs in the modern Finnish Air Force: H = Hornet - the first letter comes from the name of the replaced machine, X = identifier for promising weapons and military equipment.
Pirkkala Airbase (Satakunta Airport) was selected for airplanes. The test time in January-February was not randomly chosen to evaluate the real possibilities of operation
aviation
technicians at the most severe Finnish frosts.
At the same time, it is noted that comprehensive flight tests are not carried out, and only some of the most extreme tests are carried out for compliance with real characteristics previously declared by the manufacturer.
After completing the HX Challenge, the test results for each candidate will be used in the next assessment stages.
In accordance with the schedule for the implementation of the HX program, the government must decide on the purchase option in 2021, and finally decide on the number of equipment to be purchased - 64 aircraft, or still 48. Deliveries of new fighter planes are planned for 2025-2030.