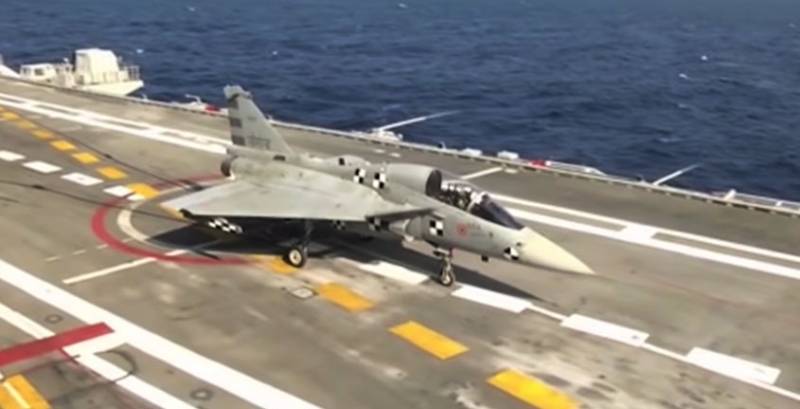 The Indian company Hindustan Aeronautics Ltd announces the consideration of the prospect of developing a twin-engine carrier-based fighter, which in the future should become the basis of the aircraft wing of the Indian Navy. Thus, India is going to "import substitute" Russian carrier-based fighters, which it currently uses. For now
aviation
the wing of the Vikramaditya aircraft carrier (formerly Admiral Gorshkov) consists of the MiG-29KUB and MiG-29K fighters.
Hindustan Aeronautics Ltd announced that they carried out test landings on the deck of the prototype Tejas fighter aircraft carrier several days ago.
From a message from HAL Managing Director R. Madhavan:
We want us to be given the terms of reference for a carrier-based fighter with two engines. This project must be approved by the country's Navy. As a result, we will be able to accelerate R&D on the Tejas-Navy carrier-based fighter.
To date, the company, as claimed, has created two prototypes of such aircraft, but so far the Navy has not approved the final version of the TK and the "look" of carrier-based aircraft. It is also known that the development of a fighter for the Indian Navy in the country's Navy is trusted by HAL and DRDO to the Indian Defense Research Agency).
If we talk about prototypes (NP1 and NP2), then they are based on the usual version of Tejas with a modified version of the chassis and landing (brake) hook. At the same time, as reported in the HAL, the nose part of the prototype is somewhat lowered so that the pilot will receive a more complete overview.
Tejas-NP2 made a test landing on the Vikramaditya deck on January 11, and took off from an aircraft carrier on January 12. After that, R. Madhavan said that India was among the few countries that have the technology to create carrier-based fighter jets. At the same time, in India they started talking about the planned work on import substitution of Russian-made carrier-based fighter aircraft.