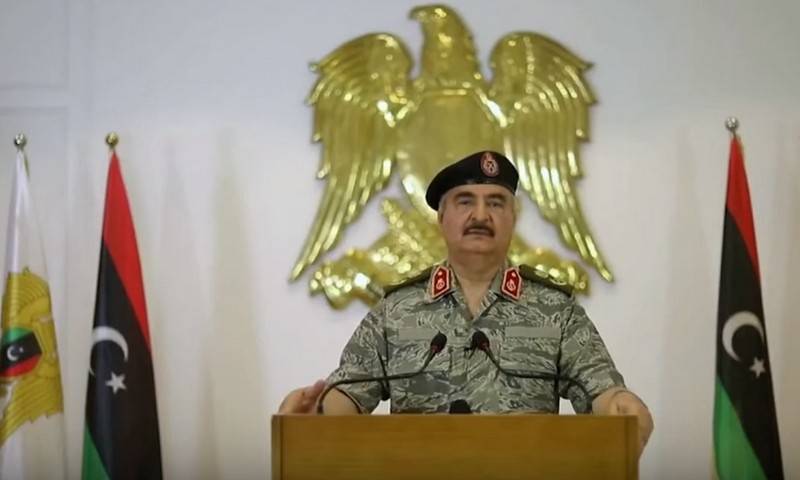 The commander of the Libyan National Army (LNA), Khalifa Haftar, who did not sign a ceasefire agreement in indirect talks in Moscow, described the conditions for continuing negotiations. This was reported by Al Arabiya.
According to the channel, in order to continue negotiations and sign an armistice agreement, Haftar demanded complete disarmament of the militias operating in the country up to 90 days. It is reported that the commander of the LNA informed Moscow about the need to include in the document the provision that groups in Libya must surrender all their weapons in a period of 45 to 90 days.
To control the disarmament of the groups, Haftar demanded the creation of a special commission, which will include representatives of the LNA and the UN. This commission will take into account and collection of this
weapons
former militias.
Another condition Haftar put forward the complete exclusion of Turkey from international mediators in the settlement in Libya.
He insists that the intermediary states be neutral and proceed from the need to maintain stability in Libya, and not support the armed police or send [to Libya] extremists
- the TV channel said.
Meanwhile, the Guardian newspaper reports that the Syrian opposition, supported by Turkey, smuggled into the territory of Libya about two thousand militants to support the government of national accord, settled in Tripoli.
According to the publication, about 650 fighters arrived in Libya at the end of last year, another 1350 fighters arrived in Turkey on January 5, where some of them are trained in training camps in the south of the country. All Syrian fighters will be part of the unit named after Omar al-Muhtar. According to reports, the fighters of the Syrian opposition signed contracts with the PNS for six months, according to which they will receive 2 thousand dollars a month.
At the same time, information appeared that Khalifa Haftar had begun preparations for a new attack on Tripoli.