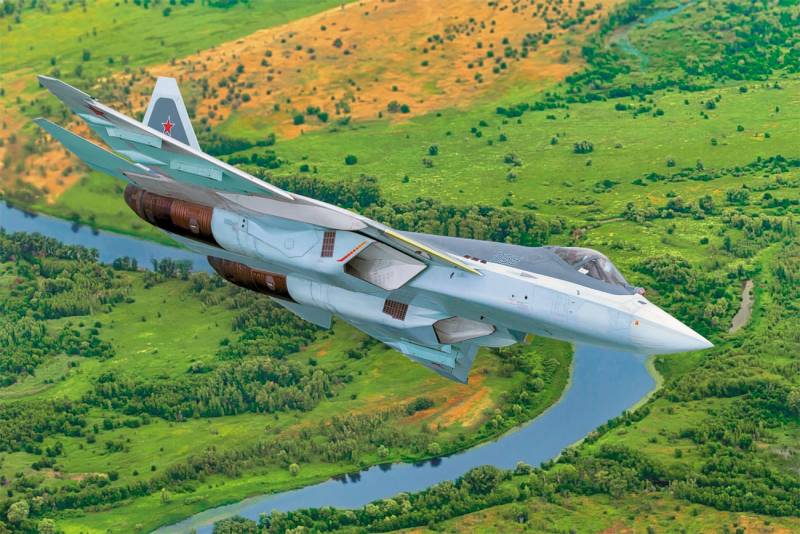 The deployment of the fifth-generation Su-57 fighter to the Russian Air Force is postponed from the end of 2019 to the year that has come. The reason, as you know, was unsuccessful acceptance tests of a combat vehicle in the Khabarovsk Territory.
As previously reported, the pilot at an altitude of about 8 thousand meters lost control of the aircraft, the Su-57 began to lose altitude, and then went into a tailspin. The pilot ejected at an altitude of 2 kilometers. The plane crashed and burned out almost completely.
The assumption of experts is due to the fact that the cause of the fall of a new generation fighter could be problems with the tail, as the acceptance tests were carried out at the "maximum flight conditions." There are no official comments on this subject.
Acceptance tests according to GOST 15.309-98, adopted by the Interstate Council for Standardization, Metrology and Certification on May 28, 1998 (it will be introduced exactly 20 years ago in the Russian Federation in January 2000):
... are carried out with the aim of monitoring the conformity of products with the requirements of the standards established for this category of tests, as well as a control sample or standard sample (if provided for in the standards) to determine the possibility of product acceptance.
The same document notes that in the case of negative test results, the manufacturer is engaged in identifying the causes of defects and works to eliminate them. Which is logical.
Paragraph 6.11 indicates the parameters for finally rejected products.
"On the street" of the opponents of Russia, of course, there would be a universal and global holiday if the above paragraph 6.11 worked.
But for Russian manufacturers
aviation
technicians have accumulated experience in identifying the causes of problems on the latest aircraft. As an example, painstaking work on the Yak-130 UBS is possible. For a number of reasons, including those related to the engines of these combat training aircraft, several emergency situations have been recorded since the start of the trial operation of the Yak-130. The first - in June 2006, when the UBS collapsed near Ryazan. Then there were incidents in 2010, 2014, several - in 2017, in 2018, including cases with the performance of flights on pre-production samples. As a result, the developer (Yakovlev Design Bureau) and the manufacturer made a series of structural changes to the aircraft design, improved the engines, and the Yak-130, to which the pilots themselves initially complained, was "brought to mind."
In this regard, it can be stated that a similar experience in finalizing the latest aircraft can be used in relation to the Su-57. Moreover, it is important that once again there is no idea to force events: for example, to deliver aircraft to the Russian Aerospace Forces by a certain date.