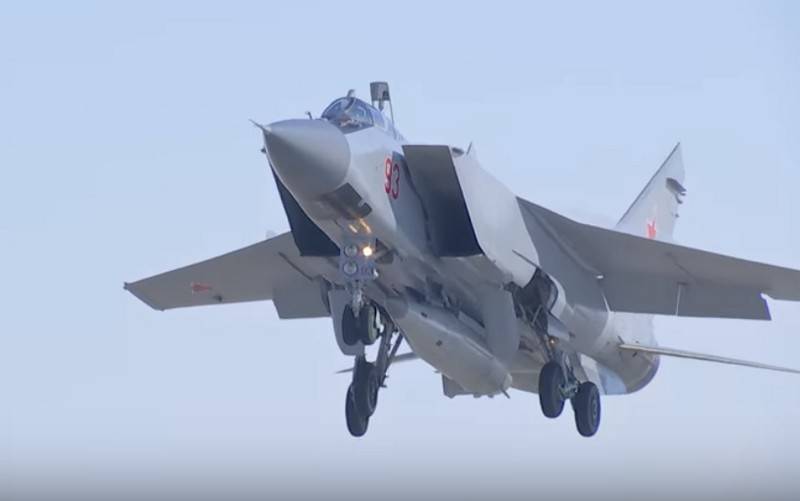 Marine
aviation
will adopt the "Dagger" hypersonic missile systems. The Ministry of Defense decided to cover the northern and Kamchatka directions with hypersonic missiles.
The military department decided to deploy hypersonic dagger missile systems on the Kola Peninsula and Kamchatka. The missiles will go into service with aviation regiments armed with the MiG-31. According to Izvestia, citing sources in the military department, the timing of the integration of the RK "Dagger" into the aviation of the Russian Navy depends on the fulfillment of the state defense order, i.e. re-equipment of MiG-31 interceptors for missile carriers.
Most likely, under the hypersonic RK "Dagger" will be converted aircraft of two military units from the naval aviation of the Russian Navy, armed with MIG-31 interceptors - in Monchegorsk in the Murmansk region and in Yelizovo in Kamchatka.
It is assumed that with the receipt by sea aviation of hypersonic "Daggers", Russia will completely close the Arctic, as well as the Northern Sea Route. Aircraft based on the Kola Peninsula will control the space from the coast of Iceland to the Kara Sea, and from the Kamchatka Peninsula the waters of the East Siberian, Okhotsk and Bering Seas are completely covered.
At the end of November this year, the Ministry of Defense reported on past tests of the dagger hypersonic missile system in arctic conditions. The missile was launched by the MiG-31K for a target located at the Pemboy training ground to the north-east of Vorkuta, which it successfully hit.
Recall that the newest Russian air carrier "Dagger" includes the MiG-31K fighter-interceptor, specially upgraded as a carrier of a hypersonic missile, which is an aircraft version of the Iskander-M OTRK missile.
Earlier it was reported that the squadron MiG-31K with "Daggers" has been on duty in the Southern Military District since December 2017 of the year, and since April 2018, the MiG-31K planes carry out regular flights over the Black and Caspian Seas.