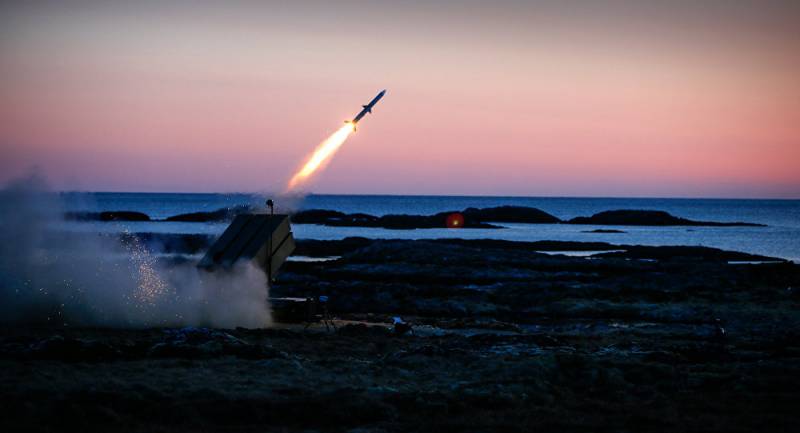 No matter how unpleasant this may sound to a cheer-patriotic audience of the Russian segment of the Internet and some expert circles, detailed monitoring of Western European military-analytical and
news
publications once again strengthens us in the opinion about the fallacy of the "cultivation" by defense enterprises of the Almaz-Antey VKO concern and the Rostec state corporation only radio command guidance systems for equipping military air defense systems of the Tor-M2U and Pantsir-C1 families, as well as "Blindness" on equipping anti-aircraft missiles 9M331 and 57E76 only with aerodynamic controls.
Gaining operational operational readiness by the Kampluftvern anti-aircraft missile system will change the alignment of forces in the North European conditional theater of operations
In particular, according to the eminent British military analytical publication janes.com, citing informed sources at the headquarters of the Norwegian military-industrial company Kongsberg Defense & Aerospace, high-ranking representatives of the enterprise announced the start of research and development work (R&D ) as part of the ambitious Project 7628 Kampluftvern project. The latter provides for the development of a promising military self-propelled short-range air defense system, designed both for integration into a network-centric layered air defense-missile defense system in conjunction with NASAMS II / III medium-range anti-aircraft missile systems, and for independent actions aimed at the formation of zone-object anti-missile "umbrellas "Over strategically important stationary objects, as well as cover for friendly mechanized units on the march. Bringing the first pre-production copies of "Kampluftvern" to the level of operational readiness is scheduled for late 2022 - early 2023.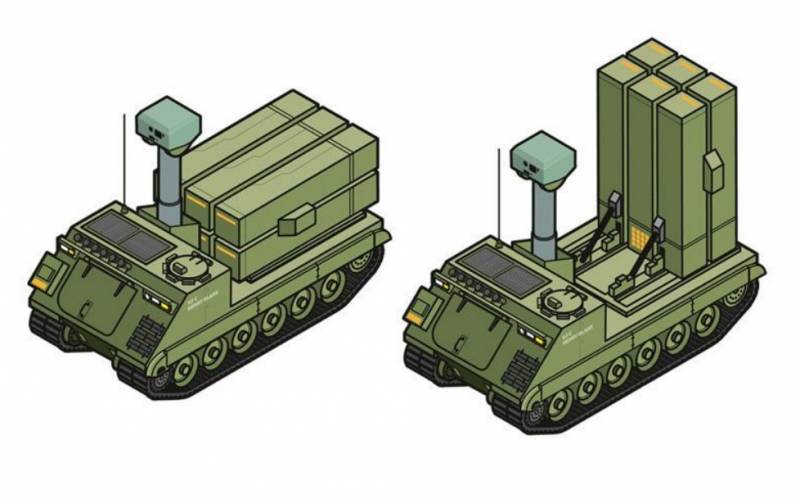 Estimated appearance of Kampluftvern air defense systems
In the first case (in network-centric conjunction with NASAMS II / III air defense systems), compact combat vehicles of promising Kampluftvern air defense systems equipped with quadrate inclined launchers with IRIS-T anti-aircraft missile launchers will be used to cover NASAMS 2,5-kilometer dead zones, as well as intercepting high-speed tactical cruise missiles of the enemy, carrying out intensive anti-aircraft maneuvers. The above range of tasks is due to the highest flight-technical qualities of the IRIS-T missiles, achieved due to the presence of a thrust vector deviation in the gas-jet control system.
This system, represented by four heat-resistant turning planes in the nozzle channel, enables the IRIS-T missile to maneuver with overloads of up to 65 units. up to the complete burning of the solid propellant charge of solid propellant solid propellant rocket rocket rocket fuel, providing efficient interception of high-precision
weapons
maneuvering with overloads up to 30-32G. Anti-aircraft modifications of the AIM-120C-7 interceptor missiles, which are part of the NASAMS II / III air defense systems and are equipped only with aerodynamic controls, have disposable overloads in the 30G, and therefore can only withstand airborne attacks that carry out anti-aircraft maneuvers with overloads no more than 15G.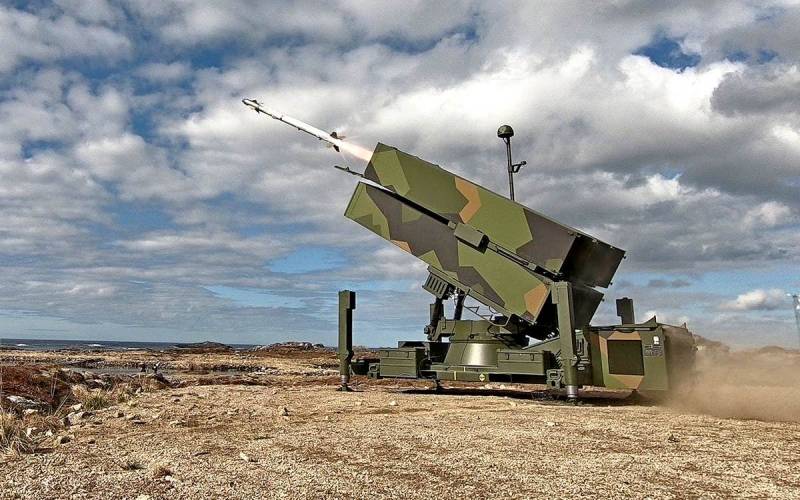 The launch of the AIM-9X missile anti-aircraft missile system NASAMS II / III
As for the maneuverability of anti-aircraft guided missiles 9М330 and 57Е6 of the Tor-M2U / MKM and Pantsir-S1 complexes, their angular velocity of rotation corresponds to the AIM-120C-7 indicators, preventing the destruction of such "well-designed" helicopters intercepts missile iris-t. The recently announced re-equipment of Torov-M2U combatant missiles with promising ammunition, which has more maneuverable RZV-MD (9M338K) missiles with advanced tail aerodynamic rudders and more accurate radio fuses, which together with the upgraded Tor-R radar base system, can brighten things up a bit. -M2U "allowed to intercept three of the five air targets of the Saman type by the method of kinetic destruction / direct hit (" hit-to-kill "), which was confirmed during field and tests carried out in 2013 year. With regard to missiles with the radio command principle of guidance, the above ability is unique.
The radio command guidance system for self-propelled air defense systems Tor-M2U and air defense missile systems Pantsir-S1 eliminates operational-tactical flexibility in the formation of zonal-object air defense over areas with difficult terrain
Despite the above situation, as a devil from a snuff-box, another extremely serious misfortune materializes - the acute dependence of the interception of targets on the radio command guidance system of anti-aircraft missiles 9М330, 9М338К and 57Е6, which, unfortunately, is a "genetic disease" of all modifications of T "Shell". The need for constant accurate automatic tracking of targets by guidance radars and optoelectronic sighting devices (with the simultaneous transmission of control commands for 9M338K and 57E6 missiles located on the trajectory) not only excludes the possibility of firing at objects hiding behind natural elements of the terrain (hills, mountain ranges and in gorges ), but it also turns the Tor-M2U and Pantsir-S1 complexes into radio-emitting objects that are easily detectable by means of, for example, strategic radio-technical and radio-electronic airplanes ktronnoy reconnaissance RC-135V / W «Rivet Joint» from a distance in 350-450 km.
As for the promising Norwegian-German Kampluftvern mobile air defense systems being developed, these products will not have the above list of disadvantages. IRIS-T interceptor missiles in the SLM anti-aircraft version, equipped with an infrared seeker with an indium antimonide based photodetector (with a medium-wave infrared range from 3 to 5 μm), are fully autonomous short-range interception tools capable of destroying targets outside the target detection radar sectors placed on combat vehicles of the Kampluftvern air defense system.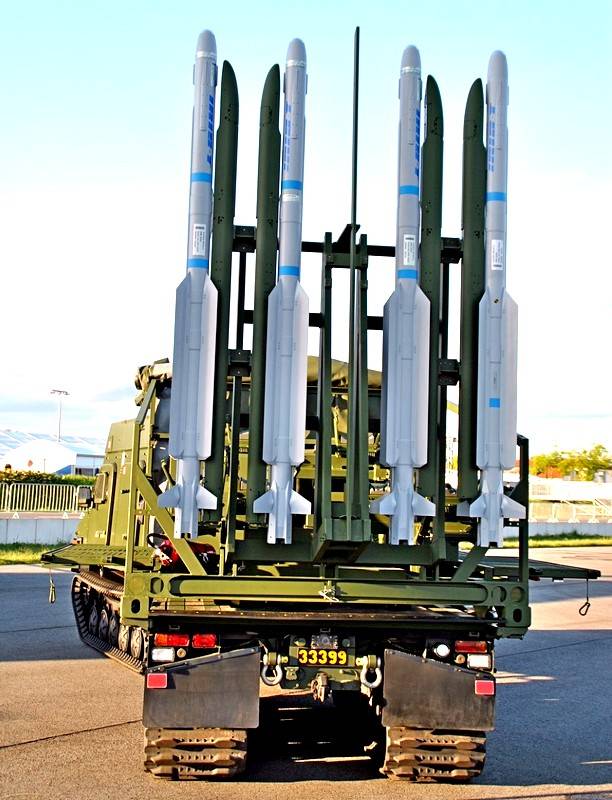 Anti-aircraft guided missiles IRIS-T SLM
In addition to hitting targets "diving" into the gorges and hiding behind elevations of the terrain and a radio horizon, IRIS-T SLM missiles are capable of working on anti-radar and operational-tactical ballistic and cruise missiles that attack air defense systems in a "dead crater" (at angles from 70 to 90 degrees). At the same time, target designation in the inertial navigation system IRIS-T SLM missiles can come from numerous third-party radar, optoelectronic or electronic reconnaissance equipment via the radio channel of the INTRACOM Data Link two-way asynchronous data exchange line. Neither the Shell, nor the Torah-M2U can boast of such potential. Are these not the most significant arguments in favor of resuming the once-forgotten and eventually forgotten program for developing a promising self-propelled air defense system based on the RVV-AE-SAM air defense missile?