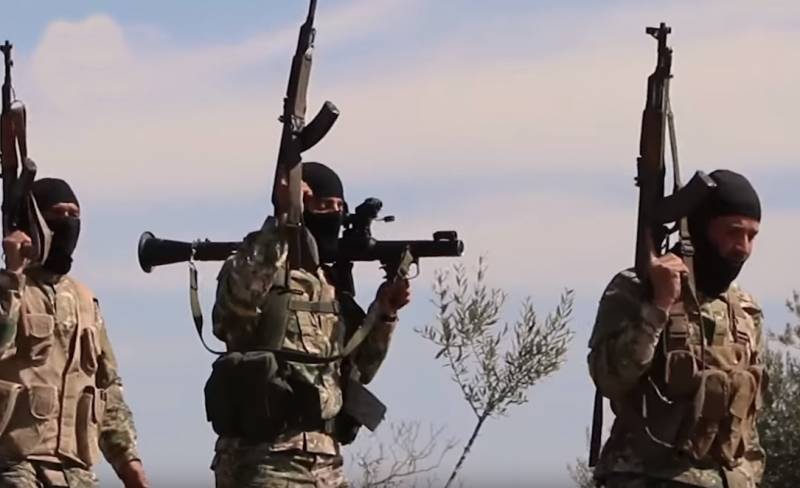 The militants fighting the armed forces of Damascus posted a footage that allegedly captures the defeat of one of the opposing forces. Allegedly, a unit of Russian special forces was liquidated. However, this video does not consist of frames from the battle with the MTR, but looks like an ordinary throw-in from forces hostile to the Russian Federation.
The video was posted by Jabhat al-Wataniya lil-Tahrir (National Liberation Front), a group considered to be controlled by Ankara. Moreover, in the list of banned terrorist organizations in Russia, she
does not appear
.
It is divided into fragments. At the beginning, a geographic reference is made, and then individual frames of clash flash between them, between which one of the fighters tells the story of the battle.
The legend of events is as follows. A unit of the Russian special operations forces tried to penetrate into the enemy's territory in the area of ​​the village of Ajaz, located in the Syrian province of Idlib. 3 September 2019 year during its movement, she was discovered by an unmanned aerial vehicle. The militants in this regard decided to ambush.
The battle supposedly began in 23: 03 in the dark. Visible traces of the flight of bullets from a light rifle
weapons
. At one point, the work of a heavy machine gun is noticeable. Through an infrared sight, an armed person is being monitored, apparently hiding behind a block of stone. In 23: 14 it crashes.
After that, already in daylight, the field of the last battle is demonstrated: individual things are shown, the most notable of which is the icon with George the Victorious.
Note that these shots do not contain details that can prove the accuracy of the allegations of the defeat of the combat group of the Russian special forces: UAVs could shoot anyone, shots in pitch darkness do not mean anything, the fighter caught in the sight is also not able to shed light on the circumstances of the battle, the remaining after the battle, things by and large do not deserve attention, since they could be placed by the shooters themselves.