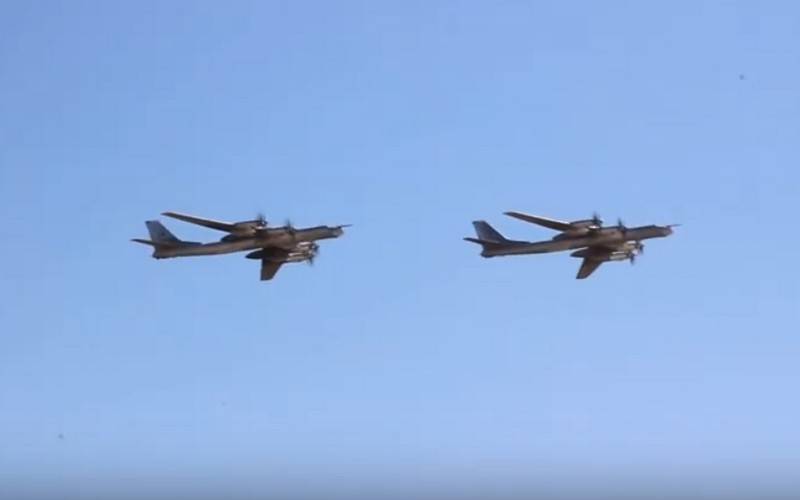 A pair of Russian strategic missile carriers Tu-95MS conducted another scheduled patrol over the neutral waters of the Japan and East China Seas. At certain sections of the flight, Russian strategists were accompanied by fighters from Japan and South Korea. This was reported by the Ministry of Defense of Russia.
Japan and South Korea raised their fighter jets to escort in separate sections of the flight of the Russian strategic missile carriers Tu-95MS. Accompanied by a pair of South Korean Air Force F-15 and F-16 fighters and a Japanese Air Force F-2 couple. Russian strategists flew accompanied by Su-35С fighters and A-50 AWACS aircraft.
The flight of the strategic Tu-95MS lasted more than 10 hours, the aircraft passed over the neutral waters of the Japan and East China Seas.
Far pilots
aviation
regularly fly in strict accordance with international rules for the use of airspace, without violating the borders of other states
- it is spoken in the message of the Ministry of Defense.
It is possible that in the future the Russian Foreign Ministry may receive a note of protest from South Korea accusing Russian strategists of entering the so-called South Korean air defense identification zone. The Russian Ministry of Defense has repeatedly stated that this zone is not provided for by international rules, it was created independently by South Korea and is not recognized by Russia.
The Strategists Tu-95MS and Tu-160 are the airborne component of the Russian nuclear triad. Tu-95MS is designed to solve striking missions to defeat the most important targets in remote areas and in the deep rear of the continental military theaters.