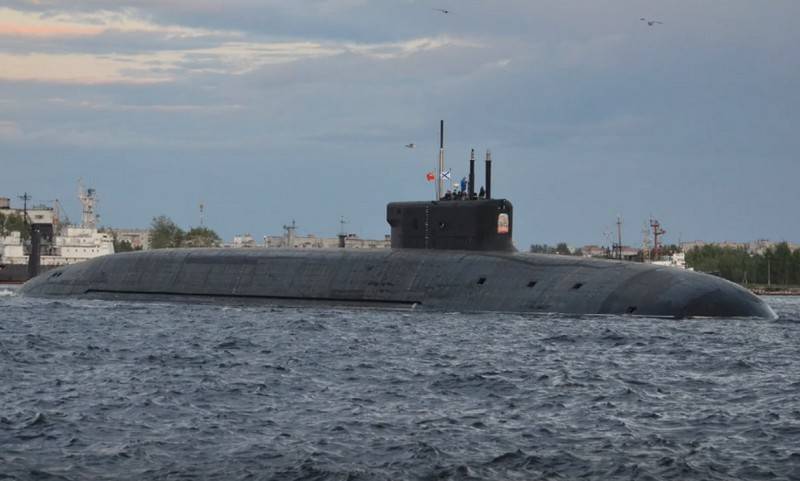 The latest strategic missile submarine K-549 "Prince Vladimir" of the Borey-A project successfully completed the state test cycle and arrived in Severodvinsk on November 21. This was reported by the press service of the North
fleet
.
According to the report, the submarine has completed a program of state tests at landfills in the White Sea. As part of the state tests, Prince Vladimir conducted a test torpedo fire on an underwater target, performed a test launch of the Bulava, an intercontinental ballistic sea-launched missile, as well as test torpedo fire on a surface target.
At present, the prince's prince Vladimir is preparing to enter the Russian Navy; the ceremony should take place before the end of this year.
Strategic nuclear project "Prince Vladimir" of the modified 955A Borey-A project was laid down at Sevmash in Severodvinsk on 30 on July 2012 of the year, and the conclusion from the workshop took place on November 17 of 2017 of the year. The Borey-A project is distinguished by less noise, more advanced systems of maneuvering and retention at depth, as well as control
weapons
.
At present, four more serial ARPXNs of this 955 project are being built at Sevmash: Prince Oleg (officially laid on July 27 2014), Generalissimus Suvorov (laid on December 26 2014 of the year), Emperor Alexander III (laid on December 18 2015) year) and "Prince Pozharsky" (founded December 23 2016 of the year).
Currently, the Navy is serving three nuclear missile submarines of the 955 (Borey) project of the 4 generation — the strategic missile cruisers Yuri Dolgoruky, Alexander Nevsky and Vladimir Monomakh.