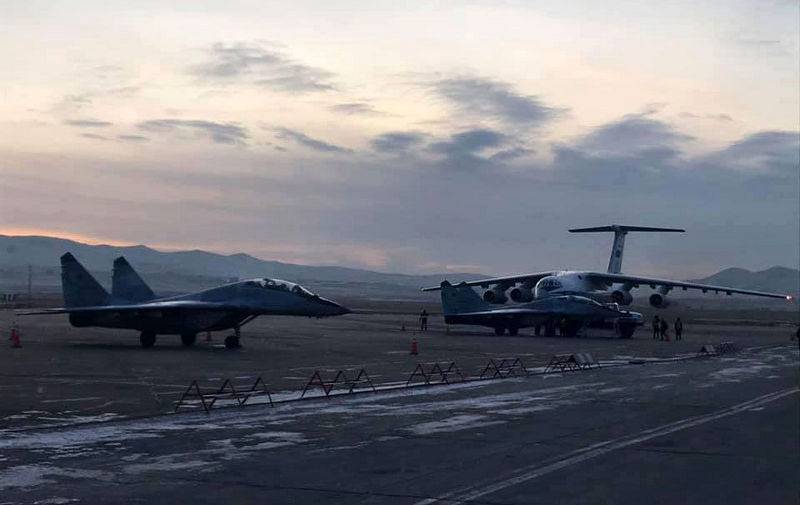 The Air Force of the Mongolian Republic received two Russian MiG-29 fighters. The meeting of the planes took place on November 15 of this year at the Nalaih military airdrome near the capital of Mongolia, Ulan Bator, the ceremony will be held later. This was reported by dambiev blog with reference to local media.
Russia transferred to the Ministry of Defense of Mongolia two MiG-29 fighters from the presence of the Russian Air Force. There is no information about modernization or overhaul of these machines. The planes made a flight and landed at the Nalaih airfield in the vicinity of Ulaanbaatar on 15 this November. The solemn ceremony of transferring the fighters to the Air Force of Mongolia is scheduled for November 26 on the day of the 95 anniversary of the declaration of the Mongolian People's Republic. There is unconfirmed information about the possible delivery of two more MiG-29 from the presence of Russian aerospace forces.
Fighters were handed over to the Mongolian Air Force free of charge as part of a renewed agreement on the provision of military-technical assistance to Mongolia at no cost. Intergovernmental protocol on assistance was signed by Russian President Vladimir Putin on September 3 of 2019 during a visit to Ulan Bator.
According to local media and Internet resources, a pair of MiG-29 fighters became the first combat aircraft to enter the country's air force after the cancellation of the last MiG-2011 in 21. Currently, combat aircraft in Mongolia has several combat helicopters.
Now Mongolia can exercise control over its airspace and, if necessary, force intruders to land
- write bloggers.