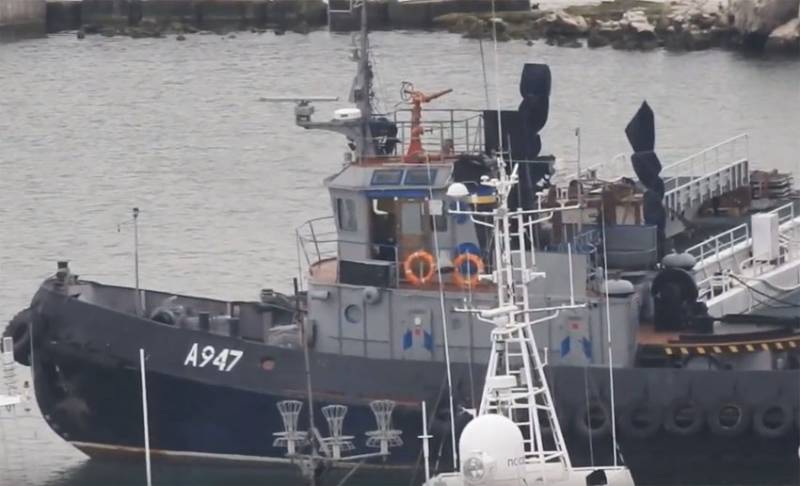 It became known about the future fate of two Ukrainian boats and a tugboat, which were detained by Russian border guards after violating the sea borders of the Russian Federation by their crews. Recall that the Ukrainian provocation took place last year and the then President of Ukraine Petro Poroshenko is considered its organizer.
We are talking about three courts - "Berdyansk", "Nikopol" and "Yana Kapu", which are currently located in the Crimea. The Russian side notes that it is ready to transfer boats and a tugboat to Kiev.
The reports said that the transfer will take place before December 9.
Why is this date chosen for the "point X"? The fact is that the Norman Four summit is scheduled for December 9 in Paris. The willingness to participate in it was confirmed by French President Emmanuel Macron and German Chancellor Angela Merkel.
The fact that Russia has made a fundamental decision on the transfer of ships to Ukraine, Kommersant writes.
Edition
claims that three Ukrainian vessels will be launched by Russian tugboats to the designated point, where the Navy tugboats will be waiting for them.
In Ukraine, they have not yet decided where exactly Berdyansk, Nikopol and Yana Kapu can be towed. Two options are considered: either Mariupol, or the base of VSMU in Odessa region. Recall that initially these ships were sent to Mariupol precisely from Odessa.
According to the latest information,
weapon
and ship documentation, which were on boats and in tow, will not be handed over to Kiev, as they are important material evidence in the case of armed violation of Russian maritime borders.