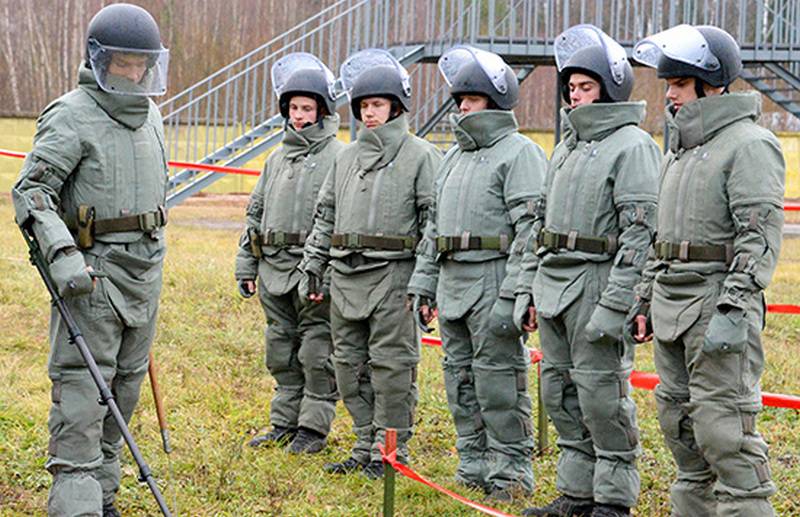 The Sokol party of the latest protective suits for conducting the sapper works of the ODS-2 entered the engineering units of the Southern Military District, stationed in the North Caucasus. This was reported by the press service of the district.
According to the report, the personnel of the engineering and sapper units received the latest examples of engineering protection equipment - OVR-2 Sokol suits. The weight of the protective suit is 8,5 kg, which is more than four times lighter than the existing doubloon suit. Armored elements are made of light and high-strength polyethylene and are able to protect the sapper from fragments, as well as pistol bullets 9-mm (PM) and 7,62-mm (TT) with 5 meters. Enhanced protection of the collar zone and vital organs. The helmet is equipped with a special visor and can withstand the hit of an 9-millimeter bullet from a distance of 25 meters. The suit has a cooling system.
Each suit comes with the "LSHZ-2DTM" safety helmet, a special transportation bag, a set of summer and winter thermal underwear, the "Swipe-3" combat knife, and the multi-function MSL sapper blade.
According to the information provided by the Ministry of Defense, the ODS-2 is designed to protect the sapper from the damaging factors of the explosion of anti-personnel mines of high-explosive and fragmentation effects and the damaging effect of bullet guns
weapons
when clearing the terrain and objects manually and making passages in mine-explosive barriers.