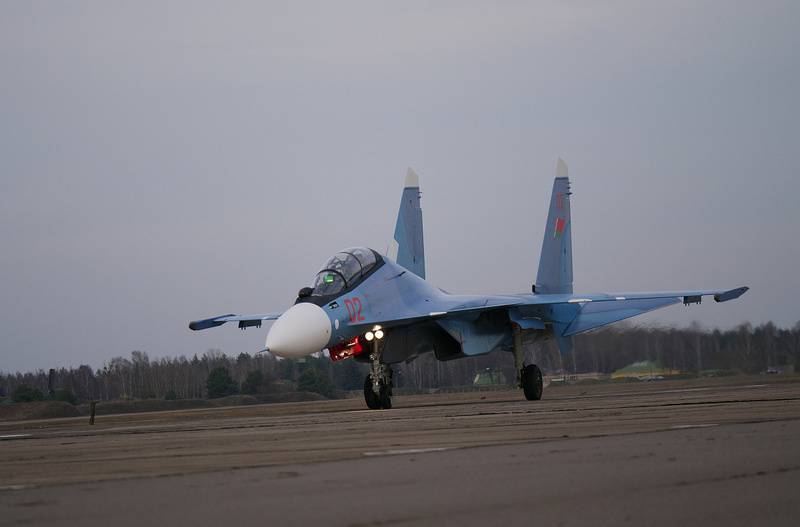 Su-30СМ with number 02 "red" Belarussian Air Force at the airport in Baranovichi
Belarus received the first two of the twelve ordered multipurpose fighters of the 4 + Su-30СМ generation. A pair of fighters landed today at the airport in Baranovichi. This was reported by the press service of the Ministry of Defense of the republic.
Earlier it was reported that the first pair of Su-30СМ flew out from Irkutsk on November 12 with two intermediate landings in Omsk and in the Moscow Region. On November 13 the planes were to arrive in Baranavichy. A second pair of fighters is expected next week.
The Belarusian military department noted that the choice of Russian Su-30SM fighters for the country's air force was not accidental, earlier Belarus had already purchased from Russia 12 Yak-130 combat training aircraft manufactured at the Irkutsk aircraft plant. This aircraft is a training complex for the development of fighters of the Su-30 family. IN
aviation
units have gained experience in operating the Su-27 aircraft, the prototype of the Su-30. In addition, the two-seater Su-30 SM can be used both for combat missions and for training pilots.
And in general, the Armed Forces of Belarus prefer Russian military equipment.
The allies delivered S-300 anti-aircraft missile systems to our country, then the latest Tor-M2 air defense system, and the land component of the Belarusian army was replenished with modernized
tanks
T-72 BZ
- said the press service.
In 2017, the Ministry of Defense of Belarus signed a contract with the scientific and production corporation Irkut for the supply of 12 Su-Z0СМ aircraft in the period from 2018 to 2020. It was planned that Belarus will receive four aircraft each year. Later, the Ministry of Defense of the Republic announced that the implementation of the contract was postponed to 2019-2020 due to technical changes in the configuration of aircraft.