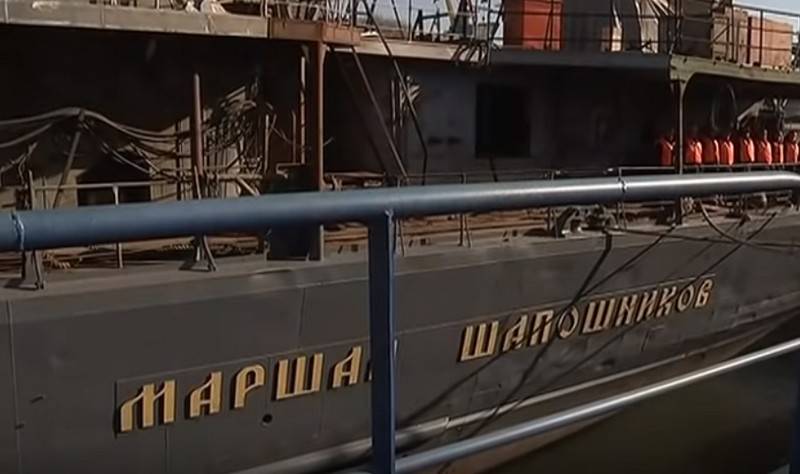 Undergoing repairs and modernization, the former large anti-submarine ship, retrained to the frigate "Marshal Shaposhnikov", was taken out of the dry dock and moved to the outbuilding pier of the Dalzavod Ship Repair Center in Vladivostok. This was reported by the press service of the Pacific Fleet.
According to the report, the ship will continue preparations for the first launch at sea for testing the main power plant. To date, "Marshal Shaposhnikov" has already undergone dock repair, as part of the modernization, more than 20% of new add-ons have been dismantled and installed on it, and places have been prepared for the installation of new weapons.
The upgraded ship received a missile strike complex
weapons
- the message says, without specifying which complex is installed on the ship.
As previously reported, the Marshal Shaposhnikov BPC was retrained as a frigate during modernization. The upgraded version of the ship should receive the Uranian anti-ship complex with X-35 missiles, universal launchers for the Caliber, Onyx or Zircon cruise missiles, the Bagira universal ship's artillery fire control system, and the TK- electronic suppression system 25.
What will remain of the armament that previously stood on the ship is not known. Previously, the armament included: two 100-mm gun mounts AK-100, two 45-mm semi-automatic guns 21-KM, four 30-mm ZAK AK-630, two air defense systems "Dagger", two anti-submarine complex "Root-bell", two RBU-6000 rocket launchers, as well as torpedo tubes. On board the BOD, two Ka-27PL helicopters were based.
The total displacement of the ships of the 1155 project is 7570 tons, the hull length is 163,5 meters. Speed ​​- up to 32 nodes, cruising range - 5 thousand miles on 18 nodes, autonomy - 30 days. Crew - 220 people (including 29 officers).
According to the plans of the Ministry of Defense, Marshal Shaposhnikov should return to the Pacific Fleet as early as 2020.