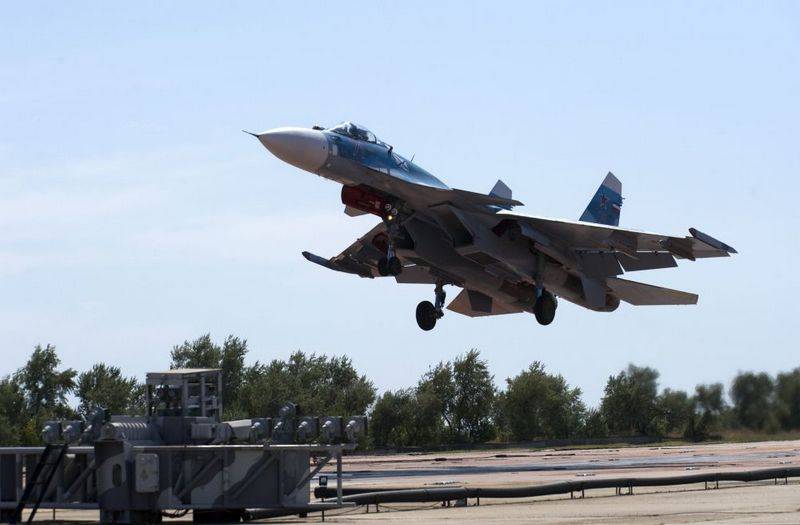 The ground test and training complex NITKA, located in the Crimea, will be closed for repairs after training on it by crews of aircraft from the 279th separate naval fighter aviation regiment (OKIAP) marine
aviation
Northern
fleet
. This was reported by TASS with reference to a source in the power structures of the peninsula.
According to the news agency, in the third decade of December, Su-33 and Su-25UTG planes should arrive on the peninsula to conduct training at NITK. The exact data of the arrival of aircraft from the 279 OKIAP depends on weather conditions on the flight route. After that, the pilots will begin to conduct take-off and landing trainings on the take-off deck of the Admiral Kuznetsov aircraft carrier cruiser.
It is expected that two Su-33 fighters and one Su-25UTG aircraft will fly from a permanent airfield to the Crimea at the end of this - beginning of next week. The exact dates depend on weather conditions on the flight route. After that, the pilots of the regiment will begin training on takeoffs and landings at the NITKA complex
- leads TASS source words.
This October, for the first time in its
stories
NITK trained crews of MiG-29K / KUB fighters from the 100th OKIAP of the Northern Fleet's naval aviation, previously only the pilots of the 279 OKIAP were trained in Saki.
After the Su-33 and Su-25UTG trainings are over, the NITKA ground test and training complex will be closed for repairs, which will be carried out by the Zvyozdochka ship repair center. Most likely, takeoff and landing blocks (catapult and aerofinisher) will be subject to repair.