In India, outraged by the appearance of one of the new exhibits in the military museum
aviation
Pakistan. We are talking about the wax figure of the Indian pilot Abhinandan Varthaman.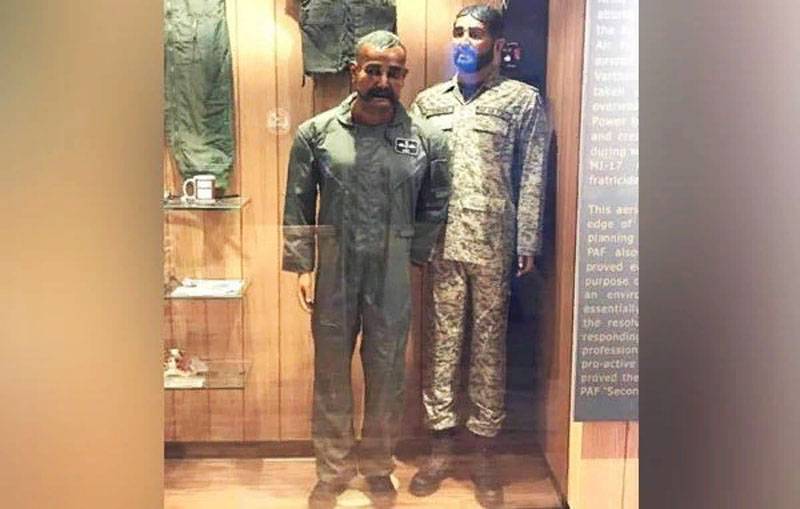 Recall that the MiG-21 Abhinandan Warthaman aircraft was shot down by a Pakistani Air Force F-16 fighter in a cross-border battle in February this year. The Indian officer catapulted and was captured. By personal decision of the Prime Minister of Pakistan, Imran Khan, Abhinandan Warthaman was released on 1 in March, passing to the Indian side. For several months, the pilot went through rehabilitation and "talked" with the Indian secret services. Relatively recently, he was allowed to return to the country's air force.
Some time ago, the figure of Abhinandan Varthaman appeared in the Air Force Museum of Karachi. The museum emphasizes that the new exhibit is designed to demonstrate not only the effectiveness of the Pakistani air force, but also the humanism that was manifested in the treatment of Abhinandan Varthaman. In particular, it is stated that museum visitors can hear the voice recording of a captured Indian pilot, "thanking the Pakistani military for treating with aromatic tea."
Behind the figure of an Indian pilot behind the glass is the same mug from which the Indian Air Force officer drank tea.
In India, all this was called "the infamous Pakistani propaganda, which could lead to aggravation of the border conflict."
In India, we recall, they say that before the MiG-21 Abhinandan was shot down, he managed to launch a rocket and shoot down a Pakistani fighter. Pakistanis refute these allegations.