The Ministry of Defense spoke about plans for the supply of Su-35С and Su-57 fighters
The Komsomolsk-on-Amur Aviation Plant (KNAAZ) completely fulfilled the state defense order for the supply of Su-35C multi-role fighters this year, transferring a batch of 10 aircraft ahead of schedule. This was announced by Deputy Minister of Defense of Russia Alexey Krivoruchko.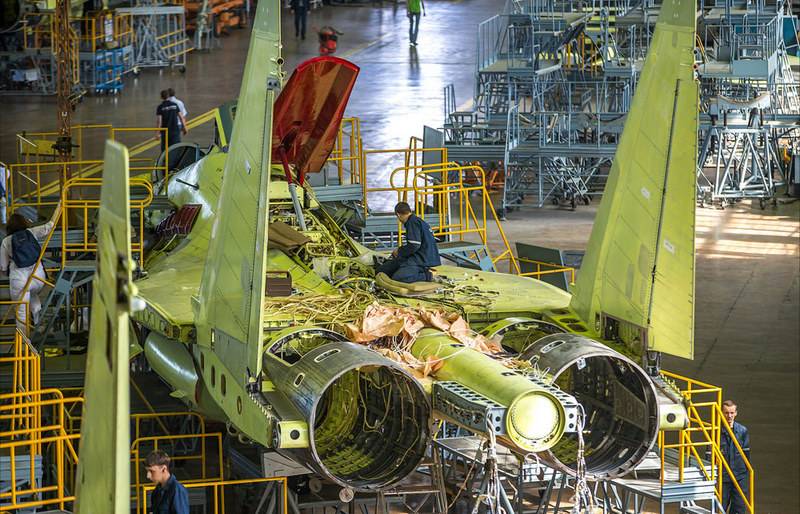 The deputy defense minister, who visited the aircraft plant in Komsomolsk-on-Amur, said that the company had delivered a batch of ten Su-35С multi-role fighters ahead of schedule to the Russian Aerospace Forces, thereby fully fulfilling the state defense order for these aircraft for this year. The remaining 10 fighters will be delivered next year. At the same time, the Ministry of Defense intends to conclude a new contract for the supply of Su-35С.
KNAAZ fully fulfilled the GOZ 2019 of the year, delivering 10 Su-35С fighters ahead of schedule. We expect to receive the latest 10 machines stipulated by the current contract in the 2020 year
- declared Krivoruchko.
The deputy minister also commented on plans for the supply of fifth-generation Su-57 fighters to the aerospace forces, which are also being assembled at KNAAZ facilities. He confirmed that the first production Su-57 will enter the Russian Air Force before the end of this year, and the second production aircraft will arrive in the 2020. After which the aircraft factory will increase production in order to supply all 2028 fifth-generation fighters by the 76 year.
The first production Su-57 is almost ready and will enter the army before the end of the year. Next year we are waiting for another such aircraft, and further will increase production
- reported Krivoruchko.
Ctrl Enter
Noticed a mistake Highlight text and press. Ctrl + Enter