In Serbia, at the Bataynitsa military airdrome near the capital, a military review "2019 Freedom" was held today, dedicated to the 75 anniversary of the liberation of Belgrade from Nazi invaders. Russia was represented at the celebration by Russian Prime Minister Dmitry Medvedev, Deputy Prime Minister Yuri Borisov, FSVTS Director Dmitry Shugaev, FCS Director Vladimir Bulavin and Russian Deputy Minister of Defense Yunus-Bek Evkurov.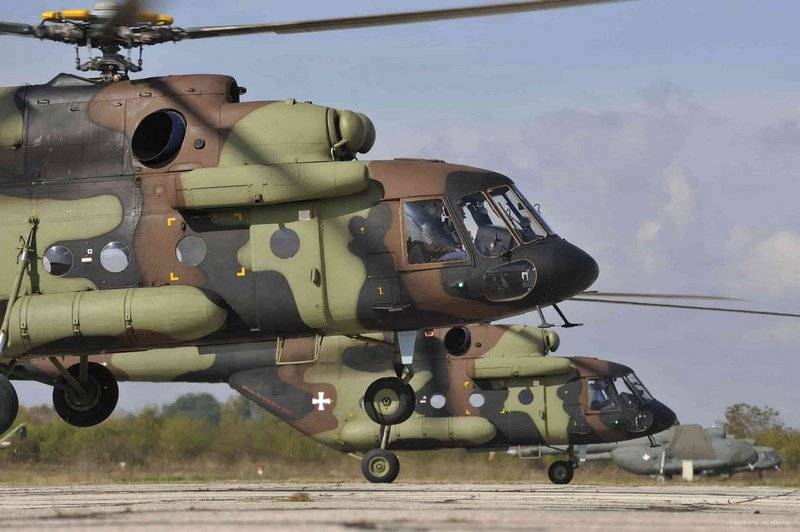 According to the Serbian media, more than 2,4 thousand military personnel, 100 units of military equipment and 25 units took part in the show
aviation
- helicopters and airplanes. The Serbian army demonstrated, including the Russian BRDM-2, MiG-29 fighters, provided as military assistance. In addition, during the parade, three Mi-17 helicopters flown from the sky a few days before Freedom Day by transport plane flew through the sky. Serbian military experts in a short time were able to assemble the machines, fly around them and prepare for participation in the show. Also in the demonstration exercises held as part of the review, Russian Mi-35 helicopters, delivered to the Serbian army earlier, took part.
Prior to this, it was reported that three Mi-17 helicopters were supposed to be delivered at the end of this year or at the beginning of the next, but Russia put them on the Liberation Day.
Military-technical cooperation between Russia and Serbia has been developing rapidly lately. In addition to conducting joint military exercises and transferring armored vehicles to the Serbs free of charge (BRDM-2 and
tanks
T-72) and MiG-29 fighters, Belgrade signed a contract for the supply of Russian-made anti-aircraft systems to the armed forces, including the Pantsir-S air defense missile defense system, Mi-35 and Mi-17 helicopters. In the future, other purchases of Russian military equipment are not excluded.