In the eastern German city of Galle, a synagogue was opened fire. Bild reported that the shooting took place in front of the synagogue and that there were casualties.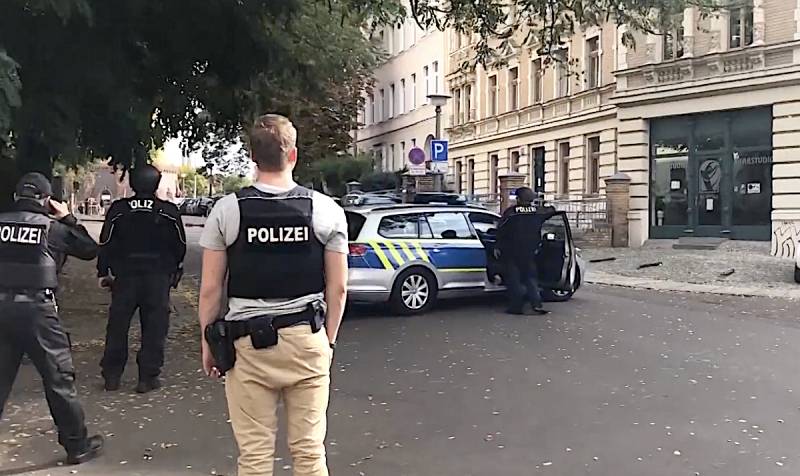 German police said it was looking for suspects who appeared to have fired at a synagogue from an automatic
weapons
and threw a grenade toward the Jewish cemetery.
According to preliminary data, two people were killed in Galle. Several shots were fired. Alleged criminals hid in a vehicle. They are being searched, we ask citizens to stay in their homes.
- Local law enforcement reports on Twitter.
Bild claims that a taxi driver and his wife, who refused to take the criminals, were injured during the incident. It is also known that at the moment the criminals have left the vehicle and are walking. Later, it was reported that one of the suspects was detained.
It also became known about the shooting that occurred in the German city of Landsberg: it is located 15 km from Halle. The frames below are from there.
Irre! #Halle by @MDR_aktuell pic.twitter.com/0SLLBaGF5O

- Michael Ziesmann (@M_Ziesmann) October 9, 2019
Today, Jews celebrate the doomsday, Yom Kippur. It is the holiest day of the year in Judaism, when Jews observe more than 24 hours in search of redemption, and on these dates Jewish houses of worship are usually filled.
The Bavarian State Criminal Investigation Authority conducted raids today against right-wing extremists in several federal states.
We have no evidence so far that the shots at Halle are related to a raid.
- said management representatives.
National railway operator Deutsche Bahn said the main railway station in Halle is closed. Bild also announces the closure of educational institutions.