On Monday in Somalia, the militants of the al-Qaeda-linked Al-Shabab insurgent group (both organizations are banned in the Russian Federation) dealt a double blow to Western troops. The blow has become the most ambitious attempt to show recently who in Somalia is the real owner.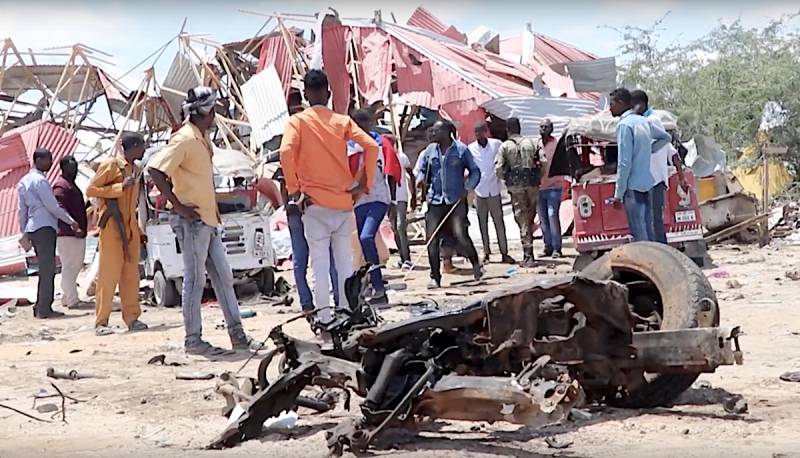 Images from the scene of the attack on the Italian convoy
An attack by al-Shabab militants at the base of US special forces in Somalia with a simultaneous attack on a convoy of Italian armed forces in Mogadishu did not result in casualties among the military, but showed that the conflict in the African country did not think to subside.
Al-Shabab fighters used explosive-filled vehicles to attack the US special forces base near Baledogl Airport. After undermining them at the base, where Ugandan peacekeepers are also located, fire was opened from the rifle
weapons
. The direct victims of the attack were not reported, and the group claims that its militants managed to break through the perimeter.
Baledogl base is located in the Lower Shabelle region, about 100 km west of Mogadishu. The militants had already fired mortars at her in February, but even then the victims were avoided.
According to Hussein Sheikh Ali, a former national security adviser and founder of the Mogadishu Security Research Center, the attack revealed that Al-Shabab still has a good intelligence network and is capable of conducting complex operations. According to him, the attack was concentrated on that part of the base where the American special forces are deployed.
The attack was coordinated with the attack on the Italian convoy
In another attack, carried out on Monday in Mogadishu and directed against a convoy of the Italian military contingent, an armored car was damaged. Reuters reports that a makeshift explosive device exploded. Two servicemen were injured. The Italian contingent is present as part of the European Union mission to train Somali forces.
Al-Shabab has recently launched several attacks on Somali government forces. In particular, on 22 of September, rebels attacked and looted a base in El Salini, 60 km southwest of Mogadishu, using a traditional mixed attack of a suicide bomber and militants.
A week earlier, Al-Shabab attacked Burundian peacekeepers.