Separate ship fighter
aviation
regiment of the North
fleet
started training in the Crimea. Fighter regiment made a flight from a place of deployment in the Murmansk region to the Crimean peninsula. This was reported by the Ministry of Defense.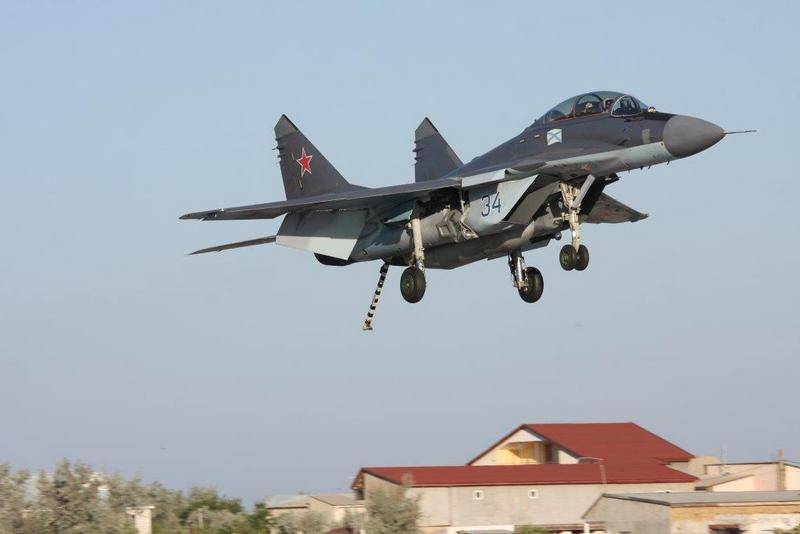 The crews of the MiG-29K aircraft of a separate naval fighter aviation regiment of the SF made a flight to the Crimean Saki airfield, covering over 2,5 thousand kilometers. Fighters will practice take-off and landing techniques at the ground test training complex (NITKA). As noted in the Ministry of Defense, the pilots of the regiment have to go through a full cycle of preparation for landing on an aircraft carrier. Fighters will stay in Crimea for about a month.
Fighter pilots made a flight from the Murmansk region to the Republic of Crimea with a total length of more than 2 500 kilometers. In the near future, the crews will have to pass tests for theoretical training and proceed directly to the flights from the training complex
- it is spoken in the message of military department.
NITKA is a ground-based test and training complex for carrier-based aviation located near the city of Saki. The complex is designed for the development by pilots of deck-based aviation of take-off and landing techniques on the deck of an aircraft carrier. Exactly repeats the deck of the aircraft carrier cruiser "Admiral Kuznetsov, equipped with a springboard and aerofinishers. Valid from 1982 year.
Last year, it was reported that the second "land carrier" built near Yeysk would be used to train new personnel and test advanced aircraft.