Some features and characteristics of the latest domestic mercury ship "Mercury" are presented. We are talking about the corvette, which in some media have already dubbed the "Russian Zamvolt" (although Zumwalt is a destroyer).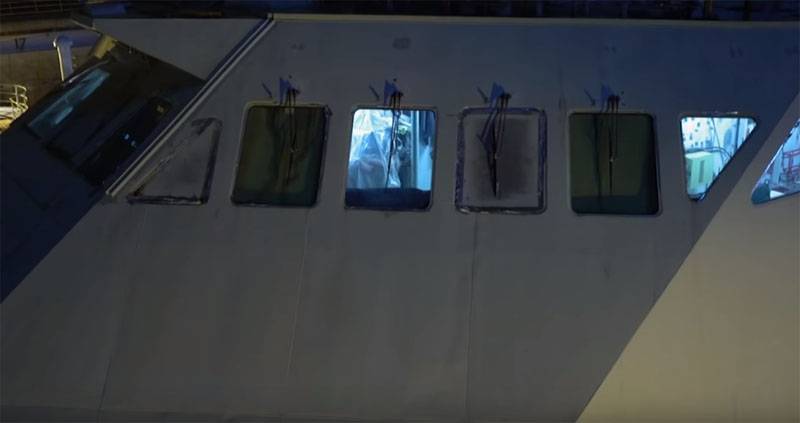 Photos from the construction of the corvette project 22160
On the TV channel
"Star"
The deputy chief designer of warships of the 20386 project spoke about the uniqueness of Mercury. It, he said, consists in the fact that it can be used not only in the near sea zone, but also in the far, including the ocean. This is also due to the use of elements with improved characteristics.
According to the deputy chief designer, "there are probably no analogues in the world" - the helicopter on the corvette is stored in a hangar under the upper deck.
An economical stroke is provided by the rowing electric motors.
From the corvette report:
At other speeds, 20-30 nodes, these speeds are achieved by the progressive commissioning of turbines.
The use of composite materials can reduce the weight of the warship, which in turn contributes to its re-equipment.
What is the main
weapon
Mercury? It is noted that the Uran anti-ship missile system will become such a weapon. These systems were adopted in the 2003 year. To place weapons, it is planned to use the so-called transform compartment. Moreover, the increased space for installing weapons on the ships of this project allows them to be equipped with Caliber missiles.
From the material on the Zvezda shopping center:
At Mercury, underwater surveillance systems will be provided - as part of the towing and antenna towed stations.
Corvettes of this project will receive sets of torpedoes and torpedoes.
It is added that a silent adjustable-pitch screw will be used on Mercury.
The main question is: when will this ship, laid down in the 2016 year, enter the Russian Navy? They promise that this will happen in the 2022 year.